Overview
Just getting started with Workable? Complete these tasks when setting up your account to get on the right path to finding and evaluating candidates.
Not a Super Admin? Check out guides for Hiring Managers and External Recruiters.
Initial setup
Follow these steps to establish your branding, process and job publishing settings. This will help you find candidates more easily and ensure the right hiring process is followed.
Customize your branding
Add branding aspects to your account including: your logo, social sharing image, brand color and company description.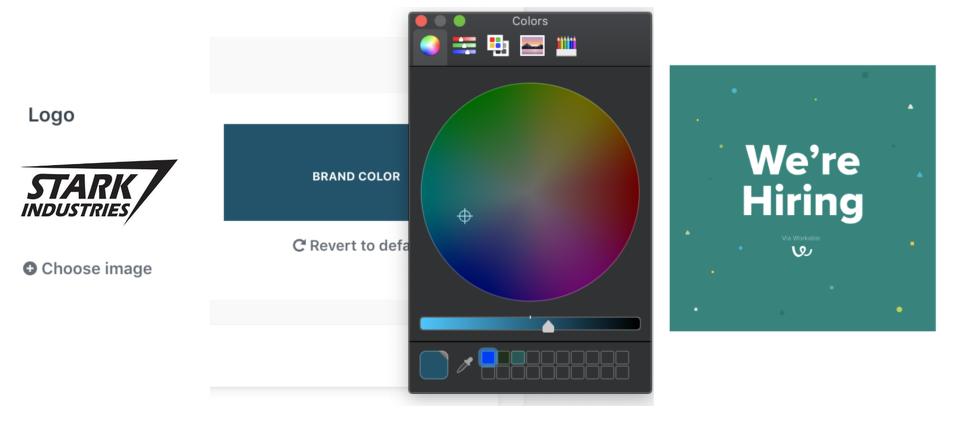 Create a pipeline to define your hiring process
The pipeline is your recruiting process. Add and name steps, keeping "Hired" at the end as the last step. You can continue to add, reorder, rename and remove steps when needed.
By default the pipeline will be the same for all jobs. Add multiple pipelines with a Growth or Premier plan.


Add your first job(s)
From the dashboard, click create a new job and set up the description and application form.
Click publish when you're ready and the post will go out to free job boards with your branding. You can edit your posts any time.

Add a credit card
To purchase premium job posts, background checks and Campaigns (and to ensure your subscription doesn't lapse if your account is billed monthly), add a card.

Integrate your email and calendar
If your organization uses Gmail or Outlook an advanced integration is available that allows for more email customization and extra scheduling options. We highly recommend enabling this.
If you aren't able to enable this integration, don't worry! Workable emails and calendar invites will work for you out of the box, syncing with your inbox and invitee's calendars. No extra setup required - our standard integration works with any email provider.
Invite members to the account
Account members have an 'access level' for the account.
When getting started, you may have other All Access (Super Admin) users who need full account control. They will be able to see and do everything in the account.
Standard Access users must be assigned to a job to see candidates for that job. These are hiring managers, resume reviewers, interviewers, etc. Assign them to jobs right when you invite (or later on when creating/editing jobs) to grant them access to those resumes and candidate profiles only.
Browse our in-depth resources to learn the exact specifications for each type of user.
Optimize
Set up these options to improve results, streamline your process and stay in compliance.
Connect to more job boards & other integrations
Extra posting options become available when you set up integrations. Add your job board accounts — Indeed and Facebook are recommended, but not required.
Important: Workable will automatically try to find your company page on LinkedIn and post jobs under your brand, but we recommend manually adding your LinkedIn company ID to Workable.

Add templates
Save time and create consistent candidate experiences with email, offer letter and interview question templates.
Set up departments
Set the department names and structure for your account. When you add a department it becomes available for selection in a dropdown menu during job creation, meaning you won't have to type it in each time.
Compliance
Enable compliance options based on your organization's requirements.
If you recruit within the EU, we recommend enabling GDPR settings. EEO/OFCCP options are available for jobs in the US with a Growth or Premier plan.
Extra resources
There's more to discover. Our video library provides guidance on getting the most out of Workable. We also host a weekly webinar and Q&A session (sign up below!) that covers best practices and basics.
Download PDF walkthroughs for using your account after set up: