Inviting new members to Workable
Follow
Super Admins
All plans

Accessing the account members page
To add someone new to the Workable account, access the Account Members page by clicking your user icon at the top right of your screen.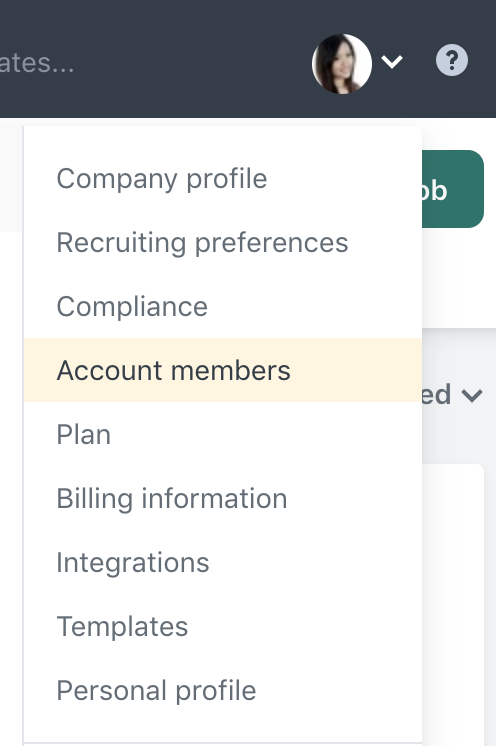 In the Account Members section, click the link to 'invite a new member'.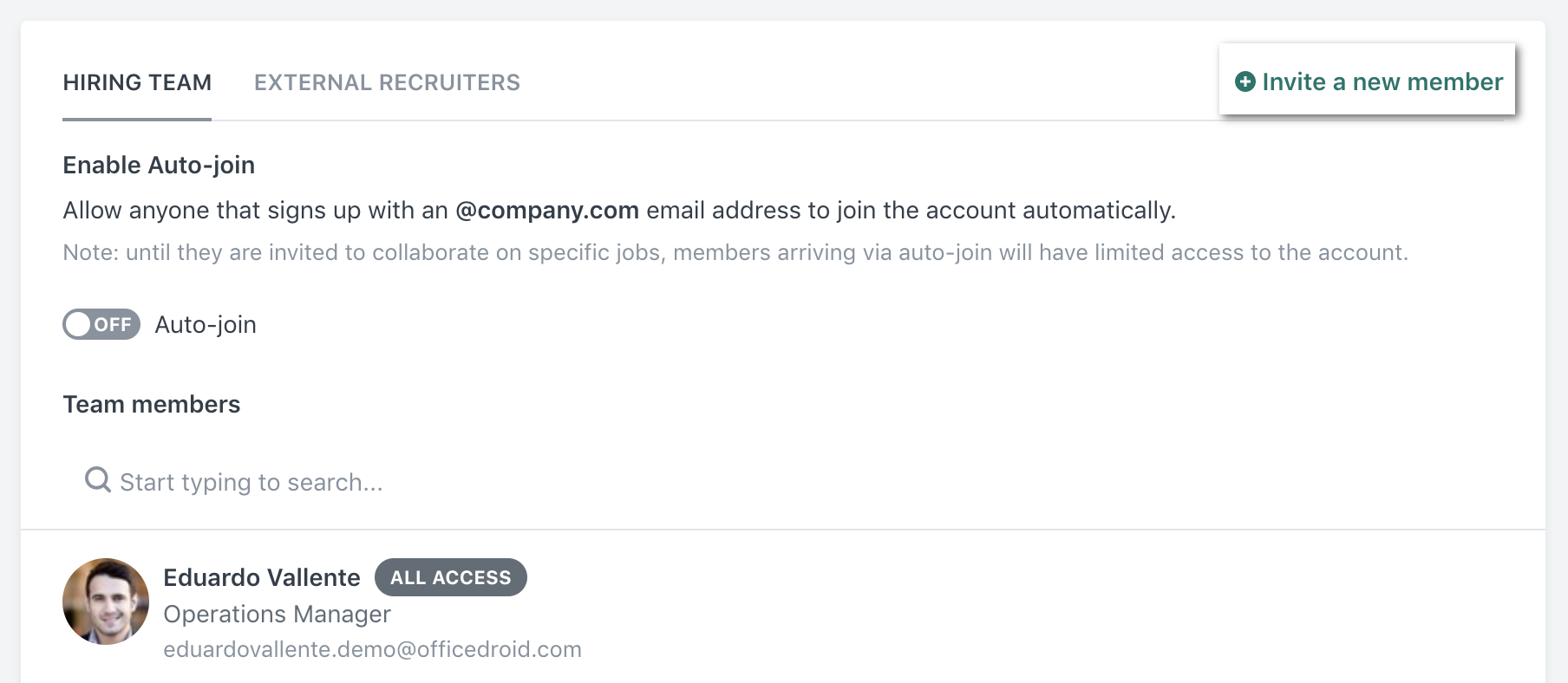 Enter your co-worker's email address and decide on the membership type you'd like them to have:
All access: 'Super Admins' who can fully manage your Workable account.
Standard access: Users who help with the hiring process to different degrees. Some may be fully involved, emailing, evaluating and interacting with candidates and some may only leave evaluations and notes. This has the most flexibility and is the recommended option in most cases.
Limited access: Users who will only ever review resumes, leave internal evaluations and comments, and make referrals. Available for accounts with Advanced Annual plan.
When adding a new user to the account you'll see a list of every active position in your Workable account. To add this new user to the hiring team for a job, check the box next to the job title. Once the user logs in they will immediately be able to access the selected jobs and begin reviewing candidates.
Keep in mind that Super Admins will be able to access and join all jobs at will, regardless of the jobs you select here.
Other users must be assigned to a job to access the candidates in that job. They can be assigned from the Account Members section when you first invite them to Workable, or at any time under the Hiring Team/Workflow section of the job editor.
User roles can be set on a per job basis. For example, a user could be a Hiring Manager on one job, a Standard Member on another and a Reviewer on yet another.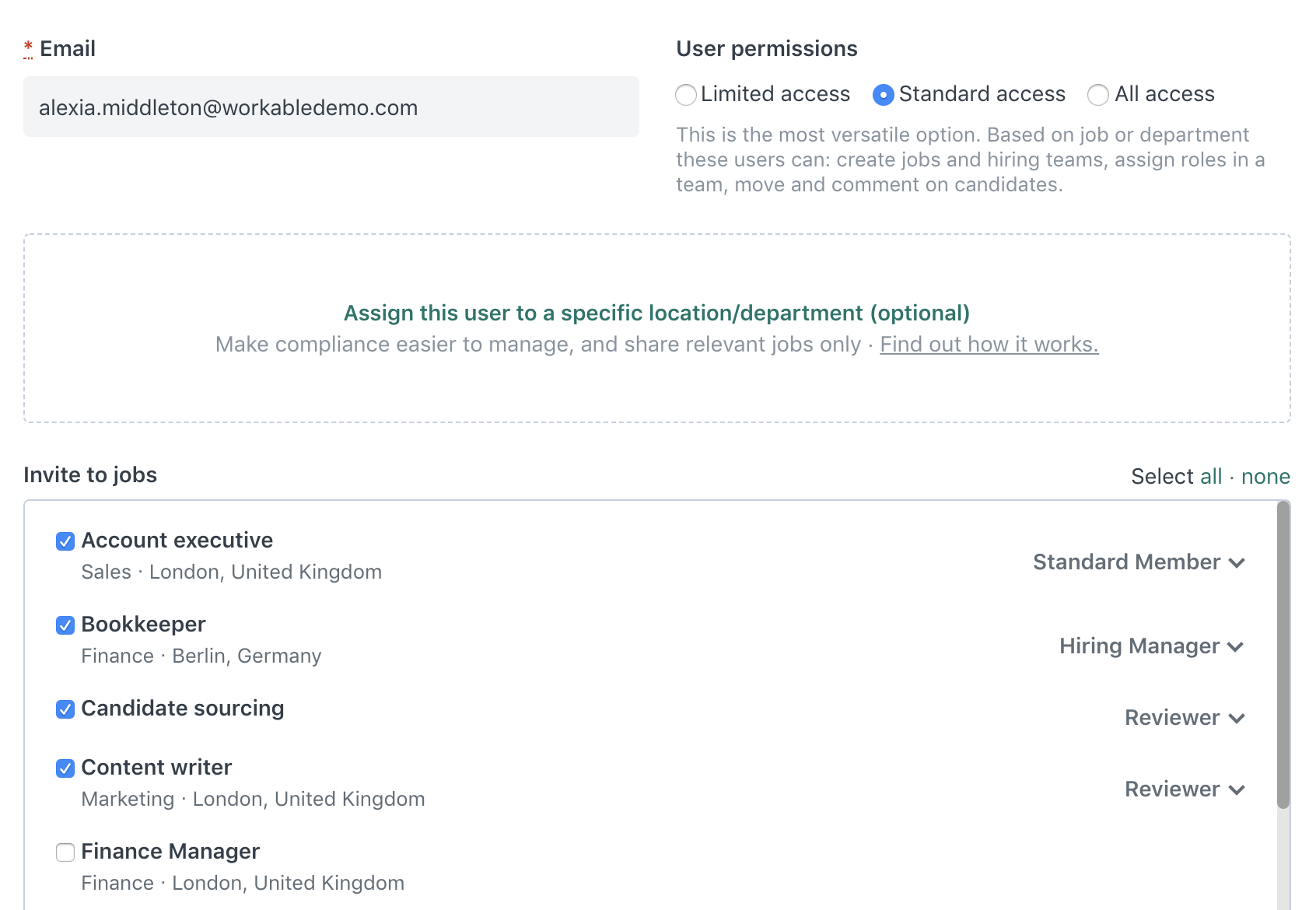 Send the invitation via the blue button at the bottom of the page. Your coworker will receive the invitation to Workable via email. This contains a unique link which connects them to your Workable account.
They will immediately appear in your list of account members with an option to resend or cancel the invitation.

Job assignment by location / department
With an Advanced Annual plan you can easily add users to jobs in specific departments or locations. When adding the user click option to "Assign this user to a specific location/department".

A form will appear where you can add department or location information for that user. Jobs in that department or location will be automatically selected for the user. You can set a hiring role for that user for all selected jobs.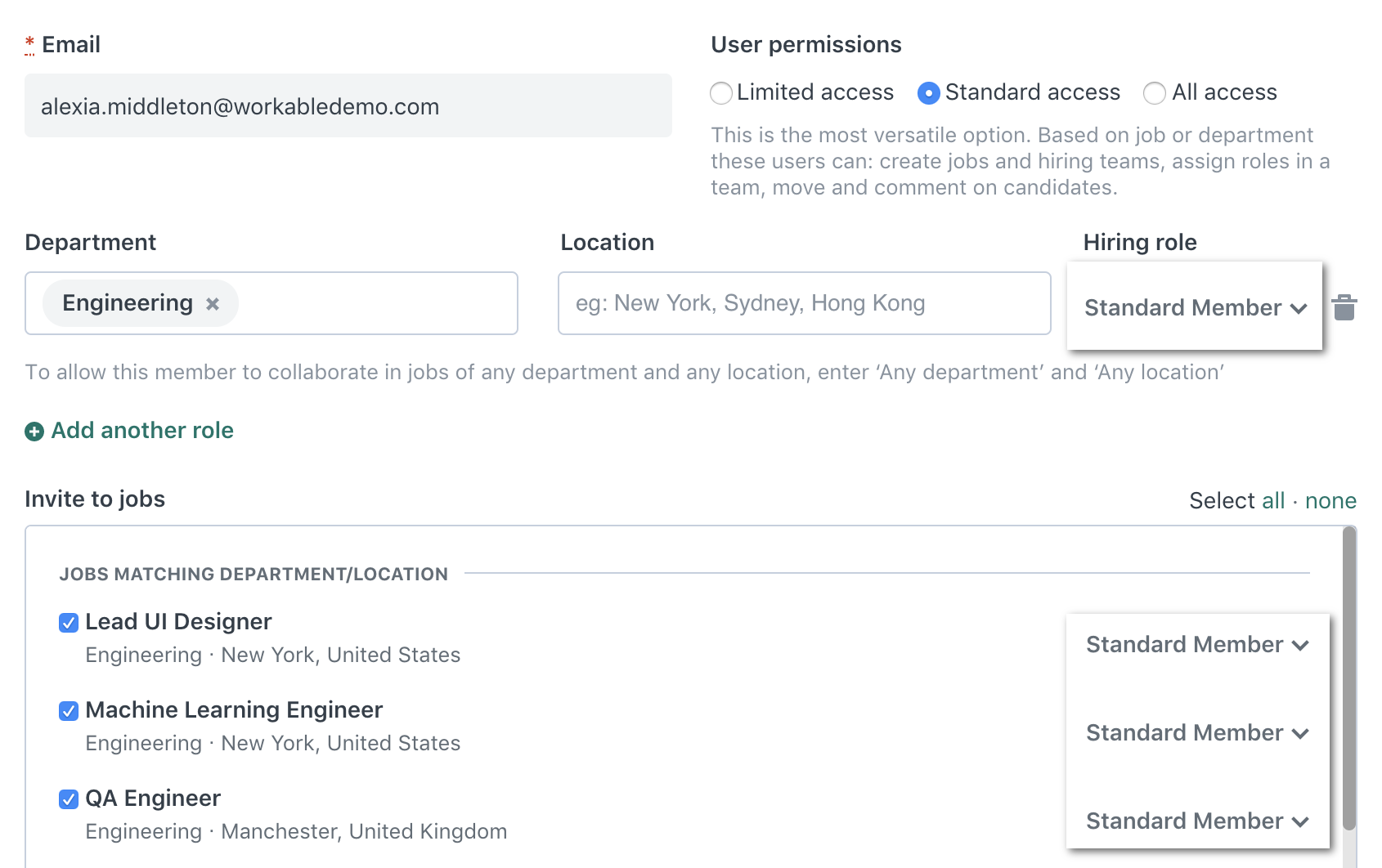 For each individual job you can edit the role with the dropdown menu. You can also add the user to other jobs outside of their department(s)/location(s) by individually selecting the checkbox next to those jobs.
Multiple departments and locations can be set for a user. Users can also have different default roles for different departments/locations. E.g. a user might be a Hiring Manager in the Engineering department and a Reviewer in the Operations department because they make hiring decisions for Engineering jobs, but only leave evaluations/feedback for Operations jobs. Click "Add another role" and set the options accordingly.
If either the department or location field is blank then all the jobs for the department or location respectively will be selected. E.g. a blank department with a "Boston, MA" location would mean that the jobs in Boston are selected for the user.
Set a broad location to add the user to jobs in a big region. The location could be set to "Canada" and the user will be added to all jobs in Canada, even though the jobs themselves are likely to be in a specific offices (e.g. "Vancouver, Canada", "Halifax, Canada").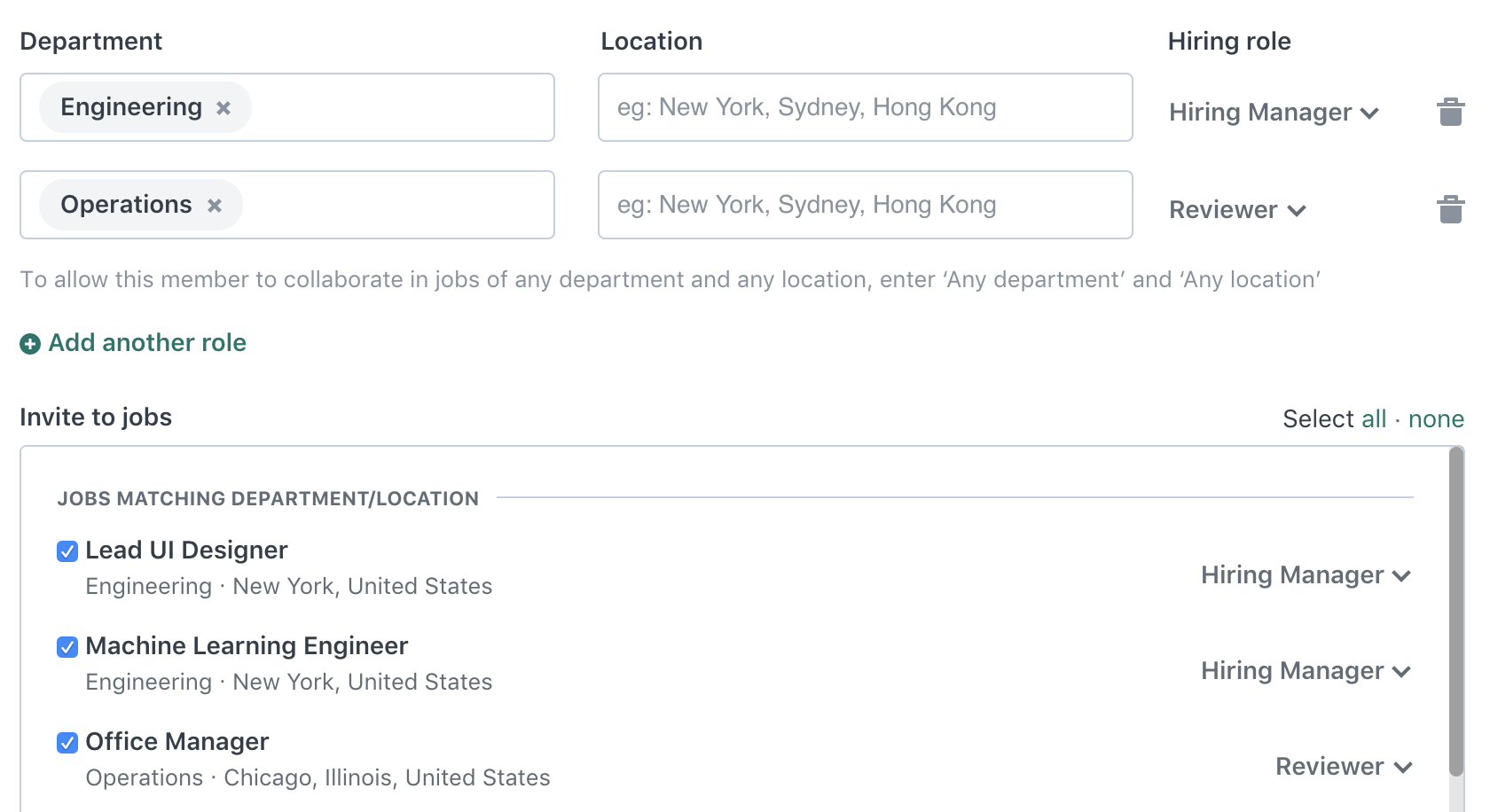 When a user is assigned to certain departments or locations they will also be recommended hiring team members when new jobs are created in those departments/locations. The recommendation is optional, the user is not automatically added to new jobs in a department/location and it is not mandatory that they are added.