AI Recruiter compiles the key criteria and skills that you've outlined in a job description to find passive candidates who could be a good fit for that job. This feature is available for all users except Reviewers & External Recruiters. Using data about the job, combined with People Search, AI Recruiter will automatically generate a list of up to 50 candidates.
Generating this list will use up to 50 of the available People Search profiles included in your subscription. One profile is consumed for each result. If only 42 candidates are generated then only 42 profiles are used.
Note for Trial accounts: While utilizing our Trial it is required to have at least one published and approved job to use this feature. Up to 25 candidates will be returned per job until you reach your People Search profile limit.

Using AI Recruiter
When you activate a Published, Internal or Confidential job, AI Recruiter goes to work. In about 2 minutes it will find up to 50 potential candidates who match your job.
To add them to your pipeline (available for all users except Reviewers & External Recruiters), access the auto-source tool from the Find Candidates tab in the job editor. Click 'Add them to your pipeline' and the candidates will be automatically sent to the Sourced stage.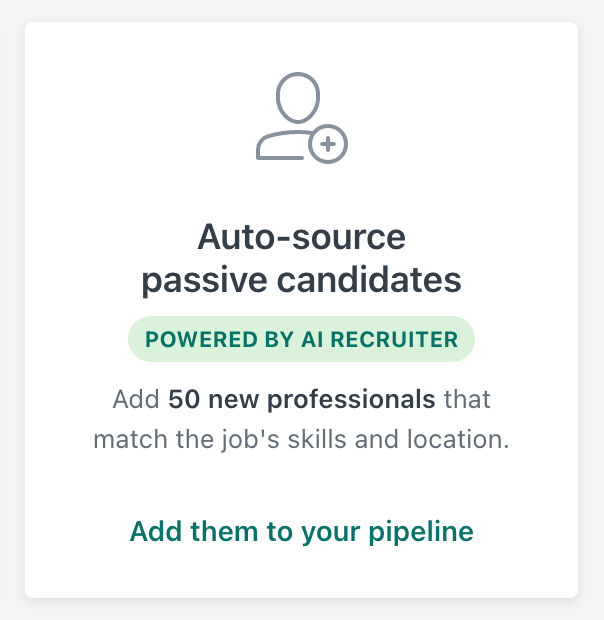 If you haven't sourced any candidates yet, you'll see the number of candidates that AI Recruiter found on the Jobs dashboard. In the Sourced stage for a job, the number of AI Recruiter candidates will appear grayed out. Click on that stage and then select Add suggested candidates if you want to include those people in your pipeline.
Candidates will be automatically tagged with "#suggested_by_workable" so you can easily differentiate those you've uploaded yourself from AI Recruiter results.
People enrolled in Workable Bridge may also appear in AI Recruiter results with the "#bridge_candidate" tag.
Should there be a major change in the role you're recruiting for you can re-run an AI Recruiter search after updating the job description. If the job requirements haven't changed, we recommend using People Search to look for candidates based on specific criteria and locations.
Contacting sourced candidates
Once AI Recruiter has found candidates, reach out to them via email individually or bulk. These are "passive" candidates who have not directly applied for the job, so be sure to introduce yourself, the company and convey why you're reaching out. Some templates you can use as a reference:
The communication template named 'New job opportunity' (included in the default templates)

The template under this resource page
Continue with your recruiting process as normal and make your next hire!
Note: If you have GDPR features enabled on your account, candidates that are sourced for jobs in the EU, UK, Norway, Iceland, Switzerland & Liechtenstein will be deleted after 30 days unless you contact them via email through Workable.
FAQs
Is it possible to run auto-source via AI Recruiter multiple times on a specific job?
No. The flow will re-run to find a new batch of matching candidates only when a job description/title is updated drastically.
Can I turn off auto-source via AI recruiter?
This is not currently available. Using the feature though is optional.