In this article, see how to create and associate requisitions with jobs you need to fill. Also, learn how to clone, edit and delete existing requisitions in your account.
Creating a requisition
To create a requisition (or a group of requisitions), select the Hiring Plan tab on the Jobs dashboard, then click Create a new requisition in the upper right. You'll need individual requisitions for each individual candidate you plan to hire and a requisition must always be associated with a job.
Adding a draft requisition
From the Hiring Plan dashboard, click Add a Draft Requisition at the bottom of the requisitions list to store basic details about a requisition. This can include requisition code, title, department, location and plan date.
Return to the Hiring Plan dashboard at any time to complete the draft and officially create the requisition.
Associating a requisition with a job
Creating a new job
Once you select to use a new job upon creating a requisition, you will be prompted to fill in some basic job details such as job title and location. A Draft job will automatically be created, which you can edit and publish at your convenience.
Using an existing job
If you choose to associate with an existing job, a dropdown menu will appear listing the jobs that you have access to: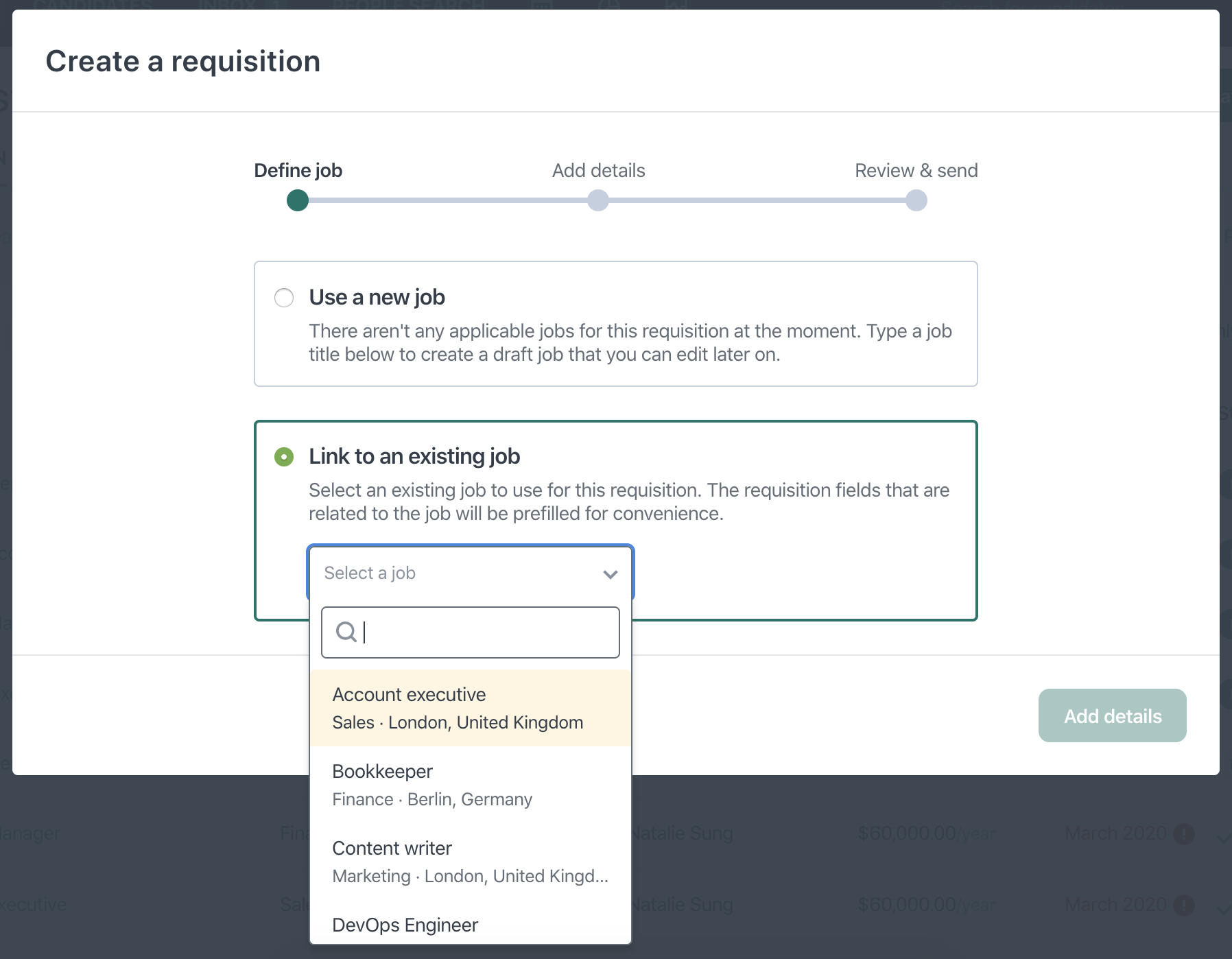 For Super Admins, all jobs
For Recruiting Admins and Hiring Managers, jobs they are on the hiring team for or jobs in their department/location
After defining the job, add the details of the requisition, including the headcount. If you are hiring 5 people for the same job with the same requisition details, set the headcount to 5.
Along with the requisition code, job title and location, there are a few other mandatory fields.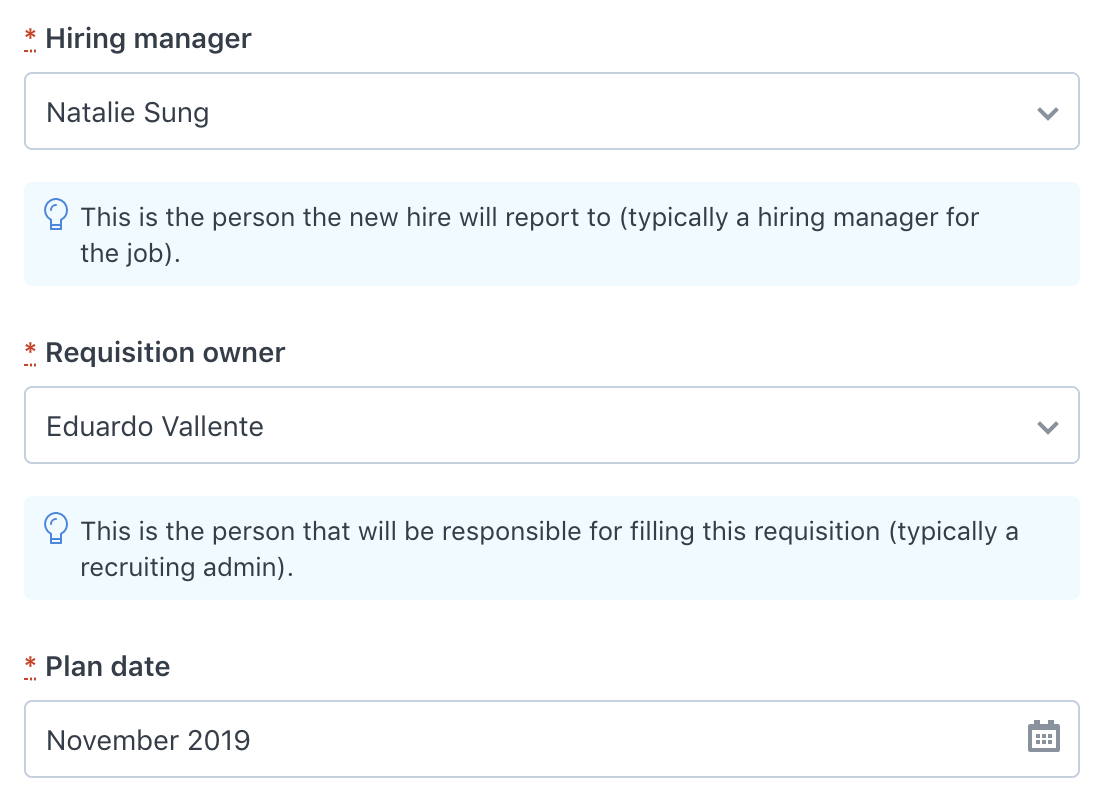 Hiring Manager: the hiring decision-maker, the person that the new hire will report to
Requisition Owner: the person responsible for finding the right candidate
Plan Date: the month when the hired candidate is planned to start
Finally, add any extra details you've included from your requisition settings. Click the Review Requisition button when you're ready to proceed.
For the last step, review the details you just entered and initiate the approval workflow. Click Send Requisition for Approval.
The requisition details will be sent to each approval group in order. If the requisition is approved by all groups, the requisition creator, Requisition Owner and Hiring Manager are notified right away.
If the requisition is not approved, the requisition creator, Requisition Owner and Hiring Manager are notified and will be able to update the details of the requisition from the Hiring Plan tab. The requisition details can then be sent out again for approval.
Managing requisitions
Opening requisitions
After the requisition is created and, if needed, approved, you need to open it in order to indicate that it is actively being worked on and hiring has commenced. Navigate to the Hiring Plan dashboard and click the three dots at the right of the requisition you wish to open to reveal the options. Click on Open requisition to change its status.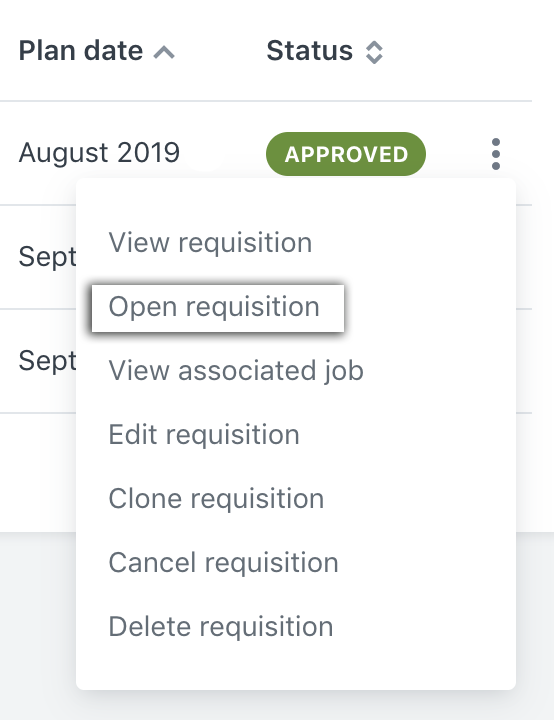 Cloning requisitions
A unique requisition is required for each candidate that you hire. If you are hiring 8 people for a Sales Representative role you'll need 8 requisitions.
To clone a requisition, locate the requisition in the dashboard and click the three dots to the right. Select Clone Requisition.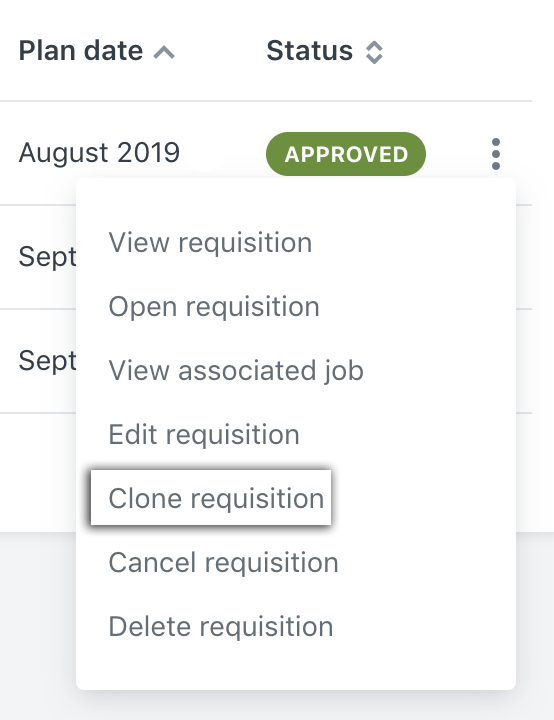 A form will appear where you can review and edit the requisition details. Proceed through the review and send the requisition for approval when ready.
Editing requisitions
If you've entered the wrong information when creating a requisition, or something has changed and you need to update it, you can click the three dots and select Edit Requisition.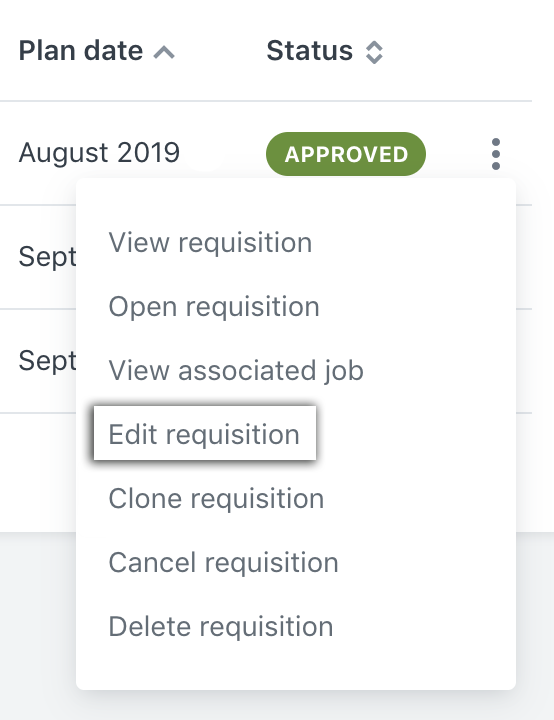 If you edit a field that requires reapproval (e.g. salary budget changes might be marked to require approval), then the req's approval workflow will initiate. The approvers will receive an email and inbox item that enables them to see the fields that have been edited as well as what was the previous value. The change will only be finalized once the approval workflow is complete.
Edits to fields that do not require reapproval can be made any time.
Please note that some fields, such as the job title, department, location, and the code are not editable. If you need to change those values, you will have to delete the req and create a new one.
Note:
Filled requisitions cannot be edited. Please
contact support
if you need to adjust such requisitions.

Putting requisitions on hold
You can put a requisition on hold if you are pausing your hiring for a while. Open requisitions can only be put on hold by Super Admins or Requisition Owners. To put a requistion on hold, click on the three dots menu and select On Hold.
You can still view, clone, cancel, delete and of course resume a requisition that is put on hold. To resume a requisition click on Open requisition from the same three dots menu.


Deleting requisitions
If something has changed, and you need to adjust your Hiring plan and delete a requisition, you can do so by clicking the three dots menu as above and selecting Delete Requisition.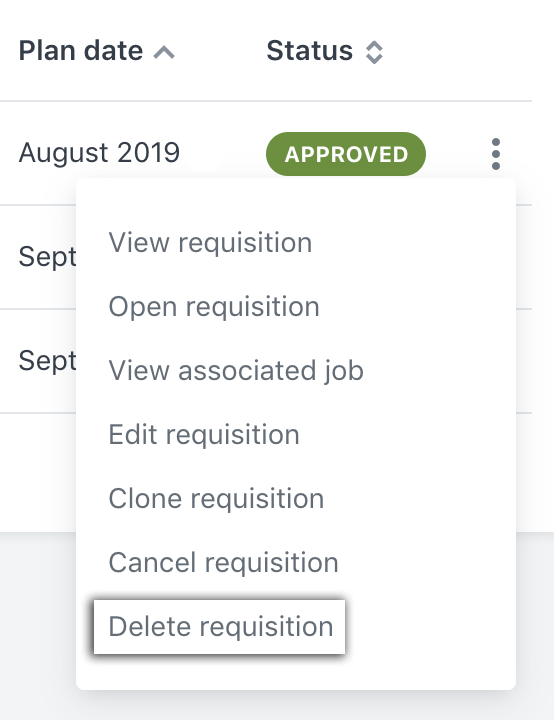 Note: Filled requisitions cannot be deleted. If you have marked a requisition as filled by mistake, please contact support to help you correct the issue.