Welcome to Workable! Whether you're new to hiring or using recruitment software for the first time, we'll explain the basics so you can get up and running today.
Check out the support guides in each section of this page to learn how to get started with Workable or sign up for our Workable 101 webinar.
Create a pipeline
One of the first things you'll want to setup in your account is your recruiting pipeline. Create stages like 'Phone Screen' or 'Hiring Manager Interview' that candidates will move through.

When you modify your pipeline you'll accomplish the following:
Create a clear funnel for candidates - you'll know how close you are to finding the right candidate
Establish specific steps for your hiring team to interact with - hiring managers will know which candidates require their attention
Generate reports that pinpoint slow or ineffective steps and update your workflows to improve

Create your first job in Workable

You can manage the entire job requisition and posting process through Workable.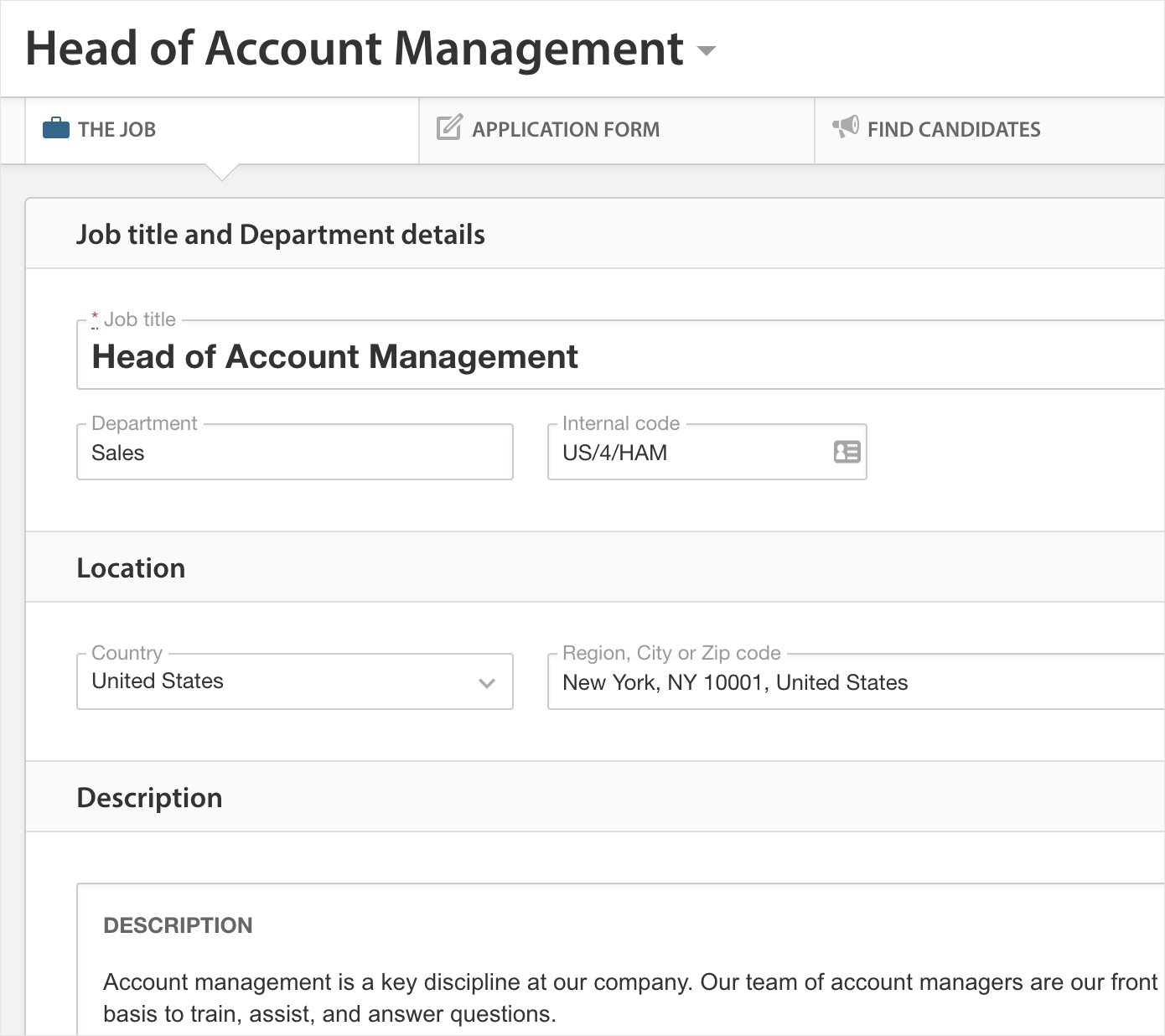 What you can accomplish when creating a job:
Automatically advertise your jobs on free and premium job boards - you won't need to micro-manage
Setup custom application forms for each job with job-specific questions
Optional job description templates - written and vetted by Workable experts - enable you to quickly create effective job posts

Jobs dashboard
The jobs dashboard is the main hub of your Workable account: It's where you'll create posts, access candidates and manage your hiring process.
Organize job posts, setup internal or confidential jobs and archive jobs when you're done recruiting.

Get to know your dashboard in order to:
Manage open requisitions
Unpublish and republish jobs
Know exactly how close you are to hiring the right candidate
Quickly access candidate profiles, even for archived jobs

Invite account members
Invite coworkers to collaborate during the hiring process. Users on your account can be assigned to the specific jobs that they need to hire for.
When inviting members you'll be able to:
Control which jobs your hiring managers can access
Collaboratively review candidates
Set permissions to keep private info (like salary) hidden from selected members
Enable auto-join so that you won't need to manually send out invites

Careers page
A Workable-hosted careers page is created for you automatically when you create an account. You can quickly and easily customize the style of the page, then link to it from your website.
You can also embed jobs right on your own website for even greater customization options or use our API to build your own page.
No matter how you setup your careers page it will be:
Branded to you
Mobile friendly
Updated automatically with currently published jobs
An easy way to share openings with coworkers

Candidates
Review resumes, schedule interviews and collaborate with your coworkers to qualify candidates.

Get to know the options and workflows for reviewing and contacting candidates:
Access all candidate details in one place
Collaboratively assess candidates
See candidates' evaluation history to quickly understand how they've performed throughout the process
Sort and search through candidate profiles to ensure the best of the bunch move forward

People Search
Search for the perfect candidate based on the specific skills you're looking for. People Search is a search engine for passive candidates. Enter the skills that the ideal candidate should have and People Search will find candidates who match.
Benefits:
Improve your talent pipeline
Qualify every prospect and get to know candidates before you reach out
Connect with candidates via social media, email or phone to gauge their interest

PDF Guides
Download and share PDF guides with coworkers who use Workable. These guides walk new users through account basics. Two versions of the Super Admin guide exist - one for an account with Hiring Plan and one for accounts without.