When you publish a job, it automatically gets sent to suitable job boards in order to get the right candidates. If you are looking to increase the visibility of your post further, here are strategies to maximize advertising.

At the jobs dashboard, click on Find Candidates next to a job's status button to access more options to help you find your next hire.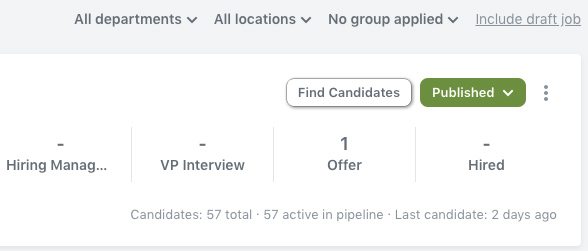 Boost your posts on job boards
Access Premium job boards suitable for that post and increase its visibility for a fixed number of days. For specialist jobs, or for roles within certain industries, it is recommended to utilize job boards that host only paid posts specific to this market. Also, here you will be able to boost your post on some of the free job boards.
In the Premium job boards section, the first set of boards is recommended based on the job's location, function and job board performance over time. If you have a recruiter account in any of the premium job boards supporting an integration, you can use your slots to sponsor the job.
See the free job boards that the job is published and check if there are any pending actions that need to be taken. If so, a link in red will appear indicating the number of job boards that need attention. Click on it to take any steps outlined within the relevant job board's dedicated field.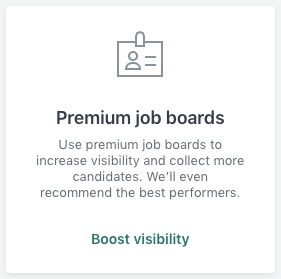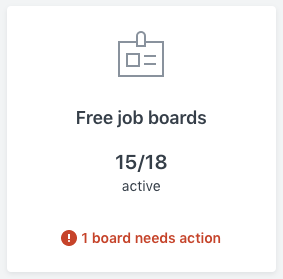 Gain candidate traction from social media
To maximize advertising and boost the job's visibility for a little over a week instead of a full month, you can rely on AI and machine learning to enhance by running a targeted social media ad using Campaigns. Select Target qualified candidates to get started and let Workable reach relevant candidates for your specific post on Facebook and Instagram using your account's branding, logo and custom image for this job.

Share the job post on popular social media just with one click on the icon of your choice. A pop-up window will appear with a preview of your social media sharing image and options to manage your post.
To share the job post elsewhere on the web, the Job Shortlink provides a trackable link to the job post on your Workable careers page. It also comes handy when you post the job to boards outside of the Workable network and wish to direct the candidates to the Applied stage of your recruiting pipeline. Click on Copy to clipboard to easily grab the link.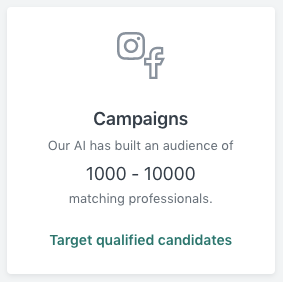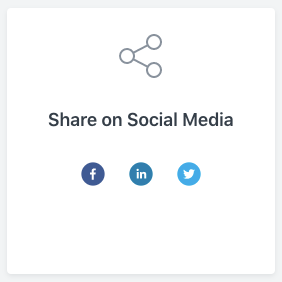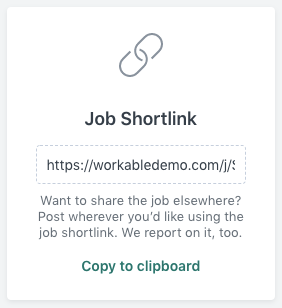 Ask for candidate recommendations
If you already work with recruiters, you can quickly invite them to the hiring team. Click on Invite more to allow selected recruiters to submit candidates for the job.
Accounts who integrate with BountyJobs, click on Engage recruiters to broadcast the job on the Marketplace.
Members of any account can add candidates to the job by email. Just send one or more resumes to the dedicated job mailbox for each job and Workable will automatically create candidate profiles in the Sourced stage of the recruiting pipeline. To easily copy the job mailbox, select Copy to clipboard.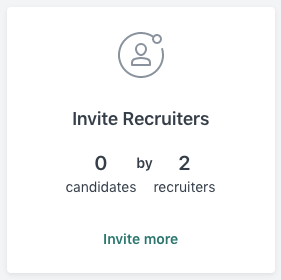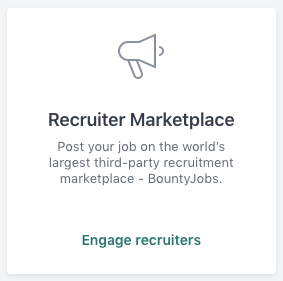 Users of People Search can benefit from AI and machine learning and review candidates found through AI Recruiter based on a combination of the key criteria and skills outlined in the job description. Click on AI Recruiter to have up to 50 candidates added to the Sourced stage for the job.