Workable displays a default "We're Hiring" image when you share direct links to your jobs on social media. In this example, a hiring manager has shared a link to their job on their personal LinkedIn feed: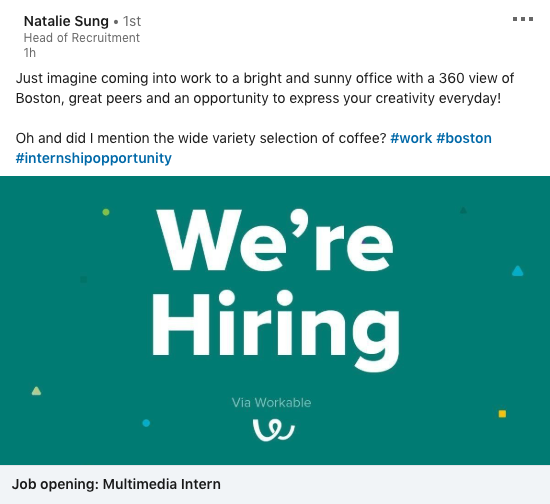 If you prefer, you can use a custom image when sharing direct links to your job. For example, you may prefer to use your organization's logo or a picture of your employees. Only one image can be used at a time and will apply to all job links. If you've already shared links and you change the image, those social posts will update automatically with the new image, but this is not immediate and may take some time.
Follow these steps to change the social media sharing image:
Navigate to the Company Profile section of your account
Scroll to the Social Image Sharing section
Click Choose and select the image you want to use from your computer

Images must be at least 600x600 pixels in size
It's recommended to include extra space along the sides of the image to avoid details being cut off due to some social sites' formatting

Click Save Changes to finalize the selection
You can revert to the original "We're hiring" image any time by selecting Revert to default image, or change the image again by choosing another file.