The Workable app enables you to fully interact with candidates in your hiring pipeline. There is no extra cost for using our mobile app.
Review resumes and profile info
Edit candidate profiles
Send emails
Text candidates
Schedule events
Leave comments
Watch Video Interviews
Share candidate profiles
Complete evaluations/interview scorecards
Move candidates through the hiring pipeline
Αpprove offer letters
Disqualify candidates
Use People Search
Approve a requisition or mark it as filled
See how many requisitions are assigned to a job's pipeline
Currently, you are not able to create or manage jobs through the app. If you are not on the hiring team for any job you can either join an existing job or send an access link to your email to create and edit jobs on your computer. By clicking the link in your email you will be redirected to the job editor.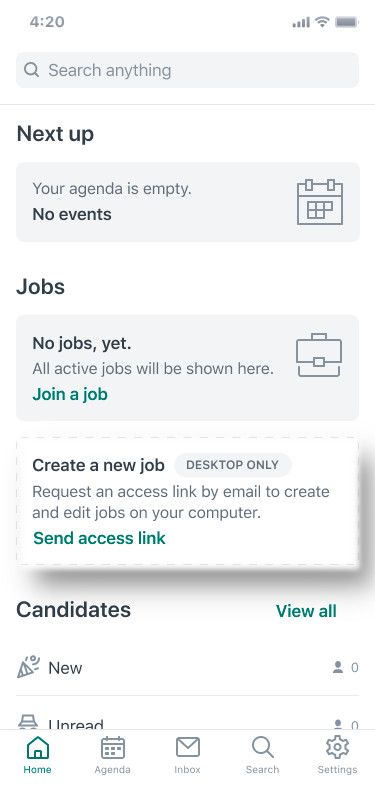 You can also view your Workable Inbox and Agenda, quickly contact candidates via phone or text and view filtering options for 'Slipping Away' and 'Popular' candidates.