Get to know Workable better with sample jobs, candidates, team members, and reports. When you sign up for the free trial as a Super admin you can start by creating a new job or adding sample data (non-admin members won't be able to add sample data).
If you choose to explore the product with sample data you are still able to create and publish jobs and vice versa. The sample jobs will coexist with your own jobs in your account.
Note: If you converted to a paid subscription before creating sample data during your trial period, you will not be able to do so after the conversion.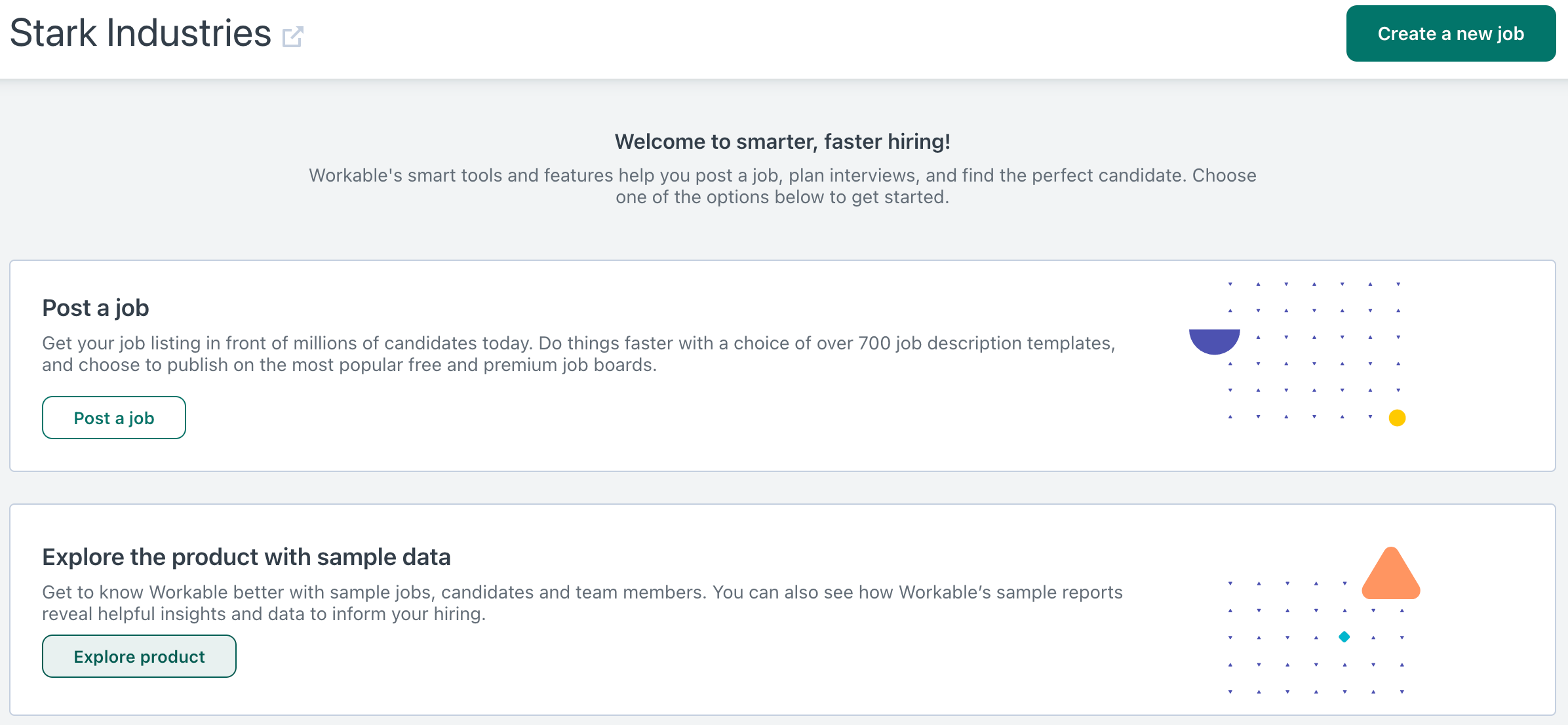 Adding sample data
Jobs and candidates
Click on Explore product and the system will start loading the sample data. This process is not instant; it typically takes less than a minute. When the process is complete you will see 2 sample jobs (set as used internally by default) in the dashboard under the "Sample jobs" section.
Click on the job title or a specific stage to see the sample candidates generated for the jobs together with some pre-existing activities such as emails, events, Video Interviews, Assessment results, tags and more.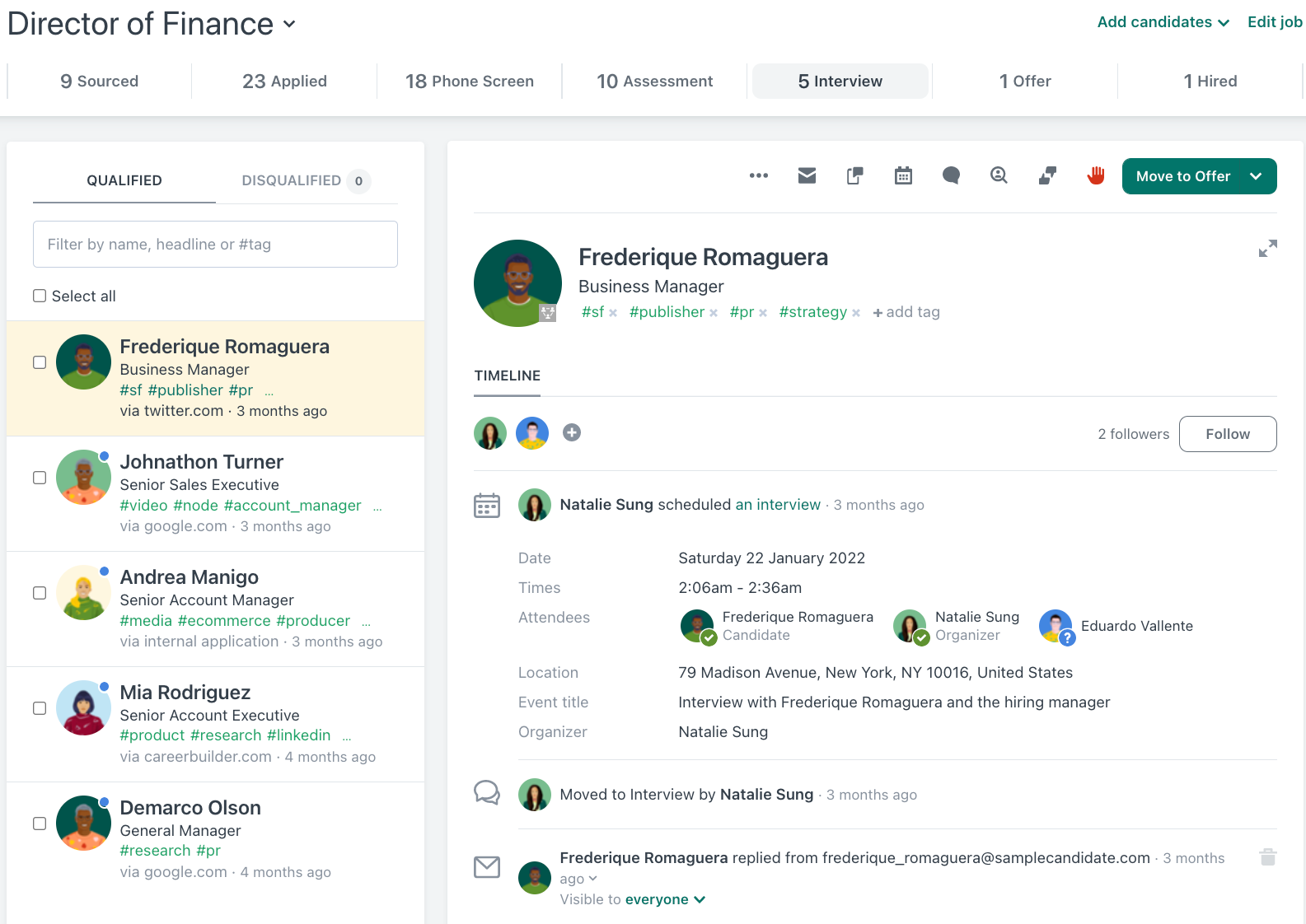 Note: If you have enabled sample data during your trial and then upgrade to the Starter plan, the sample jobs do not count toward your job slot count.
Account Members
Sample account members, with no ability to log in, will be visible on the Account Members page with different hiring roles in the sample jobs. Sample members will retain an avatar icon and a test email to differentiate them from non-sample members.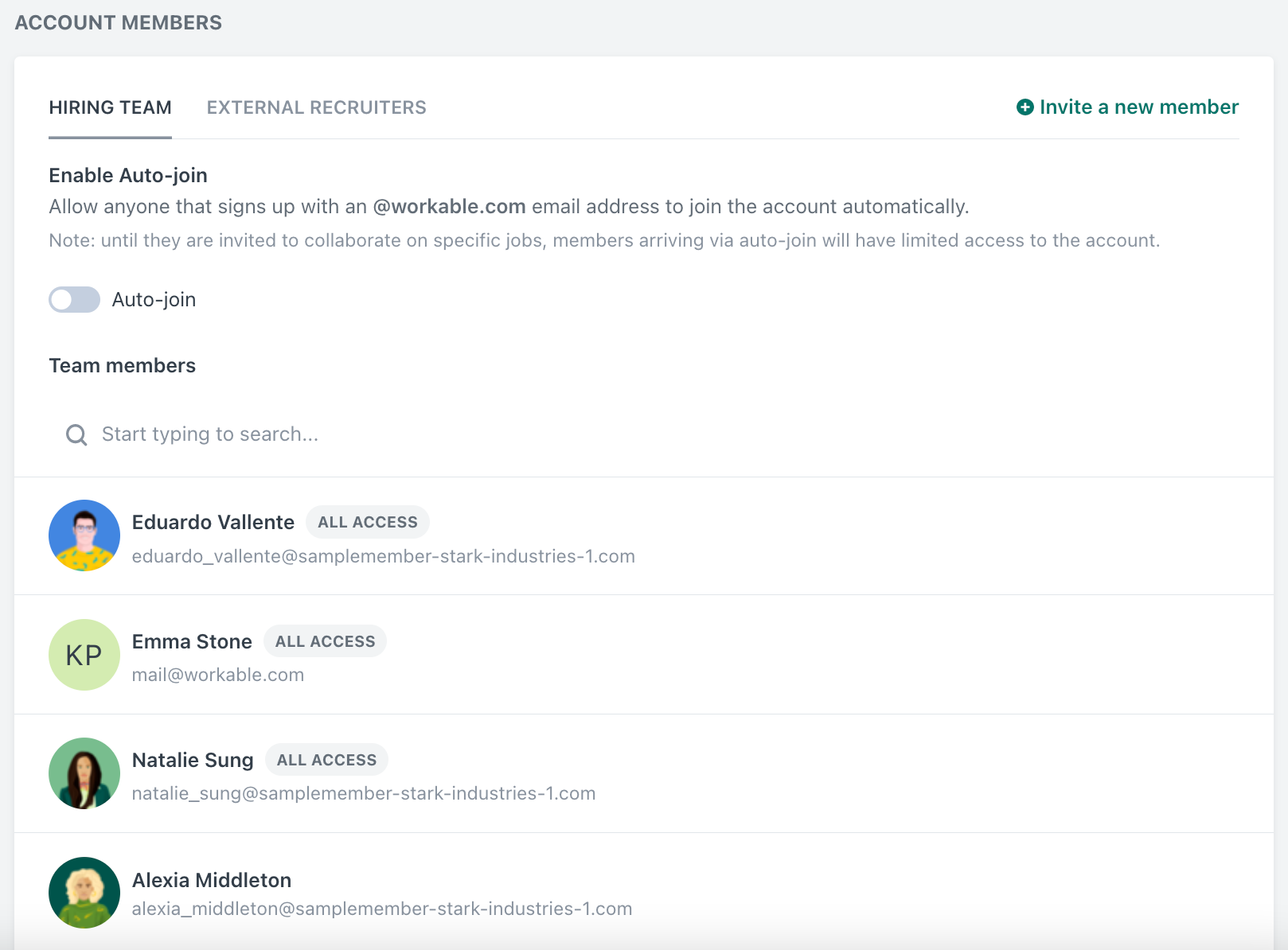 Reports
Only sample data
If you have only sample data and no other jobs, when you navigate to your Reports you will see the sample reports. A banner at the top will point out that you are viewing fixed reports with sample data.
Sample data and other jobs
If you are using sample data together with other jobs, then when you navigate to your Reports you will see a message bar at the top with a switch button; to reveal sample reports click the option 'Show sample reports'. The system will notify you that you are now viewing fixed reports with sample data.
By fixed reports, we mean that any changes executed at the sample jobs will not be reflected in the sample reports so the sample report data will be static.
From the same bar, you can switch back and forth between sample and non-sample reports if needed. Click 'Return to your reports' to switch to the non-sample reports view.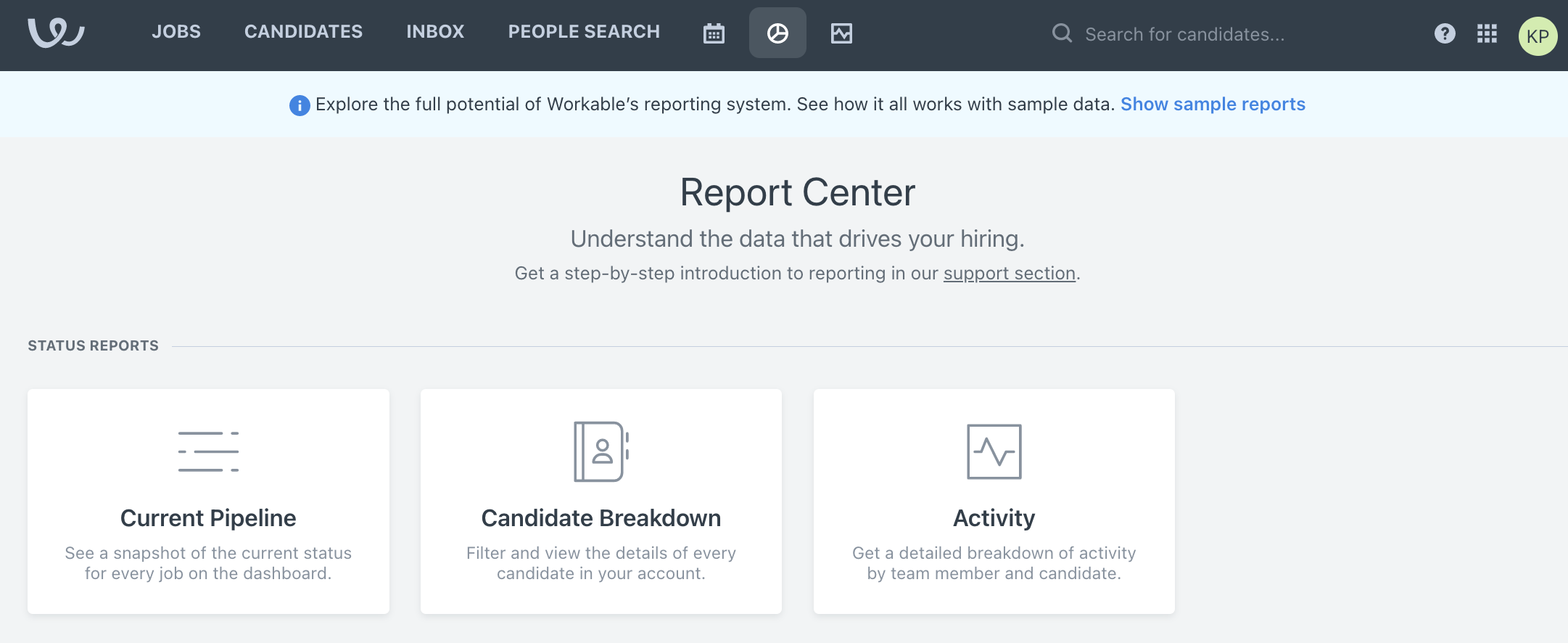 Interacting with sample data
Edit the job description/details and customize the application form. If the job setup is ideal for a job you wish to publish you can easily clone the sample job and use it as an actual job.
Navigate to the Find candidates tab and add 25 sample passive candidates for each sample job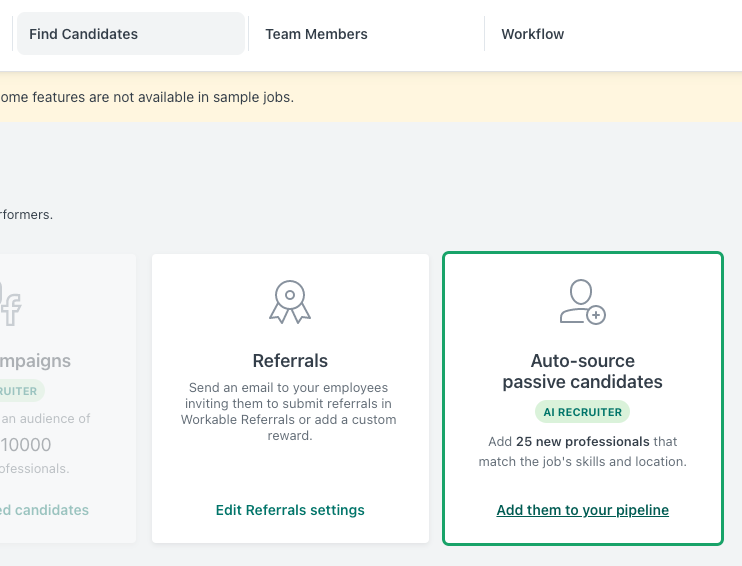 Interact with sample candidates and the relevant activities will be displayed in the timeline. Note that no emails/text messages will be actually sent to sample candidates but you will be able to see the activities on the candidate timeline.
Tip: If you are interested to explore the candidate experience you could upload yourself as a candidate and interact with the profile (send emails, events, video interviews, assessments).
Sample team members will already be invited to sample jobs but you can invite them to other jobs (even non-sample jobs). Actual team members can also be added to sample jobs to further explore Workable via sample data.
See a snapshot of reports with sample data and different filtering options; filter by job, department/location or change the date range. 
Usage limitations
Sample jobs are created as 'Used Internally' and cannot be published. To publish externally you should create a new job.
Sample jobs are included in the Referrals portal. You can apply to them or refer someone but you won't be able to share them. 
All candidates existing under a sample job cannot be moved or copied to non-sample jobs or other accounts, and vice versa actual candidates existing under non-sample jobs cannot be moved or copied to sample jobs
When editing sample candidates you won't be able to edit their contact details, resume and avatar
The sample data in reports will be static meaning that any updates made by users in sample candidates will not be reflected
Sample data will be available for all reports except for: Candidate Surveys, Compliance (EEO/OFCCP), Campaigns and Hiring plan
Deleting sample data
The sample data will not be deleted automatically; it will remain in your account for as long as you need it. When you are sure that you don't need the sample data anymore an admin user can permanently delete it. To do so, locate the sample jobs on the main dashboard and click on Delete sample data. This action will open a confirmation modal for you to verify the action. If you prefer you can also delete the jobs one by one.
Important: Deleting your sample data is a permanent and non-reversible action. Upon deletion, all sample job data including related candidates, reports, and sample team members will be removed.
Mobile apps
Admin users are able to create and delete sample data via our mobile apps (iOS and Android). When the data is created, the sample jobs are displayed on the home screen and jobs list. To delete sample data navigate to the Settings page in the app.