When a candidate reaches a stage with a video interview, a new icon will appear in the toolbar across the top of the candidate's profile. Alternatively, use our automated actions feature, to trigger an invitation when a user moves a candidate to a stage that contains a Workable or third-party Video interview test.

Click the play button and you'll be able to choose the video interview that will be sent to the candidate.
Once you click Send Video Interview a note will be added to the candidate timeline. The test will be sent automatically.
Important: At this time it is not possible to cancel, resend, or change a video interview once it has been mailed, so make sure that you select the correct interview. If you need to make changes or updates you'll need to log in to the video interview platform.
When the results are returned you'll:
receive an email notification, with a link to view the interview on the candidate's Timeline
see a link on the candidate's Timeline to view the video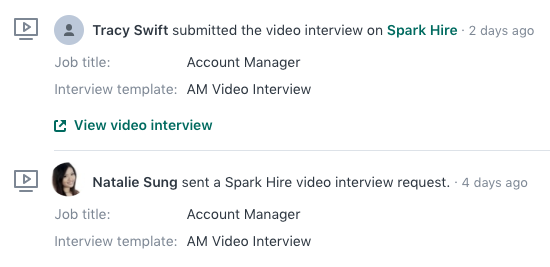 Note for Spark Hire users: If this is your first time sending a Spark Hire interview you will be prompted to enter your API key. To generate your API key:
Log in to your Spark Hire account.
Navigate to your Settings and then Integrations
Locate Workable and click the option to Integrate.
Click Activate Integration. Your user API key will be generated. Copy and paste the key into Workable.