You can easily and securely communicate with candidates either using the standard email functionality or by integrating your company's email account. 

Emailing candidates with standard functionality 
Workable partners with a trusted email service provider to deliver your emails to the candidates. This functionality works if you are using Microsoft Exchange or other email clients, or do not want to integrate your company's Gmail or Microsoft 365 Outlook account.
Emailing a candidate takes place in the candidate profile. At the top of every candidate's timeline, click the envelope icon:

This will expand the window to reveal the messaging tools: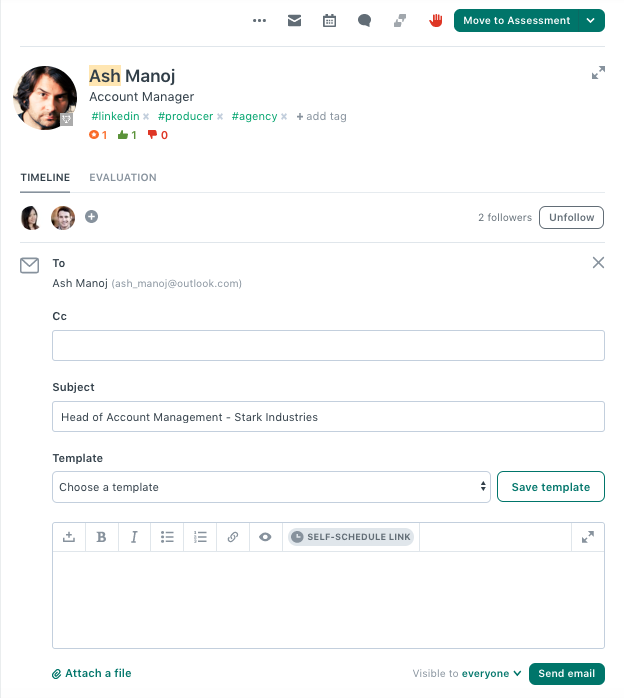 On mobile, you can send emails including attachments and self-schedule links (if your company uses
Gmail
or
Microsoft 365 Outlook
). 
Sender
Your name will be listed as the 'sender' on outgoing emails from your account.
The sender's email address is a unique email dropbox that will look something like <uuil8994uu9p@inbound.workablemail.com>. This means that the candidate will know that the email is sent from you, but any response is routed back to your Workable account, and your personal email address is never shown to the candidate.
Subject line
By default, the subject line is generated automatically and displays the job title and company name ("Job Title - Company Name"). It can be edited upon activating the Gmail or Microsoft 365 Outlook Integration.
Receiving and replying to emails
When a candidate replies to an email you've sent through Workable, you'll see a copy:
on the candidate's Timeline in Workable
in your own email account
You can respond to the candidate from either location.
If you're logged in to Workable: reply directly from the candidate's Timeline.
If you're not logged in to Workable: save time by replying from your external email account (e.g. Gmail or Outlook). Workable will pick up the email as it's sent and mask your email address. The candidate will see the same email address used previously and any email you send will be tracked on the candidate's timeline. Your external email address will not be revealed to the candidate.
Attaching files
Add files to an email with the paperclip icon on the Workable email form. The maximum file size for an attachment is 20MB. For larger files, we recommend including a shareable link in the email to a file sharing platform (e.g. Google Drive, Dropbox).

Emailing candidates through email integrations
If your company uses Gmail or Microsoft 365 Outlook, we suggest enabling these integrations in the Integrations menu to unlock extra features like: 
FAQs
What happens if a candidate sends an email after a job had been archived?

The email will be imported on the candidate's timeline, even though the job is archived.
Why can't I email uploaded candidates?

Contact us to enable this option for your account. Once enabled you should not face this issue again.
Who will receive notifications for email replies?

Followers of a candidate will receive notifications for email replies (if you are using our Standard integration) and other interactions.

Members of your hiring team will also be able to view the emails you send on the candidate's profile, even if they are not included as a follower.
What's next?
Have you set up your email signature to appear in every email sent via Workable?
Have you set up your communication templates yet? Use automated actions to send communication templates based on specific actions that users take in Workable.