To schedule an interview, access the candidate's profile, then click the calendar icon in the toolbar.

A scheduling form will appear in the candidate's Timeline.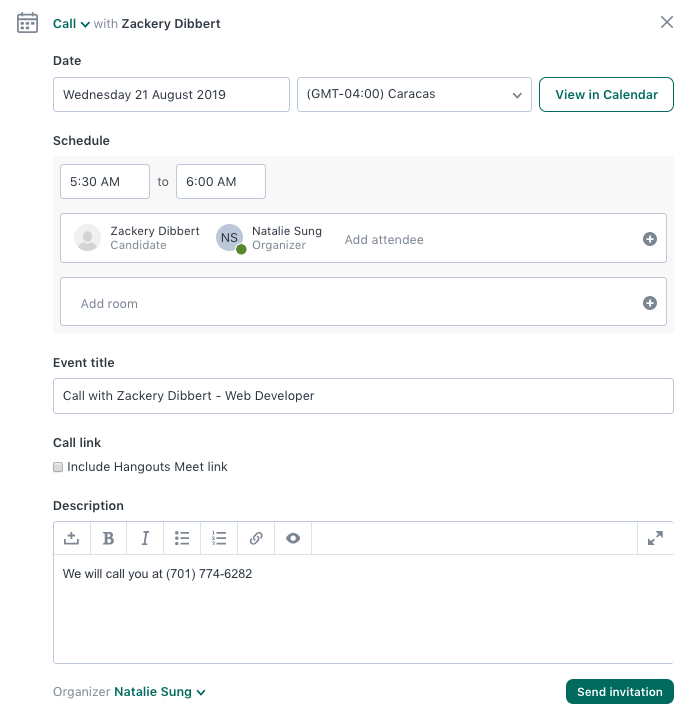 The type of interview will be set automatically based on the type of pipeline stage. For example, if you're scheduling a phone screening, the event will be a Call. If necessary, change the meeting type by clicking the dropdown menu in the upper left. An "internal meeting" will enable you to send out a calendar invite to coworkers to discuss the candidate, without notifying the candidate in any way: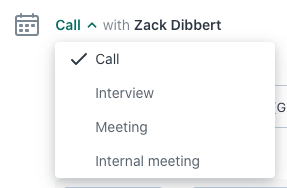 Set the date and confirm the timezone.
Arrange the time and add attendees. Invite other collaborators by clicking the [+] sign in the attendees' field. You can select from members of the hiring team or type in the field to add an attendee by name or email address.
To remove yourself, a coworker or a room, hover over the user icon in the attendees' or room field and click the X.
If you've connected your company's Google or Outlook calendar to Workable you'll also be able to reserve rooms and check coworkers' availability through Workable. After adding a coworker or room to the event, hover over their icon to see if they are available. An orange outline indicates that they're busy. A green outline indicates that they're available: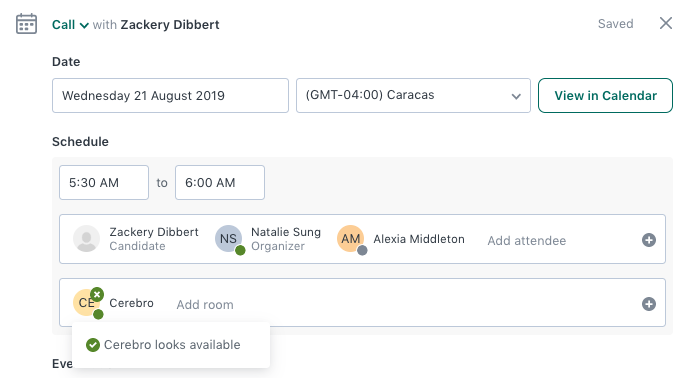 For onsite meetings, you'll see the option to add an address and connect the interview to a map location. Workable will use this to create an event page for the event attendees which includes a map of the local area.
Enter any further details like the event title and description. The event title will be sent to coworkers who are invited to the event, but not the candidate. The candidate will receive an event invite titled "Call for [job title]" or "Interview for [job title]".
The description information that you enter will be sent to the candidate and all other attendees.
At the bottom of the form, you can set the "organizer" for the event. The organizer can be anyone on the hiring team, though it should usually be the person creating the event in Workable.
The organizer will be the sender for the invite event email. They will get notifications about the event and be able to make updates, but they do not need to be an attendee.
Once you're done, click Send Invitation. This will send your event details to all attendees; yourself, colleagues and the candidate via email. All parties can RSVP (Yes, Maybe, No) with direct links in the email. When you've received the invitation you can add it to the calendar associated with your email account.
Learn more about Workable's Google calendar and Outlook calendar integrations.