Important
: Each individual search result counts as one profile towards your profile quota. Click
here
to learn more about your profile views consumption. 
Overview
People Search is a search engine for candidates available for all users except Reviewers & External Recruiters. Search for skills, job titles or names and People Search automatically scours millions of profiles from multiple data sources in real time. The information it finds is organized into a single, unified candidate profile. Depending on the candidate, you'll see information including resume, contact details and more. Add these candidates directly to your hiring pipelines and engage them for recruitment.
People Search is different from simply searching through candidates who are already in your account. It enables you to find passive candidates: those who haven't applied for jobs at your company. When you find a great candidate you can add them to one of the jobs you're hiring for. Reach out to them at your convenience to introduce your company and the job.

Note for Trial accounts: While utilizing our Trial it is required to have at least one published and approved job to use this feature.
Finding the right candidates 
Learn more by clicking Next to the below workflow steps.
For some profiles, you'll see Likelihood to Move and Market Compensation data. Click on those buttons to view the information. Likelihood to Move shows how likely the candidate is to be receptive to a new job opportunity. Market Compensation shows a percentile distribution for what the candidate's current salary might be.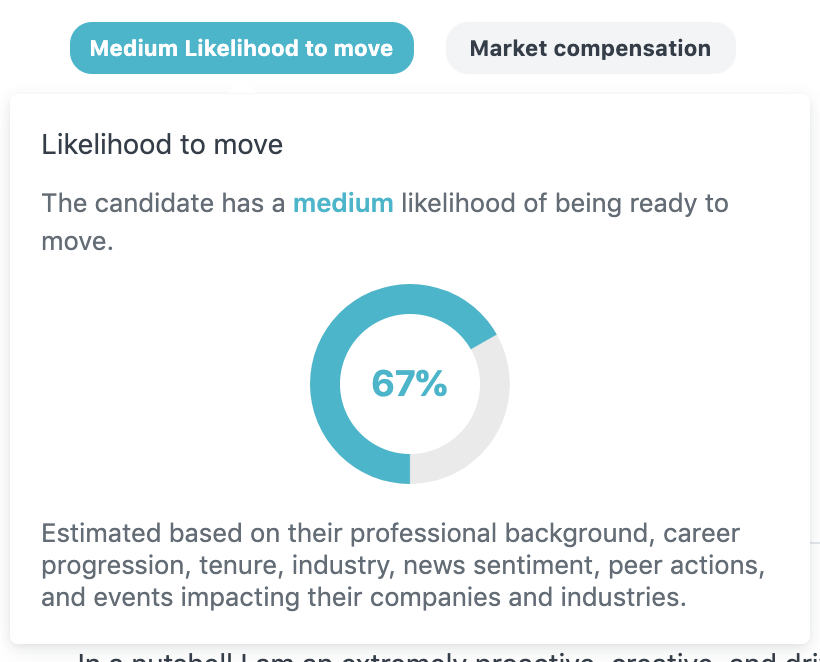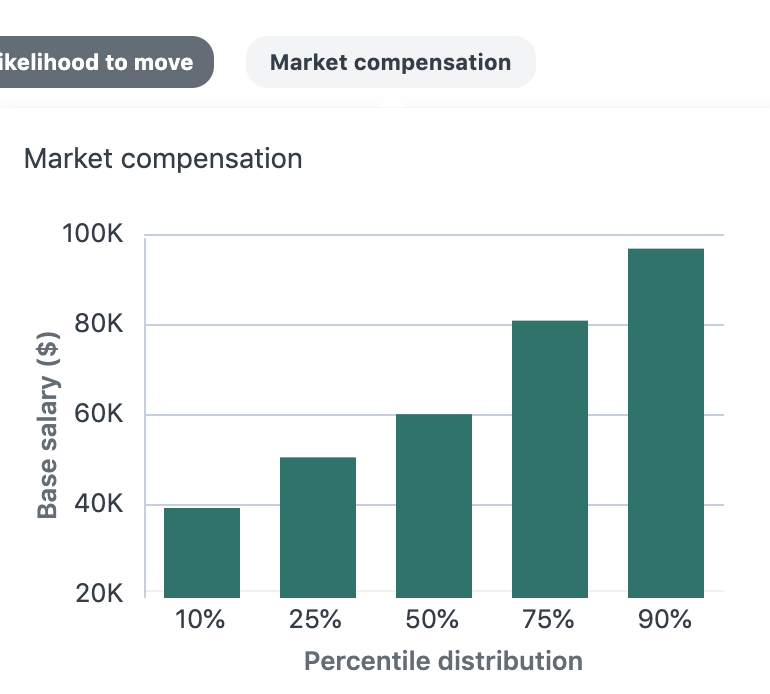 On mobile, you can use People Search:
Directly from the job card in the job list if the job has 0 candidates
From the 3-dots menu in the job card in the job list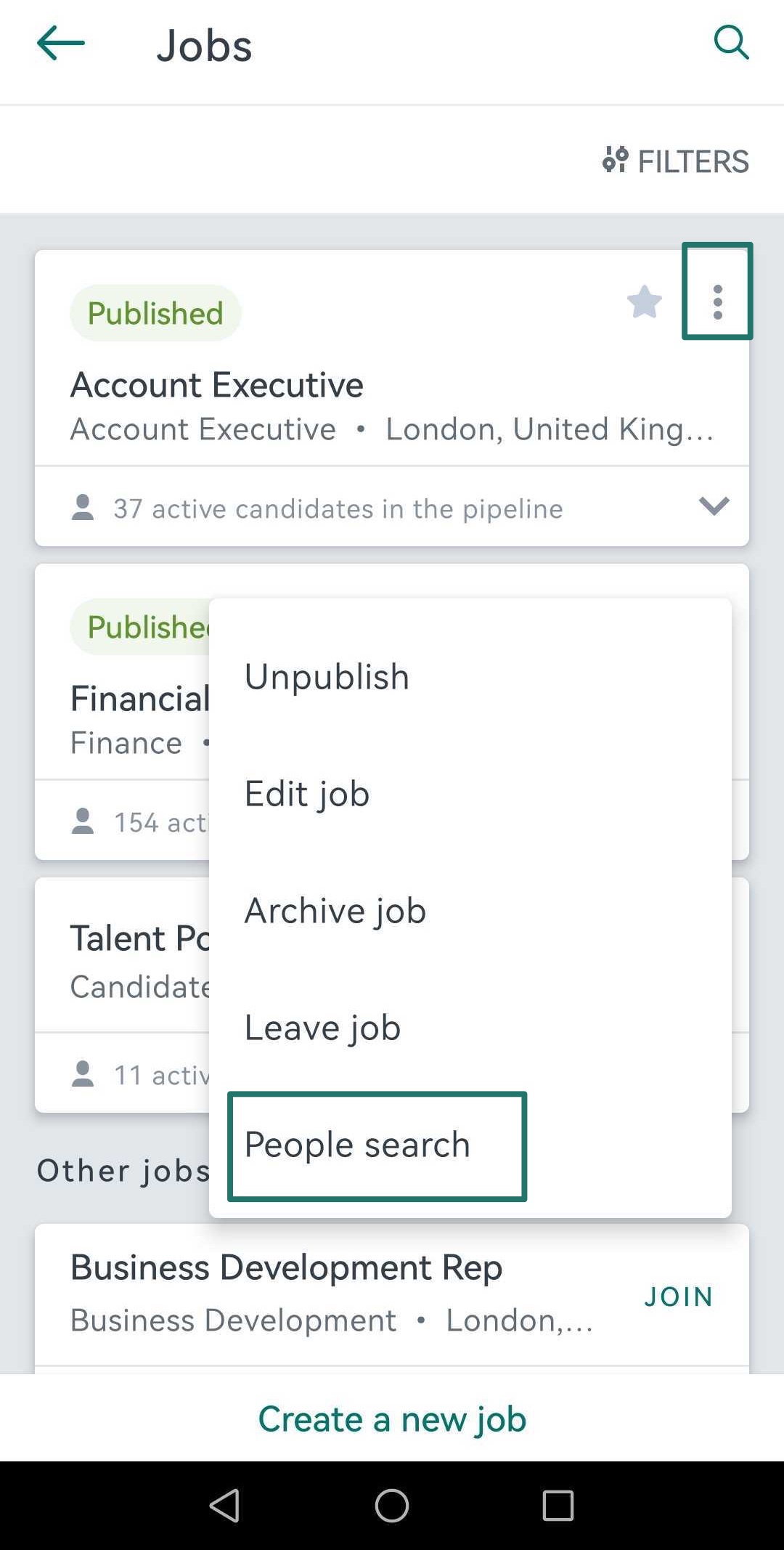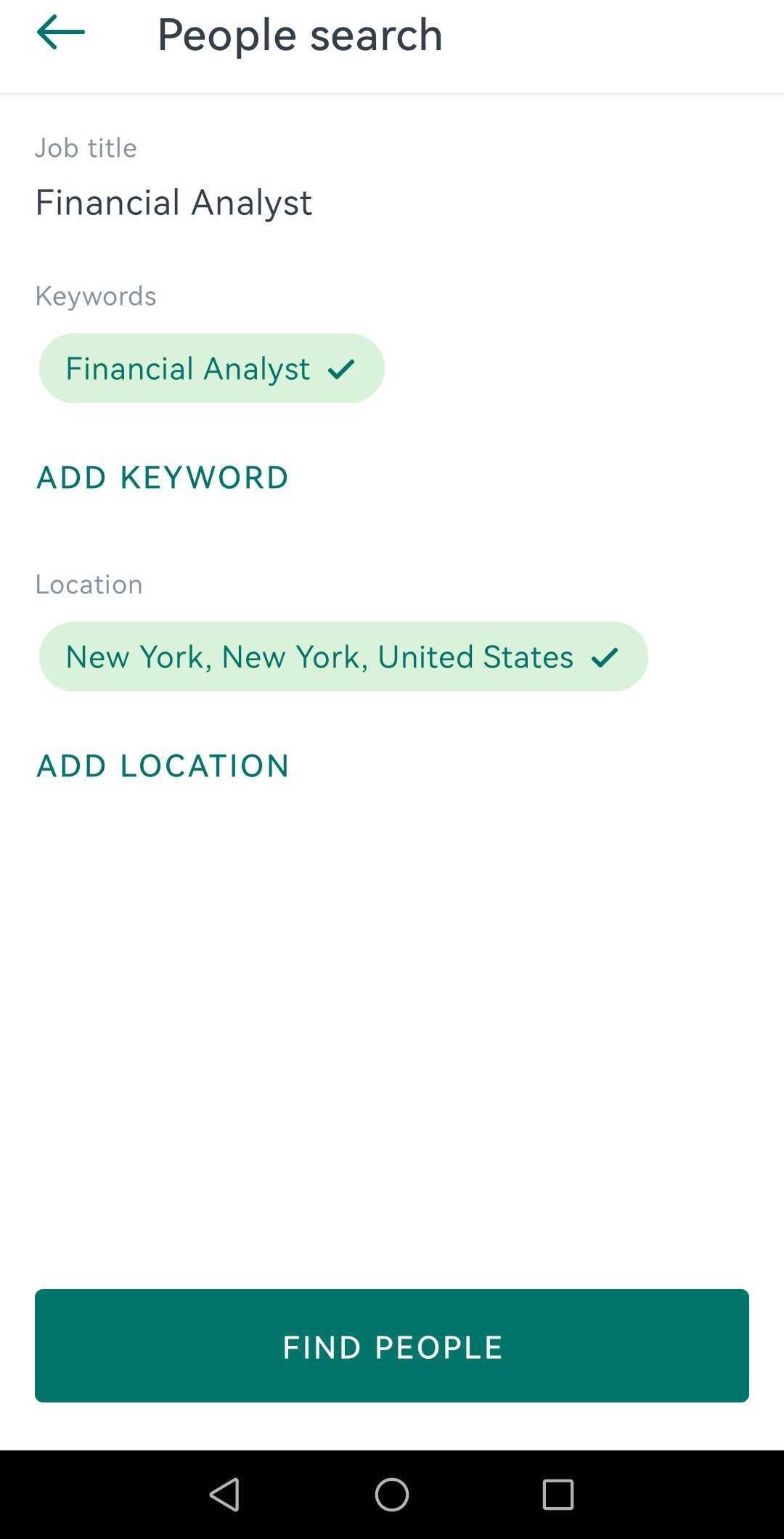 Once the profile list appears move between profiles by scrolling to the left and right. Click a profile to view more details and add it to the job pipeline. 

Adding candidates to Workable
At the bottom of every profile, you'll see a green + (plus) button.
Tap this button to reveal a panel where you can 'clip' the profile into your Workable account. The candidate's information will be pulled into your account for the job you choose. Candidates are not notified when you do this. Alternatively, download the full profile as a PDF.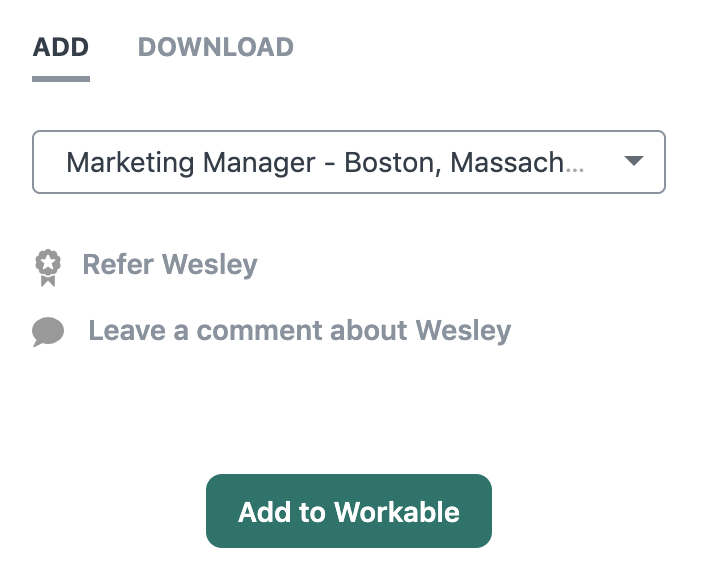 You can also choose to act as a referrer for the candidate and to leave a comment which will be stored in the candidate's profile once they are added to your account.
Contacting sourced candidates
When candidates have been added to the Sourced stage through People Search, reach out to them to introduce yourself, the company and the job. Explain why you're reaching out and see if they are interested in being considered for the role. Some templates you can use as a reference:
The communication template named 'New job opportunity' (included in the default templates)

The template under this resource page 
You can email candidates in bulk. By clicking the Select All checkbox in the stage and then selecting Bulk Actions. You can also ask sourced candidates to apply on your careers page (so that they can answer your application questions). You can check more here on how this will be handled in the system (scenario 3 in the table).
Note: If you have GDPR features enabled on your account, candidates that are sourced for jobs in the EU, UK, Norway, Iceland, Switzerland & Liechtenstein will be deleted after 30 days unless you contact them via email through Workable.