For more info on your current Workable plan or all available plans, you can access the Plan section of the main menu. Learn how to purchase a new Workable plan here.
Monthly plans
Starter plan
Our monthly Starter plan has a fixed price of $149/month and is designed perfectly for those with short-term or occasional hiring needs. With this plan, you can have up to 2 active jobs and access essential recruiting features, only when you need them.
🔎 For more details check our FAQs page.
Standard plan
If you need to post more than 2 jobs at a time then you will need to transition to the monthly Standard plan that offers unlimited active jobs. The pricing here will be calculated based on the full-time employees at your company.
Both plans will be renewed automatically every month but you can cancel them anytime before your next billing.
Annual plans
If you are ready to commit to an annual plan you can choose between: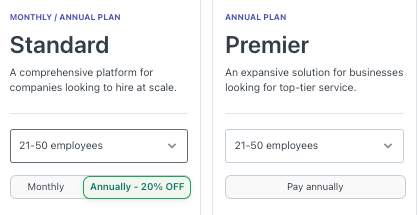 Standard or Premier annual plans with manual invoicing
The pricing here is tailored to your organization based on the full-time employees at your company. Access our full suite of talent acquisition and applicant tracking tools, including premium add-ons.
Purchase your plan right away or talk to us for a product tour or alternative invoicing options.
See more details
Legacy plans
Workable has a number of legacy plans that are no longer offered to new customers. Existing customers with these plans are able to keep them indefinitely unless hiring needs require moving to one of our current plans.

Trial
Our 15-day trial plan enables you to access the standard features. You'll be able to set up a hiring pipeline, post jobs, and interact with applicants. Once the trial has ended you can select the plan that best fits your hiring needs.
🔎 Check out our free trial FAQs.

Read-Only (Free)
If you've ended your subscription or trial with Workable, your account will be placed on a Read-Only plan. There is no cost for this plan, but you will not be able to post jobs or interact with candidates. You will only be able to view candidate data for candidates that are already in your account.