If you are collaborating with recruiting agencies, add external recruiters to your account to enable them to upload candidates directly to your jobs in Workable.
✅ External recruiters can:
Add, edit and delete only the specific candidates that they have uploaded to your account
Create internal comments
Send emails/events
❌ External recruiters can't:
See candidates who apply through job boards or your careers page
See candidates uploaded by other external recruiters/agencies
Evaluate candidates & view other's evaluations
Adding external recruiters to Workable (Step 1)
To add a new External Recruiter:
Access the Account Members section by clicking your user icon at the top right of your screen
Select the

External Recruiters tab and click the link to 'Add an external recruiter'

Enter the email address of the external recruiter you need to add and any comments for your reference. External recruiters will not see them.
Important: At this point, external recruiters won't be notified that you have added them to your account. All they will be able to do is submit multiple candidates to your jobs by using the job mailbox. If you want your external recruiters to sign in to Workable and upload resumes on the platform, you should invite them to the hiring team for the job (Step 2 below).

Inviting external recruiters to jobs (Step 2)
When creating or editing a job:
Access the Find Candidates

tab across the top of the screen
Click

Invite Recruiters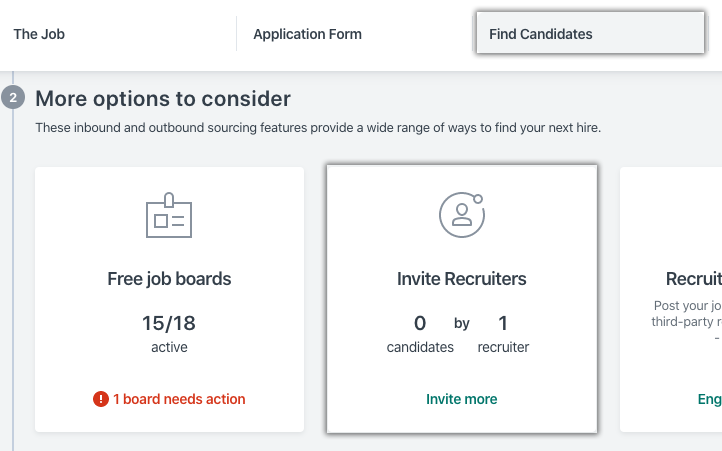 If the external recruiter is already added to the account, you'll find their name in the dropdown menu to the left of the screen. Simply identify the name of the recruiter you'd like to work on this job and click Invite Recruiter.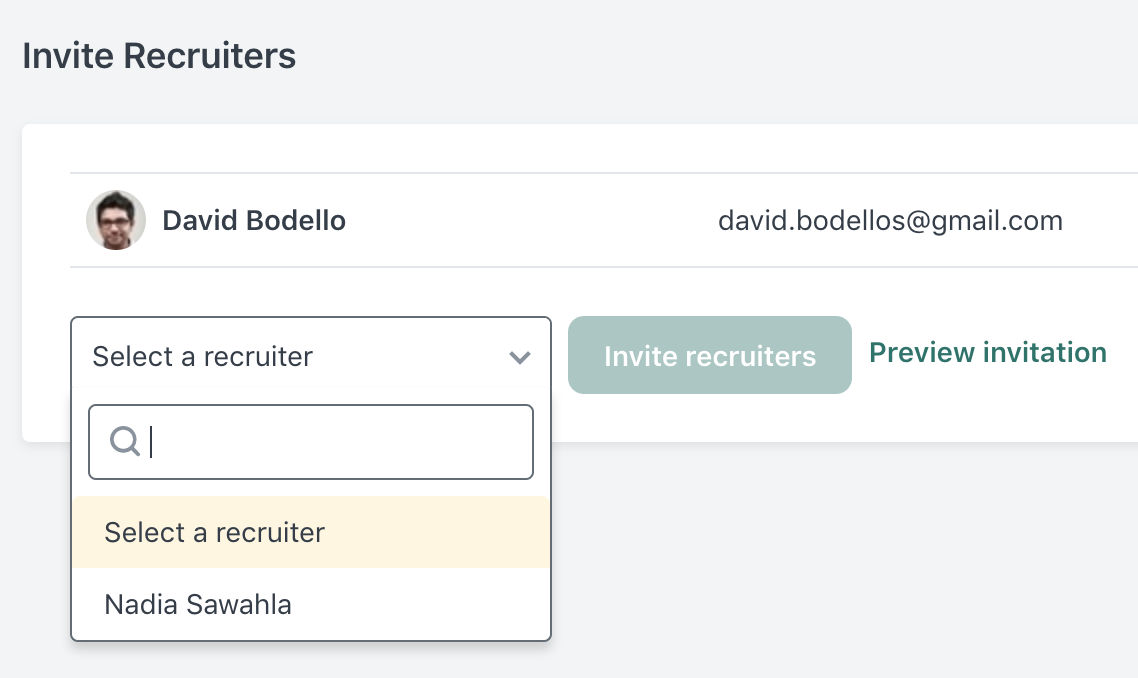 If an external recruiter is not a member of the account yet, you can quickly add them to Workable and the job at the same time. In the same section, just click Add a new recruiter to the right and fill in their name and email.

They'll be sent an email automatically with the details of the job and a link to add candidates directly via Workable. This email message contains the details of the role and a Submit Candidates button they should use to sign up and access your account: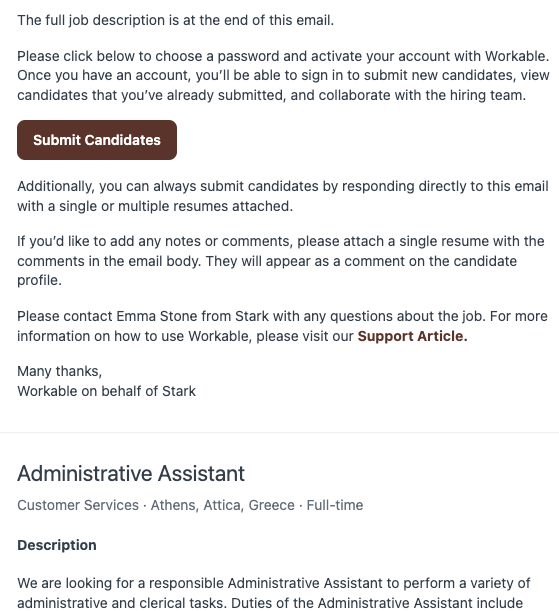 Once the external recruiter joins the account, they will then be able to upload candidates straight to the platform for this job.
Note: External recruiters that are not already members of your account will only be able to submit candidates by replying to the invitation email. In case they are confused or their resumes are not coming through properly, please instruct them to refer to 'Using Workable as an External Recruiter' guide or ask them to contact us.

What an External Recruiter sees
External recruiters have the most limited access to your account; they will only see the jobs that you specifically assign to them and candidates that they have sourced into your account. They cannot see candidates who apply through job boards or your careers page. In addition, they have limited functionality when working with candidates.
When you invite external recruiters to submit candidates for a job, they see a jobs dashboard with the jobs they have been asked to work on.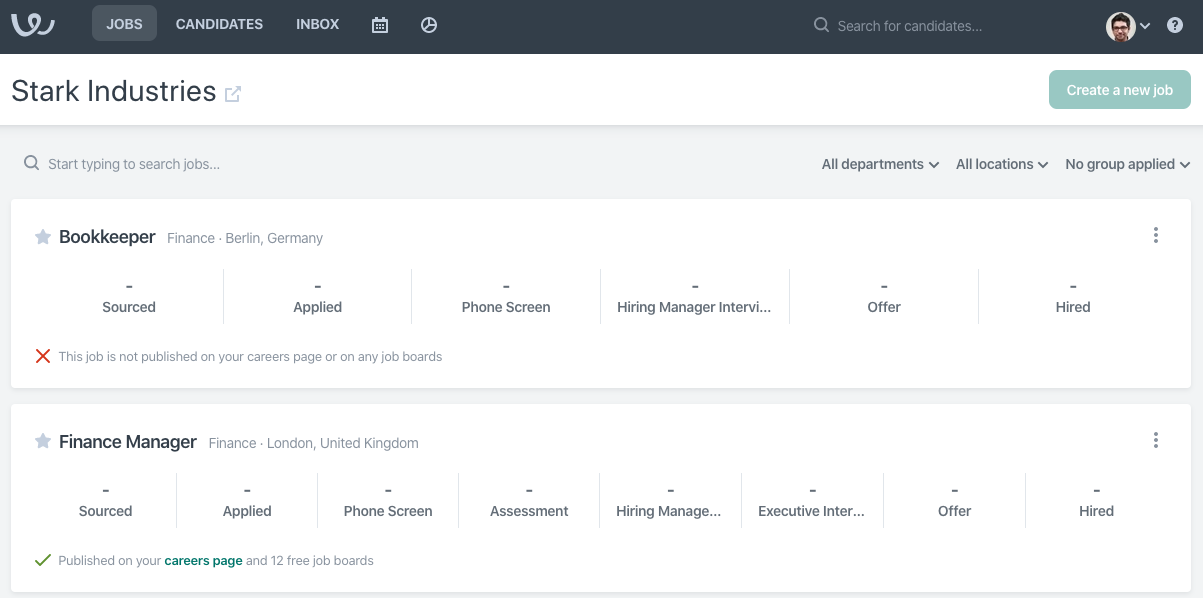 To see exactly what external recruiters can or cannot do in comparison to other account members, visit our User Permissions Chart.
If you do not want the External Recruiter to have access to the Workable dashboard and the candidates they upload, just add the External Recruiter to your account without inviting them to a job. Share with them the job mailbox of the job that you need them to collaborate on and they will still be able to add multiple candidates to these jobs.
FAQs
What happens with External Recruiters if SSO login is enabled for our account?
If I restore an inactive external recruiter, will they have access to their previously submitted candidates?

Yes! Upon reactivating the access of an external recruiter, they will regain access to all their previously submitted candidates and their corresponding history.