Workable makes your jobs available to Indeed immediately upon being published. Indeed's team then conducts a short review to ensure that jobs meet their guidelines and ultimately determine what is eligible to be advertised on their site. Indeed reads our feed every 6 hours.
If your job is not published on Indeed after 24 hours first confirm that Indeed is available as a free job board for your job's location (if it's not, Indeed will not be visible under free job boards) and that the board is turned on.
Note for Trial accounts: Free visibility on Indeed is available only for our paid customers.
To get the best out of your job postings, follow the below best practices and note what to avoid.
Already posting on Indeed
Due to Indeed's 'one-source' policy, they will not accept a job post from Workable if your company has previously posted on Indeed directly. In this case:
You need to contact their team and ask them to make Workable your primary posting source on their platform. By doing that you will ensure that your posts will not be marked as duplicates and lose visibility.
In the meantime, for your current direct postings, you can bulk upload candidates you receive from there into Workable so you can manage the post-application process.
When Indeed confirms that Workable is your primary posting source you should unpublish all direct postings and post only via Workable from now on.
Not posting on Indeed yet
Claim your Indeed company page
To claim your company page, you must have an Indeed employer account.
If you already have an employer account:


Visit https://www.indeed.com/companies and search your company name
Find your Company Page and click on it, then select the Why Join Us tab
On the right side of the page, click Claim this company page
Click Claim on the following page. Your claim will be sent to Indeed for verification. If your company page is already claimed, contact Indeed for further assistance.

If you don't have an employer account yet follow the below steps to create one:
Ensure you comply with their standards
It is very important when you create your job post to follow Indeed's job posting standards.
Note: All recruitment-based/staffing companies or entities in the United States and Canada are required to sponsor their jobs in order to receive visibility.
Best practices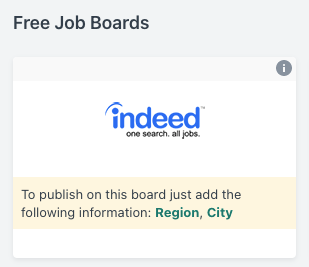 Review the

fully remote box
Fully remote positions are not always eligible for free visibility. If your job is temporarily remote or you offer work-from-home flexibility, untick the fully remote box and include specific phrases in your job description pointing that.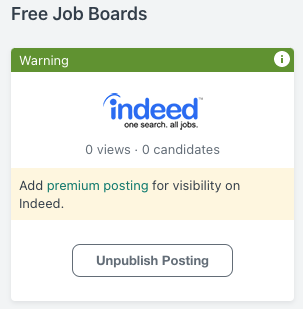 Use the exact same company name in Workable and Indeed
This will ensure the quick and correct mapping of your jobs.
How do I contact Indeed?
As they only help employers directly, if you have an Indeed account, the best way to contact Indeed would be via your dedicated representative. Alternatively, you can use their form here or log in to your Indeed account and click "Need Help?" at the top of the page. For visibility requests please provide this explanation to help them assist you promptly:
"I recently added a job through my feed via Workable (a comprehensive XML feed with feed ID: 66460) and it's been past the advised amount of time it takes for new jobs to be added to Indeed. I would like to request a ticket submitted to Indeed's Trust and Safety for a review for the visibility of my jobs. My company name is [company name]. Here is an example of one of my jobs on Workable: [include link from career page]"
It may take 5-7 days for the process to complete.