Add tags to easily filter and identify promising candidates with a particular skillset. Tags are searchable and can help you quickly understand a candidate's qualifications for a job. Candidates won't be able to see tags.

Adding tags to a candidate
To tag a candidate, click + add tag at the top of their profile. Type in the keyword or phrase that you want to add and hit enter to save it.

You can also add a tag when you leave a comment. While adding your comment type the hashtag symbol '#' and then the tag that you'd like to add. Save the comment and the tag will be added automatically.


Filtering candidates using tags
Tags are visible to all members of the hiring team. You can search for and filter candidates based on hashtags in the Candidate Database. If you are viewing a pipeline stage, you can search by tags in the list of candidates on the left side of the screen.
You might want to add tags based on skills, experience level or software knowledge. For example, we can tag someone with: #media #sales #5years #salesforce
If you and your team add tags consistently you can quickly find candidates who might be a good fit for future jobs.
Deleting tags
To delete a saved hashtag you need to remove it from the timelines of all candidates it was used for. The best way to do this is by using the Candidate Database. You can select the tag from the filtering options on the left to generate a list of all the candidates.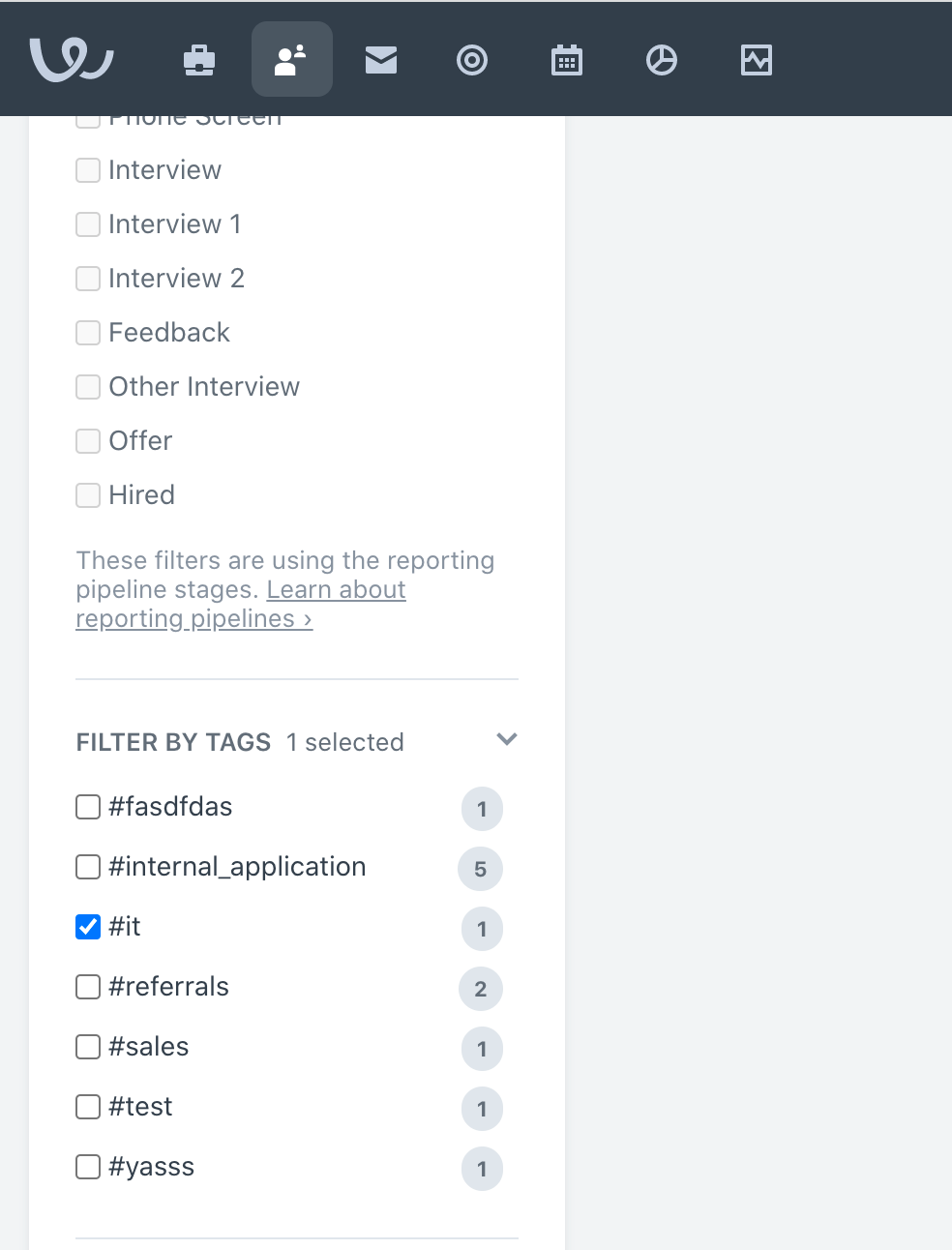 Then you can open each timeline and delete the tag using the X button you'll see for each tag. If the manual removal of tags is not possible (for example due to a large amount of data) contact us for assistance.
Reporting on tags
Candidate tags are available to view and export via the Candidate Breakdown report. Just include Tags under Customize data and export the report to CSV for further analysis and filtering.