Using Workable with multiple companies
Follow
Super Admins
All plans
If you're recruiting at multiple companies you can access them all with one set of login information by registering with the same email address.
For the most part, companies that you access with your Workable login are independent from each other. They each have their own users, configuration, permissions and billing. All candidate and activity data is only visible to the members belonging to a specific account. Adding yourself to multiple accounts does not link them in any way, other than providing you the convenience of jumping quickly from one account to the next.
Note: Each company requires its own subscription to a Workable plan.
If you have more than one company, Workable enables you to:
Add your new company easily to your existing account


Quickly add a new company by logging in your existing account and clicking on your profile icon in the upper right corner.

Find the Add a Company option at the bottom of your settings list. Enter the company name and website, and Workable will create a new trial account, linked with your current user login. If you want other members to access the new company as well, you can invite them from the Account Members page.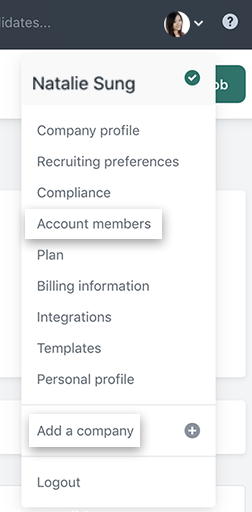 Use the same login credentials to access all your companies

With only one email and password combination, you can access all your companies without having to use separate sets of credentials.


Join an existing company

When you receive an invitation to join a Workable account, click the link that says Already have a Workable account? and sign in using the email address you already use with Workable. If you're already logged in, this might happen automatically.



Easily switch between your companies

Switch between your companies by clicking on the user icon menu. The user below is accessing the Stark Industries company account but can switch to other companies like "South West Co." by clicking on them.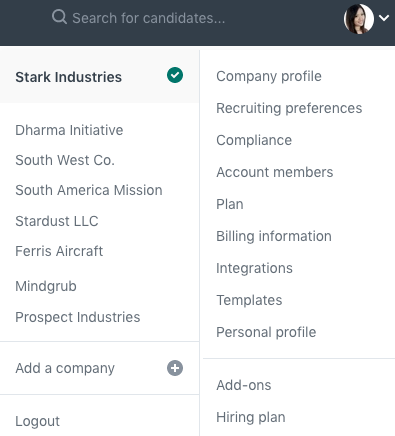 Transfer candidates between companies

You can copy candidates from a job in one of your companies, to a job in another company under the same Workable account. Copying the candidate will create a new profile for them. The old one will remain intact and you'll not be able to carry over the existing Timeline information.

Set up separate Integrations with each of your companies


Each integration is designed to be set up and used with the company account you initially enable it for. That way, you can use different integrations with each company you recruit for using Workable.

However, a LinkedIn Recruiter account can be used with multiple companies if needed. Speak with your account representative on LinkedIn and use your recruiter seats with more than one company having the jobs posted in the same LinkedIn company page. For example, if you have one LinkedIn company page (Stark Industries), but various Workable company accounts for each location (Stark Industries US and Stark Industries Canada) you can still post all the jobs in the main company page on LinkedIn.


Leave a company without losing your Workable account

You do not need to delete your entire Workable account to leave a company! From the user icon, just navigate to the Personal Profile, scroll to the section called 'Edit your Credentials' and click Quit this Account. This will remove all access to the company you're currently viewing, and it will be removed from your menu.

If you want to maintain access to the account but use a different email address to log in, you can ask your account administrator to

invite you

to your new email address.