Workable can integrate directly with your LinkedIn Recruiter account. After setting up the integration you'll be able to:
Sponsor your jobs through Workable by using your LinkedIn Recruiter job slots
Connect those jobs to your company page on LinkedIn
Manage your jobs directly in your LinkedIn Recruiter account
Important: Only full Recruiter products are compatible with the integration which include Recruiter Professional Services - RPS (for staffing firms) and Recruiter Corporate (for corporate companies). This is not available for Recruiter Lite accounts.
Integrate accounts by adding a LinkedIn Company ID and Contract ID to Workable, then add Workable as a job posting partner in Recruiter. While adding the IDs is a one-time setup for all users, we recommend that other Recruiter users who will post through Workable also take steps to:
Connect their LinkedIn account under the 'Your profile' settings in Workable
Confirm Workable as a job posting partner in Recruiter via the steps below
Setting up the integration
In your Workable account: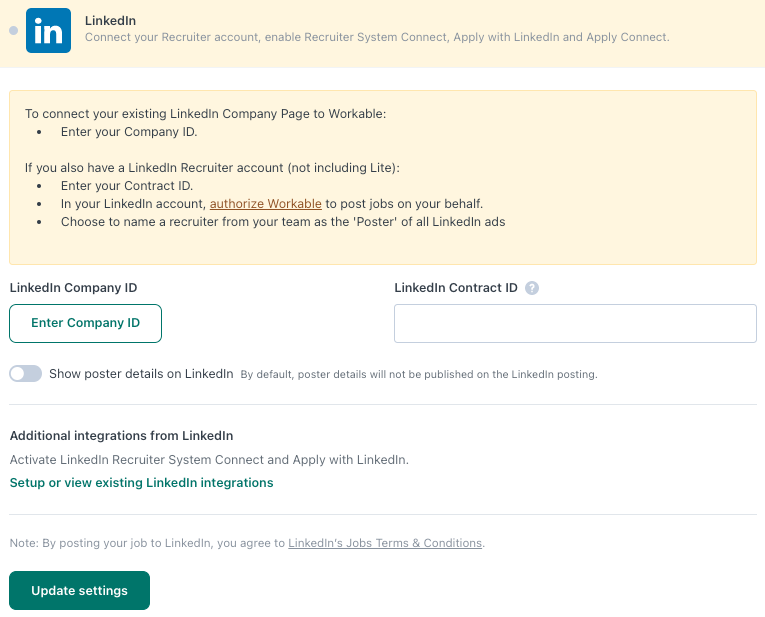 Next, locate your Contract ID in LinkedIn Recruiter and add it to Workable:
Click your user icon in the upper right
Copy the ID number that appears in parentheses with the user menu, this is your Contract ID
Paste the ID into the Contract ID field in Workable's Settings > Integrations page and click Update Settings
In your Recruiter account:
Finally, authorize Workable as a job posting partner in Recruiter:
In LinkedIn Recruiter, go to your user icon, then Product Settings
Click the Job posting tab and then Job posting partner
Select Workable from the menu and specify a default job poster (we recommend that you select

an admin user, active recruiter on LinkedIn)

Save the changes

That's it, the LinkedIn Recruiter integration will be now complete! In the Find Candidates tab of the job editor, under the Premium Job Board options, you'll be able to post using your Recruiter account.
You can also turn on Poster Details from this section. This will include your name, job title and location next to the job ad on LinkedIn. By default, poster details are not published with job ads. If you switch on this option, you'll need to provide an email address and job title.
After making any changes to this section, make sure you save changes before you leave the page.
Using the integration
You will now be able to sponsor any of your Workable jobs by using your LinkedIn Recruiter job slots. Follow these steps:
On the main dashboard in Workable, click the Find Candidates button for the job/s of your choice. For multiple jobs, you could either run the process for each one separately or consider LinkedIn's Job Wrapping service.
Click on Premium Job Boards

Locate LinkedIn and click 'Use Recruiter account'. After a couple of minutes, the LinkedIn panel will turn green and the job will remain sponsored for 30 days. The expiration date will be mentioned in the panel and Super admins in the hiring team will be notified via email when it gets expired.
In case you wish to unpublish your job earlier, you can just click 'Unpublish' and the specific LinkedIn job slot will be released.
Editing posts via LinkedIn Recruiter
Sponsored jobs through Workable can be edited directly on LinkedIn. Fields that can be modified:
Company

Job Title

Job function

Employment type

Company industry

Seniority level

Job description

Required skills

How would you like to receive your applicants

Show your profile on the job post
To edit the job with LinkedIn Recruiter, follow the below steps
Navigate to Jobs at the top of the Recruiter homepage and click View all jobs

Click the action button to the right of the job title

Click Edit Job
Optional features
With LinkedIn's Job Wrapping service, you can use the auto-tag feature to classify your LinkedIn jobs as either remote, hybrid, or onsite based on the job title text, job description text, job location text, company information, industry, etc.
This setting is turned ON by default. To prevent this from happening, Recruiter admins can turn off the feature from the Product Settings page > Job Posting > Auto-tag jobs path.