To add someone new to the Workable account, access the Account Members page by clicking your user icon at the top right of your screen. Select Account Members.
In the Account Members section, click the link to 'invite a new member'.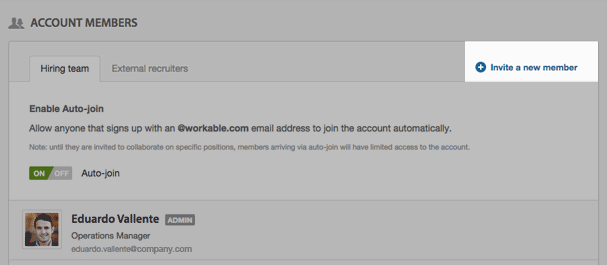 Enter your co-worker's email address and decide on the membership type you'd like them to have:
Administrators will have access to all account settings, jobs and candidates.
Members will have access to candidates in assigned jobs and view only access to job descriptions for unassigned jobs. 
If you've selected the Member option, you'll see a list of every active position in your Workable account. To add this new member to a position check the box next to the position name. This will reveal the option to make the invitee a 'member' or 'hiring manager':
See a full breakdown of user permissions here.
This option can be set on a per job basis. Users can be Hiring Managers on some jobs and Members on others.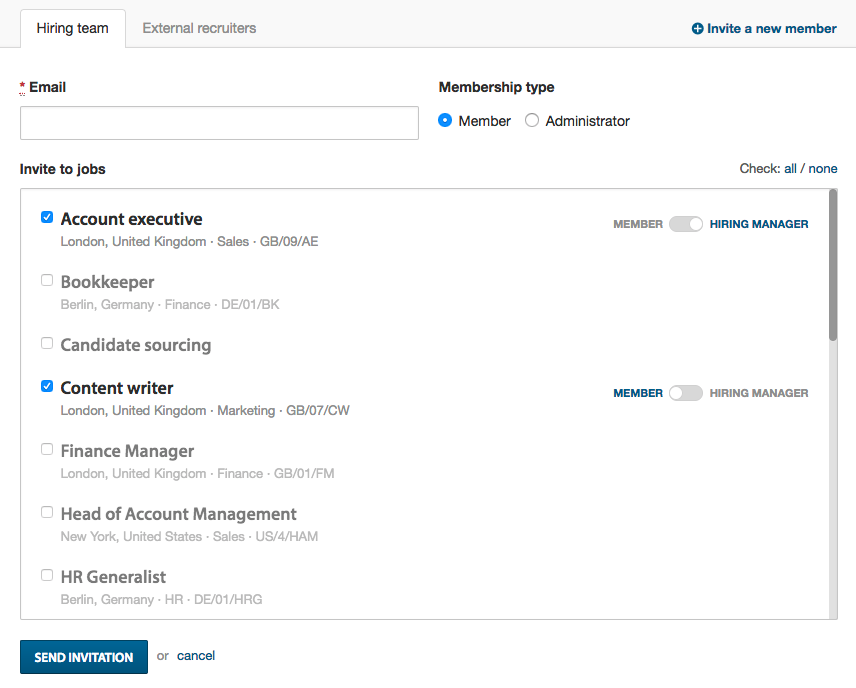 Send the invitation via the blue button at the bottom of the page. Your coworker will receive the invitation to Workable via email. This contains a unique link which connects them to your Workable account.
They will immediately appear in your list of account members with an option to resend or cancel the invitation.
On Workable Pro plans you can also add external recruiters to easily assign them to specific jobs on your account. Click the 'External recruiters' tab and enter the recruiter's details. Add external recruiters to a job in the Your Network tab of the job editor. Then will receive an invite to login once they are assigned to a job.