Users in your Workable account can have different permissions and take on different roles for jobs you're recruiting for.


Types of user access
All access: Reserved for 'Super Admins' who can fully manage your Workable account.
Standard access: Reserved for users who help with the hiring process to different degrees. Some may be fully involved, emailing, evaluating and interacting with candidates and some may only leave evaluations and notes. Standard access has the most flexibility. A single user with standard access can be a Hiring Manager for one job and a Standard member for another job. Recruiting admins also fall under the standard access category, with 'super admin' permissions for a specific job/department/location.
Limited access: Reviewer role is reserved for users who will only ever review resumes, leave internal evaluations and comments, and make referrals.
There is a separate user role of External Recruiter available for staffing agencies working with clients.
For a full breakdown of specific permissions and available actions, see our User Permissions Chart.

Super Admin (all access)
Super Admins can always see and do everything in Workable. Super Admins can access all jobs, all candidates and all account settings.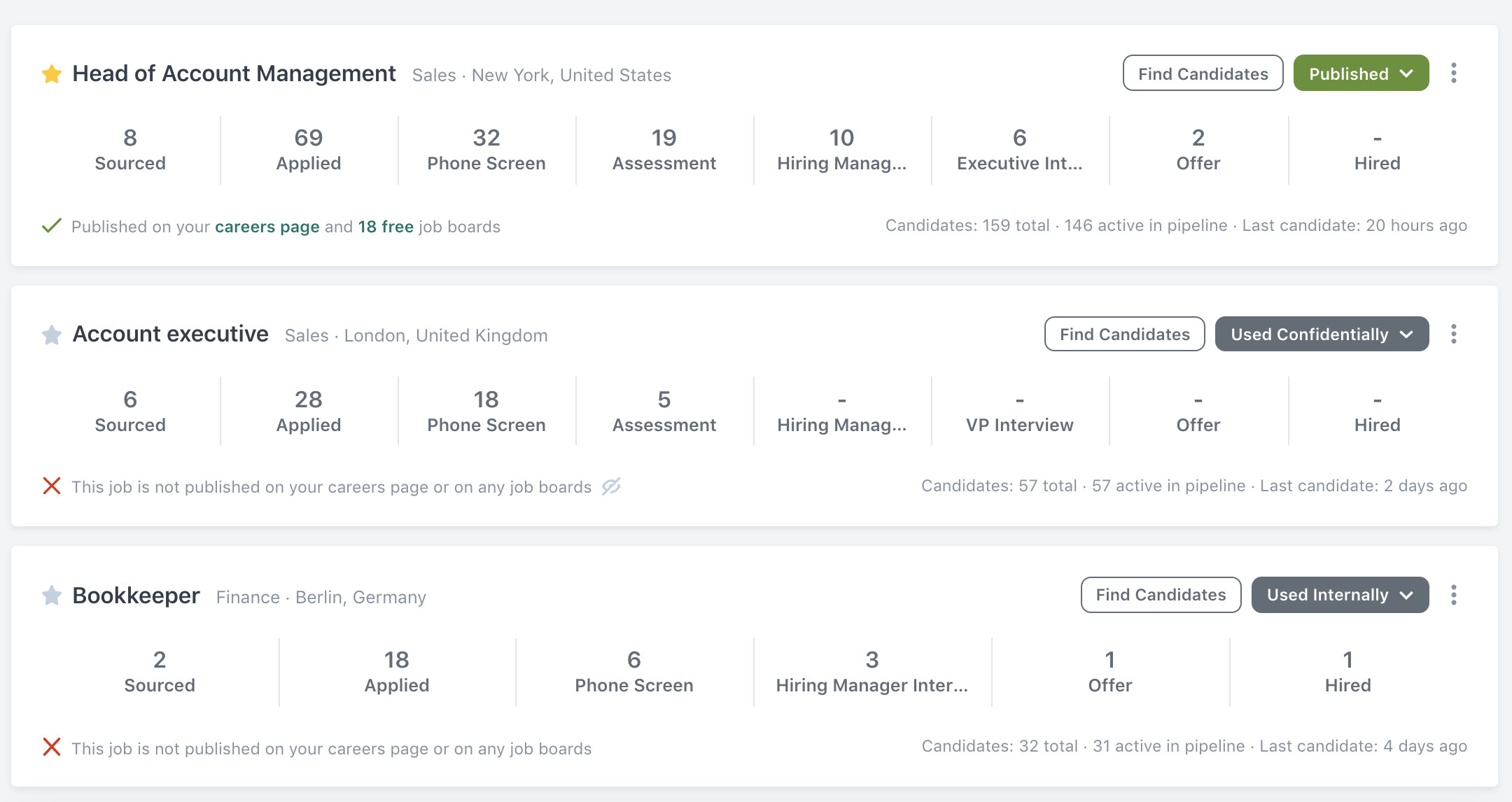 Who should be a Super Admin?
Anyone who should have full visibility for everything on the account.

Recruiting Admin (standard access)
Recruiting Admins are assigned to specific jobs. Within those jobs, they can take all actions that a Super Admin can. They can see all candidates, perform all candidate actions, publish jobs and purchase premium job ads. However, they cannot modify account settings.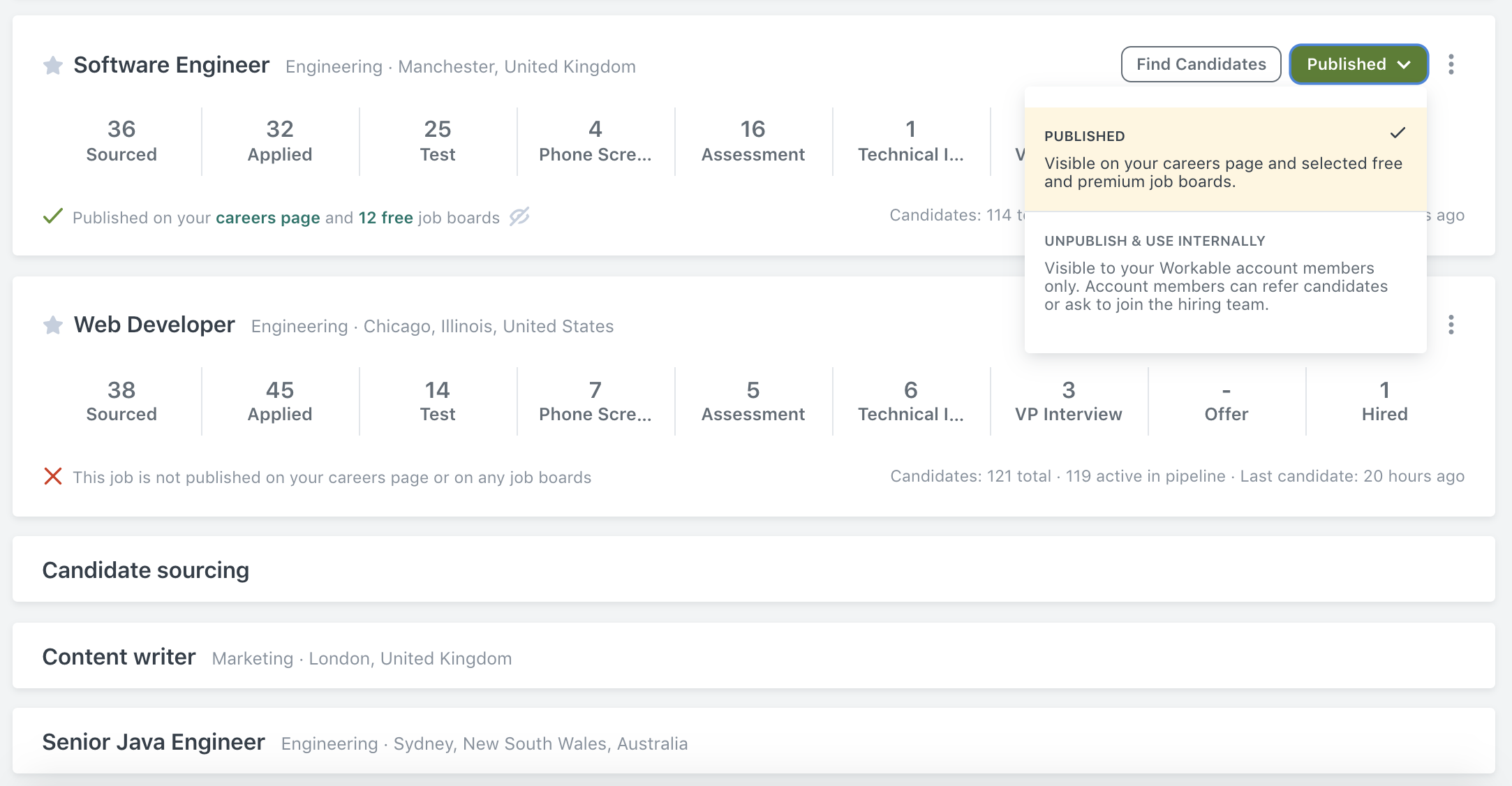 Who should be a Recruiting Admin?
Users who should publish jobs, purchase premium job ads and be involved in all aspects of recruiting for a job.
Recruitment/HR department members
Department heads who are very involved in hiring
Regional directors

Hiring Manager (standard access)
Hiring Managers must be assigned to specific jobs and can only see candidates in those jobs.
Hiring Managers can view private comments and private emails, as well as see and send offer letter details. Hiring Managers cannot publish jobs directly, but can request publication from a Super or Recruiting Admin.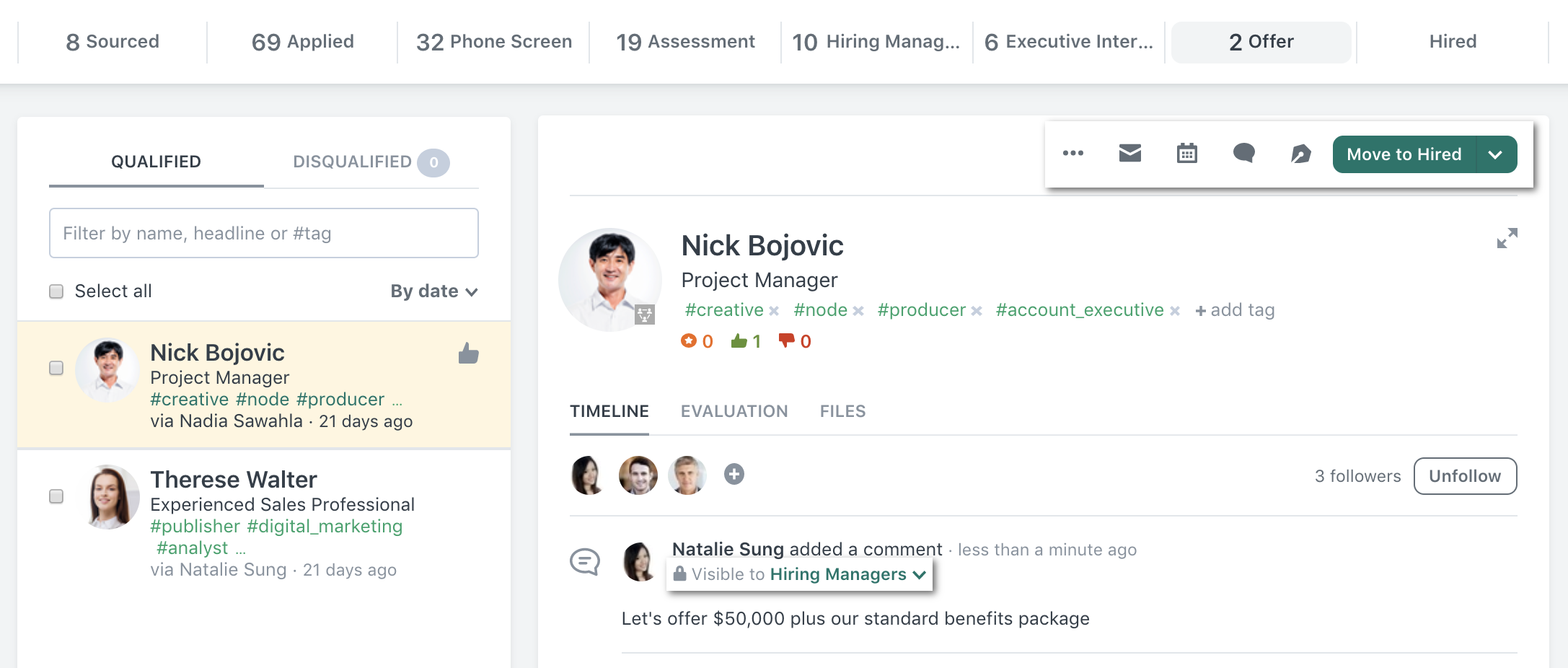 Who should be a Hiring Manager?
Anyone who is fully involved in the hiring process, i.e. people who will have access to more private information like salary and job offer details.
Department heads

Executives

Hiring decision makers

Standard Member (standard access)
Standard Members must be assigned to specific jobs and can only see candidates in those jobs.
Standard Members cannot record or view private comments, private emails or offer letter details, but can fully interact with candidates.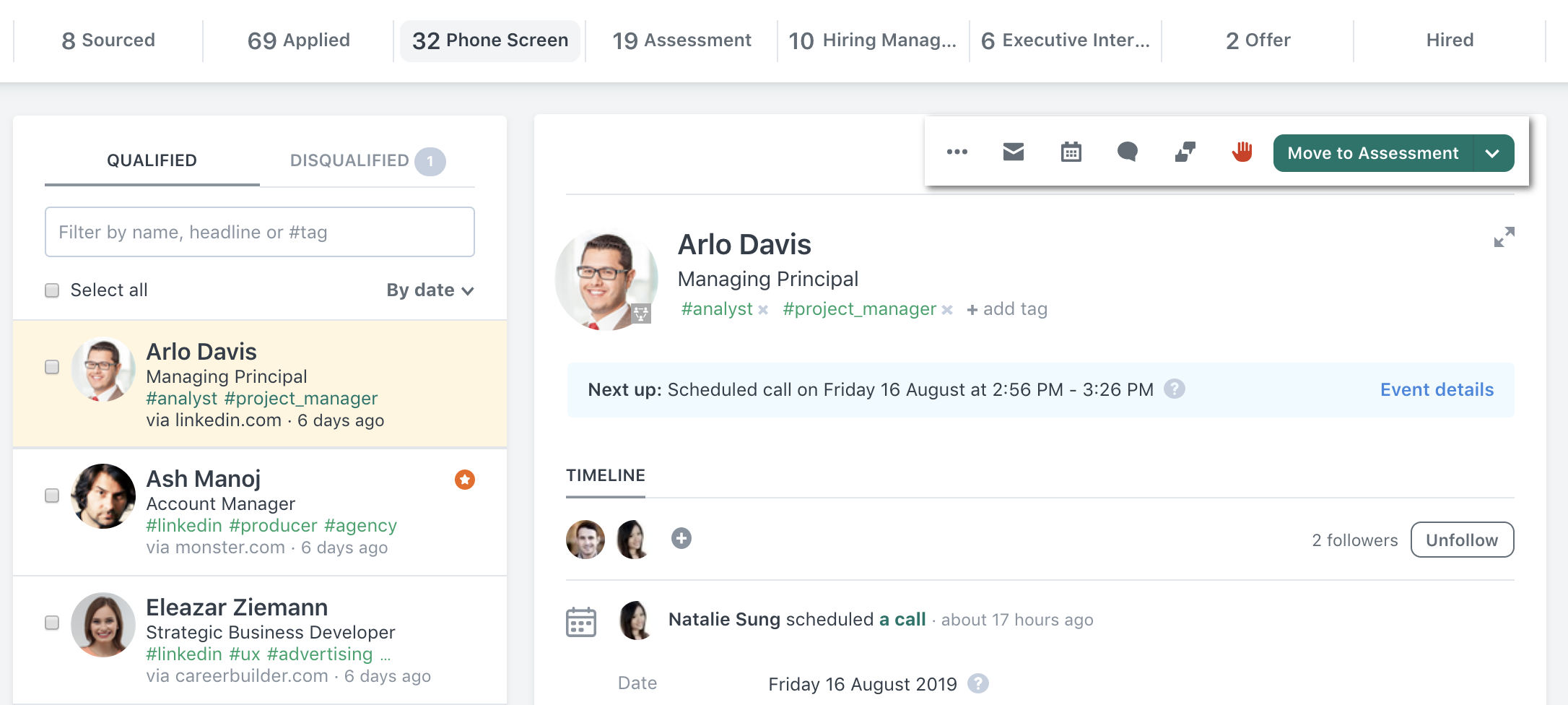 Who should be a Standard Member?
People who are involved in the hiring process and may communicate with candidates, but shouldn't see private info like salary.

Reviewer (standard or limited access)
Reviewers are assigned to specific jobs and can only see candidates in those jobs. They can only evaluate candidates and leave internal comments. This user type is best if you need to restrict candidate interaction options for a user. Reviewers cannot send emails, schedule events for themselves or move candidates through your hiring process.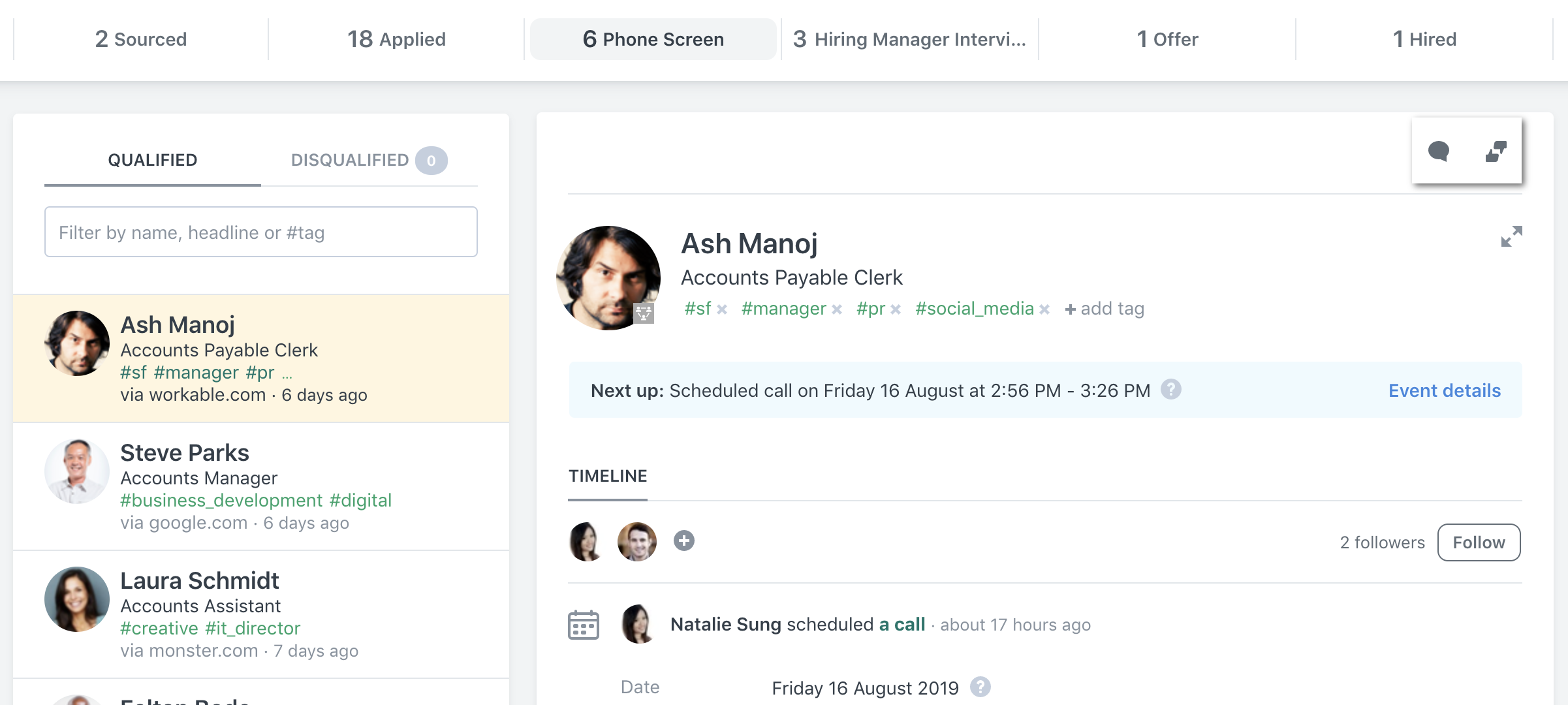 Who should be a Reviewer?
Users who only review resumes and leave evaluations and internal comments.
Department heads
Team leads
Team members

External Recruiter
External Recruiters must be assigned to specific jobs to perform available actions. They can only see the specific jobs they are helping to recruit for. They can only see candidates who they themselves have uploaded to the account (i.e. they cannot see candidates who apply through a job board or careers page).
External Recruiters can see a candidate's timeline and perform some basic actions. They cannot evaluate candidates or see evaluations from the internal team.

Who should be an External Recruiter?
Recruiters outside your organization (e.g. at staffing/recruiting agencies) who will upload candidates to Workable on their own.