Overview
Create and edit workflows to design the exact new hire experience you want. Gather new employee information before their first day ensuring proper and smooth onboarding for your new hires.
A default onboarding workflow will be ready for use in your account but you can add more workflows as needed. To view and edit onboarding workflows:
Click your user icon in the upper right of Workable, and then click Settings
Navigate to Onboarding under the employee management settings
Important notes:
A draft employee should be in place in order to begin the onboarding process. Once an employee profile is published, they are no longer eligible to undergo onboarding.
The start date needs to be after two days or later from today's date. Draft employees with a start date in the past cannot be onboarded.
Setting up onboarding workflows
Before onboarding workflow configuration make sure that:
You configured your default or custom profile templates under the Profile templates settings.
You have created the document templates you will use under the Document Templates settings.
A default onboarding workflow will pre-exist in your account which requests all the employee editable fields. Make edits or create a new workflow. To do so click Add a new workflow on the upper right and complete the two Workflow steps that will appear.
Step1️⃣: Workflow setup

Add the setup details for your onboarding workflow.

Add a name for your workflow (mandatory)
Add a short description for the workflow
Select the department or entity to which this workflow will apply. If you leave this unfilled the workflow will be available for all departments.
Choose when this workflow should begin. You can update this setting when you start an individual employee onboarding.

Immediately
Select days before the start date; in the below example, employees assigned to this workflow will be onboarded 3 days before they actually start working.

Click Next to move to the next step.
Step 2️⃣: Tasks & automation

This is where you set up your employee onboarding experience by adding tasks to be completed by the employee during the onboarding. The below three tasks will be added to the workflow by default.

Welcome email

A link to the onboarding website is included in this email, where employees can complete their onboarding tasks.

The 'Start onboarding' placeholder is mandatory if Welcome page and/or Complete profile tasks have been added to the onboarding workflow.
This is the only task that cannot be removed

Welcome page

The page on the onboarding website where you can configure what the employees will get to view once they click on the link included in the welcome email. HR Admins can configure:

Heading (mandatory)
Welcome message
Video URL, if you wish to include a video
Start button text (mandatory); this is what employees will click to proceed to the next steps

Complete profile

Request the employee to fill in selected profile fields in their profile. HR Admins can configure:

Heading (mandatory)
Description
Field selection: select all fields that can be edited by the employee based on the field settings under the Profile templates tab.

You can edit all tasks or remove the ones you don't need; the Welcome email task cannot be removed.

Sign a document

Add one or more documents for employees to sign e.g. contract, waiver, disclaimer, or view a document (security & privacy policy). Make sure you have created the relevant document template under the Document Templates settings. HR Admins can configure:

Heading (mandatory)
Description
Document template (mandatory); if the workflow is assigned to a department, available for selection will be templates compatible with the department of the onboarding workflow

To add an additional document click again Add new task > Sign a document and follow the same procedure for every document you wish to add.

Note: An existing workflow assigned to new employees cannot be edited.
What the employees see
Onboarding new employees will be guided by an exciting, friendly modal. The onboarding app is mobile-friendly so users will have the same experiences across their devices.
When they receive the welcome email and click to start they will be redirected to an onboarding dashboard where they can see:
An 'Edit your information' button (based on the 'Complete profile' workflow step described earlier in this article)
Start date and number of days left until then
Welcome page video widget (if a video has been added to the 'Welcome page' workflow step)
Any documents that need to be signed (if onboarding includes 'Sign a document' tasks)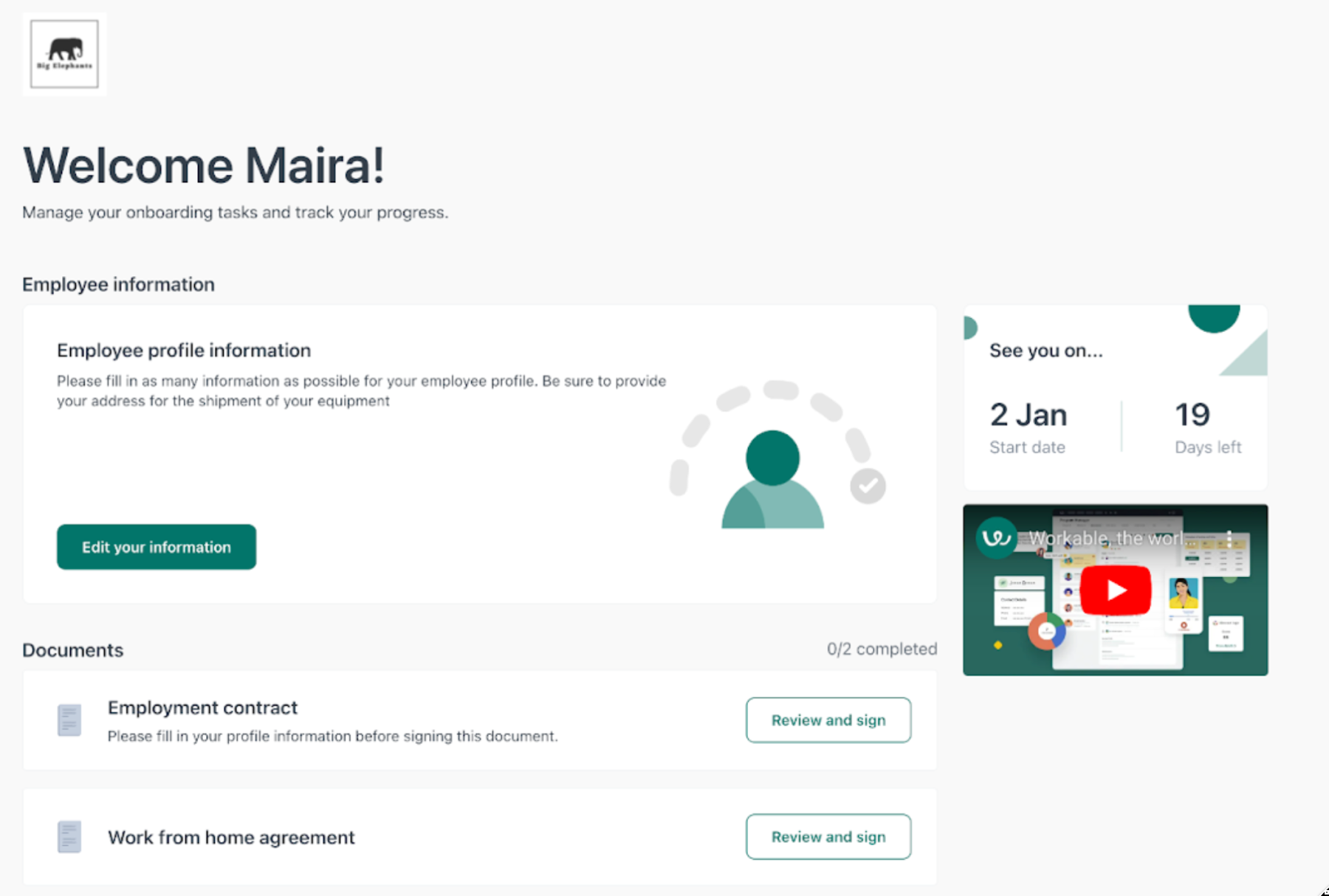 Click Preview onboarding website to preview any of your onboarding workflows and see exactly what the employees will see.

🔎 Want to view the full employee experience? Click here.
The dashboard link will expire on the employee start date and any remaining tasks will be moved to the employee profile.
FAQs
How can I add additional documents for signature?

To add multiple documents for signature, simply create them as separate tasks and use the "Sign a document" task for each document that you want to include in the onboarding workflow.
👉 Next steps:
1. Track the progress of your onboarding workflows.
2. Once the employee profile is complete you can publish it and invite the employee to Workable.