Workable's integration with LinkedIn Recruiter System Connect (RSC) allows you to export candidates directly from LinkedIn to Workable, so you can spend less time on data entry and more time sourcing.
Before anything else you will need to:
Note: Make sure that 1-Click Export is enabled during setup under Admin Settings -> ATS -> Edit Workable.
That's it! Now, you will be able to export candidates to Workable. There are two ways to do that.
1. From the candidate profile on LinkedIn.
Click 'Export to ATS'
Search for the job to which you'd like to add the candidate
Click Export to automatically add the candidate in the job's Sourced stage

2. From the search view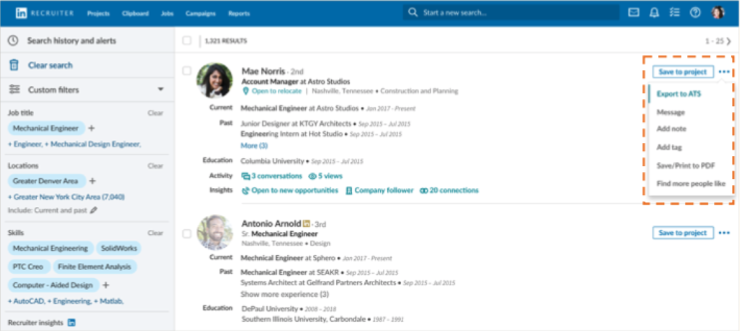 To perform an export the job must have the Published status in Workable and you must be a member of its hiring team.
Exported information
First Name
Last Name
Headline
Candidate email addresses are not exported to Workable. When you initiate the export we run an extra enrichment through People Search to supplement the candidate profile and when we are able to confirm a definitive match, an email address may be included in the candidate's profile. Some tips:
Edit the candidate and add contact information or other profile details

View candidate profiles via LinkedIn Recruiter by clicking the link below