Resurface candidates who are already in Workable and are relevant to new jobs that you're hiring for. Existing candidates can be moved faster through stages resulting in a faster time to hire.
To use this feature (available for all users except Reviewers & External Recruiters), click the Find Candidates button for a job from the main dashboard. Choose the Resurfaced Candidates option.
Preview and add resurfaced candidates
Workable will search your database (including Talent Pool) to find the best existing candidates for the job. Click Preview candidates to see all matched candidates for the job in a new modal; candidates are loaded by batches of 5.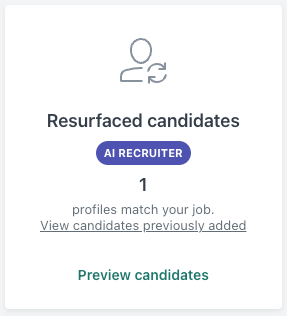 After reviewing the profiles you can:
Add them to your pipeline individually from the option on the upper right of the profile you are currently viewing.
Add them to your pipeline in bulk; just tick the profiles from the list and a button will appear at the bottom to add the selected profiles to your pipeline.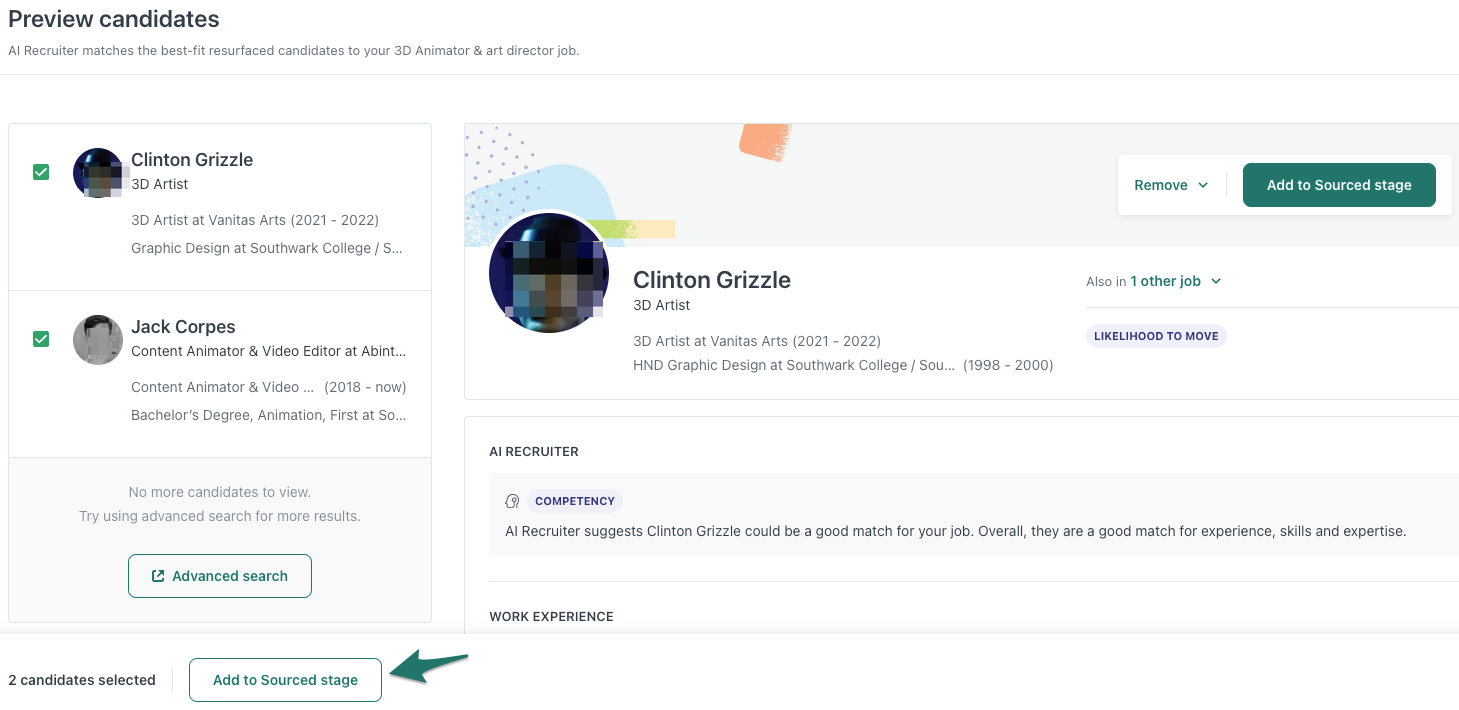 The candidates will not be notified that they have been resurfaced.
Candidates are selected for resurfacing based on a combination of factors, including:
Keywords
Experience and education
Seniority - only past candidates with matching experience level will be resurfaced
Location (taking into account fully remote jobs)
Evaluations
Sentiment analysis of internal feedback - e.g. a candidate that was disqualified with positive comments is evaluated positively for a future matching role, but a candidate with negative comments or feedback won't be resurfaced for similar roles
Once candidates have been resurfaced, they'll automatically be tagged with #resurfaced_candidate and #suggested_by_workable for easy identification.
Review notes from their previous candidacy by clicking the job title(s) under the 'Also in x other jobs' indication. If you have enabled anonymized screening for the job this panel will be hidden until candidates leave the Sourced/Applied stage.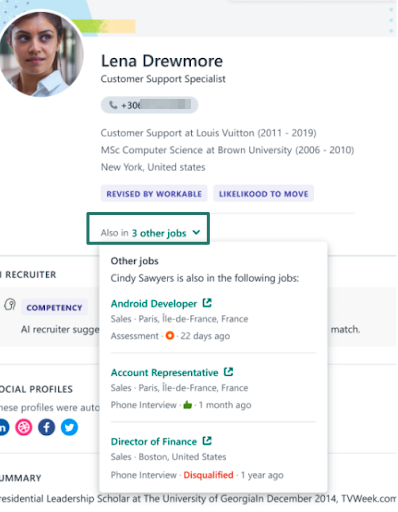 Remove profiles and provide feedback
Declutter your profile list by removing unnecessary profiles. When viewing a profile, click Remove and provide your reason for removing it. Removed candidates won't be proposed again for this job.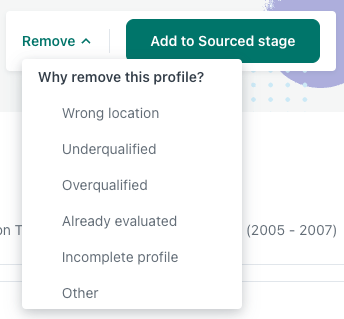 If you reconsider, there will be an Undo option available for 7" after the removal action.

Profile labels/highlights
While you preview resurfaced candidates, you will notice an AI Recruiter section on their profiles including some highlights and descriptions as to why each candidate was resurfaced. You may see one or all of the following labels:
Competency: Has the right skills and experience to match the job description. All the resurfaced candidates will have this label.
Education: A candidate's educational background matches the education requirements as described in the job description.
Positive comments: Has good sentiment from feedback for a previous role
Past favorite: Has good ratings or pipeline progression
Referral: Was referred previously
Culture fit: Would be a good cultural fit for your company based on the previous comments left for the candidate; for example, if they were described as culture fit or anything with similar meaning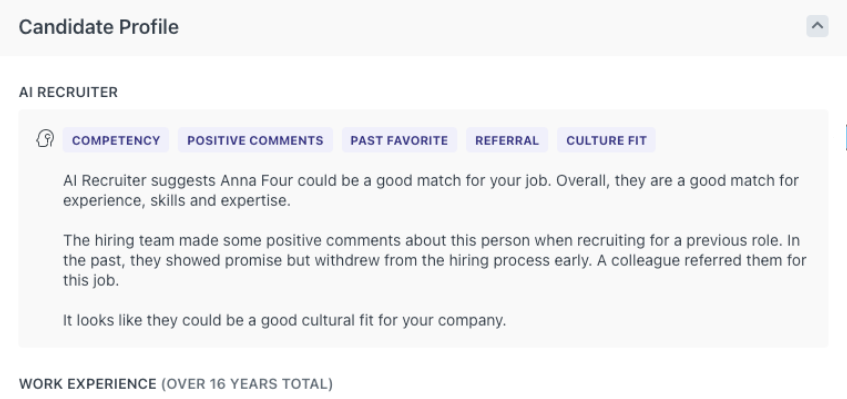 Apart from the above, you may also see the below two labels at the top of each profile:
Likelihood to Move: shows high probability that this candidate would like to explore new job opportunities
Updated profile: shows that the current profile was updated/revised recently by Workable

Contacting resurfaced candidates
Once the resurfaced candidates are added to the job, reach out to them via email individually or bulk. Some templates you can use as a reference:
The communication template named 'New job opportunity' (included in the default templates)
The template under this resource page
Continue with your recruiting process as normal and make your next hire!
Note: If you have GDPR features enabled on your account, resurfaced candidates for jobs in the EU, UK, Norway, Iceland, Switzerland & Liechtenstein will be deleted after 30 days unless you contact them via email through Workable.
FAQs
Do resurfaced candidates use People Search profile views?

No.
Can I trigger the feature multiple times to resurface more candidates?

During the first month (of job publication), it's not possible to re-trigger the feature and resurface more candidates. The system will search again only if there was a substantial change to the job. After the first month, if the system finds more candidates for resurfacing you will be able to trigger this again manually.
Will the system resurface candidates from the job I am working on?

No. The resurfaced candidates should exist in other jobs within the account.
What happens if there aren't any resurfaced candidates?

You will be prompted to run your own manual search on the Candidates page.