Note: For inquiries related to the status of your referrals, you need to speak with your dedicated point of contact within your organization.
Choose how to refer
Sign in to the Referrals portal to access the job referral dashboard. Search, filter or scroll to find a job for which you'd like to refer someone. Click Refer to get started.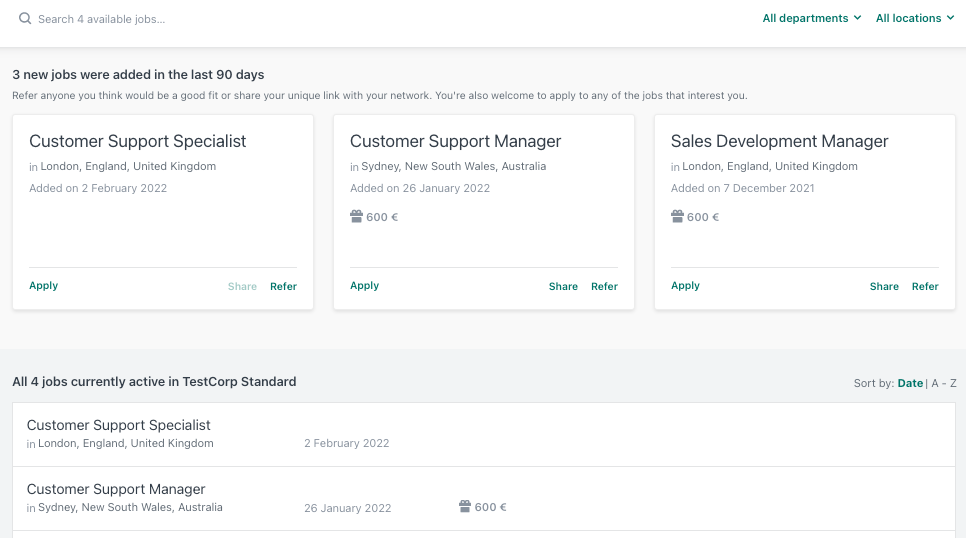 If you are a member of your company's main Workable account, you can initiate the process directly from the main dashboard. First, locate the job for which you'd like to refer someone on the main dashboard.
If hiring pipeline stages like "Sourced" and "Applied" appear for a job, click the three dots to the right and select Refer candidates. If all you can see is the job's title, hover over it and then click the option More actions > Refer candidates. In both cases, you will be redirected to your company's referral portal to complete the referral submission.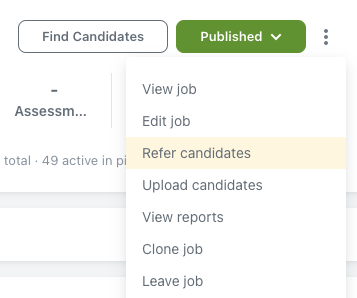 There are two ways to submit a referral:

1. Upload a resume or candidate details manually
Add the details manually or import the resume of the person and we will auto-fill their details.
Important: While the resume upload is not mandatory when submitting a referral, this will ensure that the hiring team has all the needed information about the referred candidate.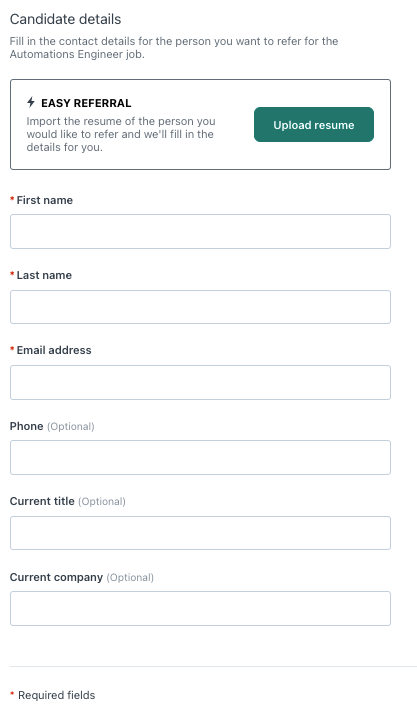 2. Find the profile online (by link or email address)
This search is executed on People Search but it doesn't consume any of your profile views. If the system finds a profile matching the details you entered, it will be displayed for you to confirm it's correct and continue.
We won't display the profile in case we can't find one of the following: photo, last work experience, and name.
When sharing a link (i.e. a LinkedIn URL) we don't scrape the profile. Instead, we search with the URL in our data providers. If we cannot find enough info to create a profile you will be notified to try searching by email address or enter the details manually.
Note: If you choose this referral option you will not be able to upload a resume file or manually adjust candidate details.
Answer the questions and submit your referral
After the details are entered or the candidate is selected from a search, you'll be prompted to answer a few basic questions about the candidate.
If you select "Yes" for "Do they know they are being referred?" then the person being referred will automatically receive a notification email letting them know about the referral. The email contains your name, the job title, the company name, and the location.
If you select "No" then the candidate is not notified automatically.
Click Submit Referral and the candidate will be sent to the hiring team review, along with all of your notes. You can track the candidate's status and your eligibility for any rewards under the Referrals tab.