Send links to candidates where they can schedule time on your calendar for an interview. This option is best for early interview stages in your hiring process where you may conduct many initial interviews with different candidates.
Workable cross-references your calendar so that candidates can easily schedule a meeting or call when both of you are available. Candidates choose an available time slot on your calendar and an event is created automatically.
You must have a Google or Microsoft 365 Outlook calendar integration enabled to use this feature.

Using self-schedule links
When a Google or Microsoft 365 Outlook calendar integration is enabled on your account you will find a self-scheduling option available in the Workable email form.
On a candidate's profile, click the envelope icon. The option to create a self-schedule link will appear.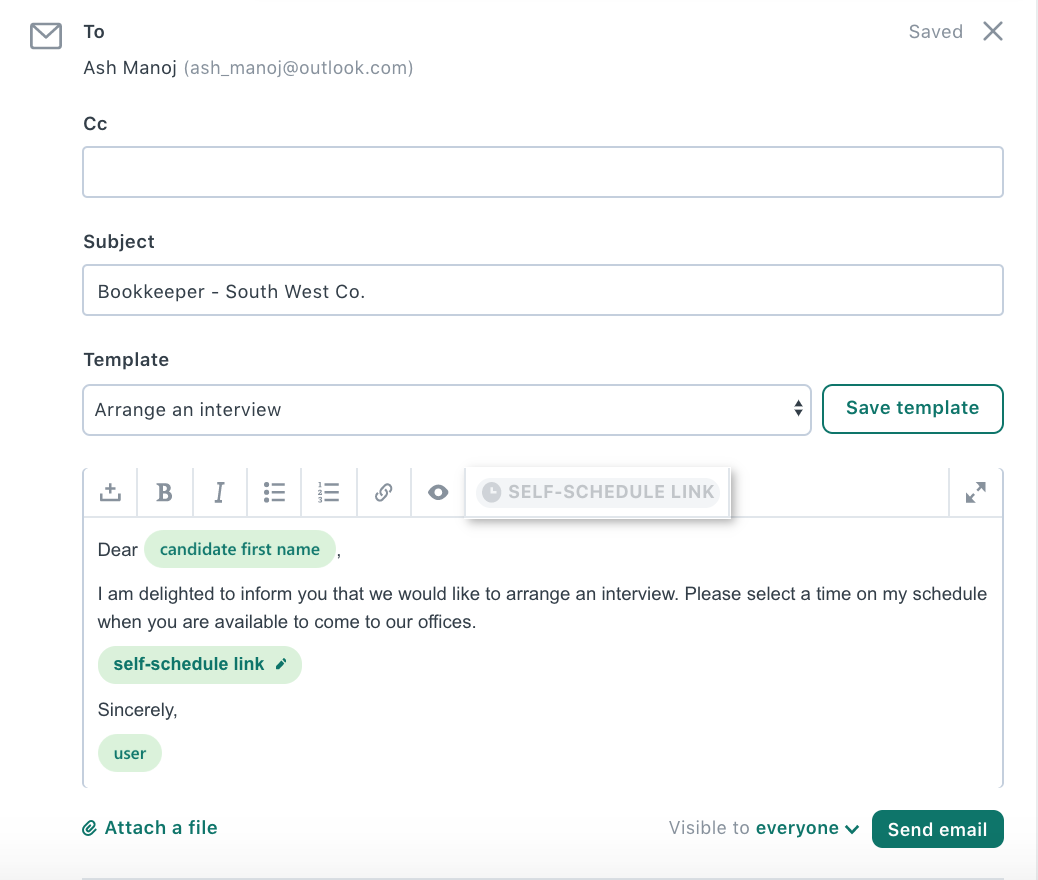 Click the 'self-schedule link' button to arrange the event and modify your availability. Set the type of event (e.g. phone call or on-site interview), duration and availability dates between which the candidate can schedule. You can also select more interviewers or change the organizer if needed.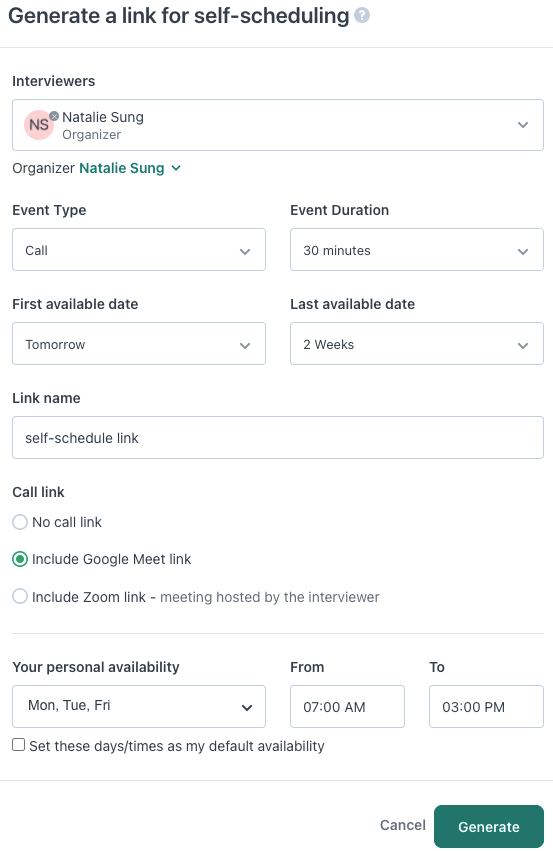 In this example, the candidate will book a 30-minute call on our calendar. They will have to pick a day between tomorrow and 2 weeks from now. The available days and times to book are Monday, Tuesday and Friday from 7:00 AM to 3:00 PM. A Google Meet link will be generated automatically and included in the event.
The link name is the text in the email that a candidate will click on to schedule an event. Example: you might put "Click here to schedule" as the link name.
Save the parameters and the self-schedule link will be inserted into your email.
Attendees and availability
If you are arranging an interview for a coworker, you can remove yourself and add them instead. A list of coworkers on the job's hiring team will appear. Pick the coworker(s) who will be conducting the interview. You can also pick another coworker as the organizer of the event.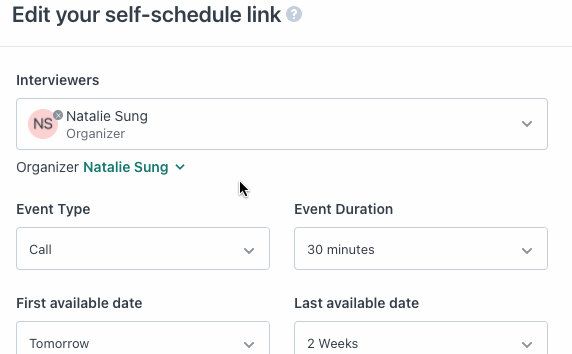 Additionally, once the link is sent Workable will automatically refer to your Google or Outlook calendar to further block off availability. For example, you may allow candidates to schedule between a 9:00 AM to 5:00 PM time frame in Workable's settings, but if you have a meeting on your calendar for 10 AM already, candidates will not be able to schedule at that time. You never need to worry about double booking.
Multiple attendees
Add multiple interviewers to a self-scheduled event if needed. The candidate will be able to select one time that aligns with all interviewers. All interviewers are invited to the event.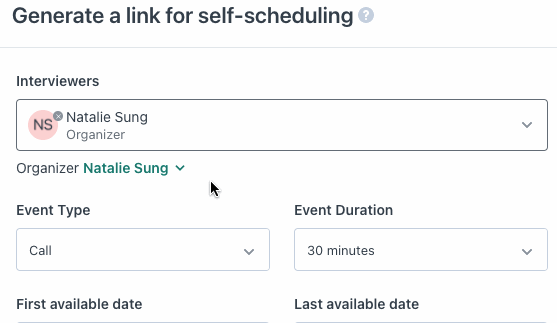 Workable looks at the days of the week and the daily time frame that has been set for each invited user under their preferences settings. For multiple interviewers, if there is no common availability then the self-schedule link cannot be sent.

Email Templates
You can automatically include self-schedule links in email templates. Create an email template and click the [*] button. Select [self_schedule_link] from the list of options.
A form will appear where you can set the basic parameters for this link (e.g. type of event, duration). Set and save the parameters and the link will appear in the email template. Finish customizing the email and save the template.
When you use the email template to contact a candidate, the self-schedule link will automatically be included. Click on it to edit the parameters or make adjustments as necessary. If you do not edit the link before sending an email it will default to the parameters you set and refer to the sender's calendar when the candidate schedules.
Any time a user sends this template, the link will default to that user's calendar and settings.
Important: An email template including a self-schedule link will appear on the dropdown with available templates only if the sender has connected their calendar.

What the candidate sees
When you send a self-schedule link to a candidate they'll click on the link in the email to open an event page.
This event page is where they can see some basic information about the interview (e.g. duration, location). The event page has a scheduling form where the candidate will see available interview time slots based on the interviewer's calendar availability and any other additional parameters that were set in Workable. The candidate can view scheduling options in their own timezone or in the interviewer's timezone.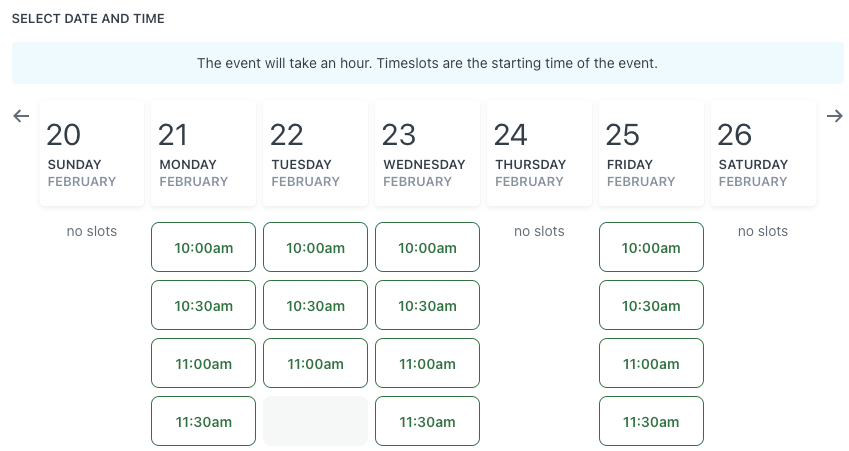 The candidate should click on a time slot to schedule the event. They'll be asked to confirm the date/time they selected and will have the option to add an additional note for the interviewer.
After confirmation from the candidate, the event will be booked. The interviewer and candidate will receive a calendar invite as normal.

Setting your availability
When using a self-schedule link, Workable will always cross-check your calendar to prevent candidates from scheduling an event when you already have something on your calendar.
The system will check your default interview availability and display it under 'Your personal availability'. To modify your availability per case click the self-schedule link in the email form before you email a candidate.

For example, you may require that candidates for one job only schedule on Monday/Tuesday between 1:00 PM and 4:30 PM, and for another job, they should schedule on Thursday/Friday between 9:00 AM and 11:30 AM. Updating the availability in the self-schedule link will only impact the specific candidate you are contacting at that time.
If this is your first time using self-scheduling your default availability will be Monday to Friday from 9:00 AM to 5:00 PM in your timezone. To edit your default interview availability navigate to Settings > Your preferences > Interview Availability.

These are your personal settings and will be used by default when using a self-schedule link unless you change your availability manually before you send the link. Your coworkers may have different availability.