AI Recruiter compiles the key criteria and skills that you've outlined in a job description to find passive candidates who could be a good fit for that job. Combined with People Search, AI Recruiter will automatically generate a list of candidates for you to preview and potentially add to your pipeline.
This feature is available for all users except Reviewers & External Recruiters.
Note for Trial accounts: While utilizing our Trial it is required to have at least one published and approved job to use this feature. You can preview passive candidates until you reach your 75 People Search profile limit.

Preview and add passive candidates
When you activate a Published, Internal or Confidential job, AI Recruiter will search for relevant passive candidates that match the job's description and location.
Upon having a profile estimation, the tile will display the results. In the below example, Workable AI estimated 50 passive candidates that match your job.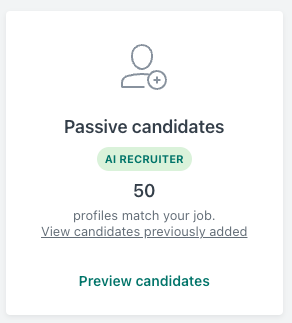 Note: To view candidates who have been previously added via AI Recruiter on your Candidates page, simply click on 'View candidates previously added.'
Click Preview candidates to see all profiles we have selected for the job in a new modal. After reviewing the profiles you can:
Add them to your pipeline individually from the option on the upper right of the profile you are currently viewing.
Add them to your pipeline in bulk; just tick the profiles from the list and a button will appear at the bottom to add the selected profiles to your pipeline.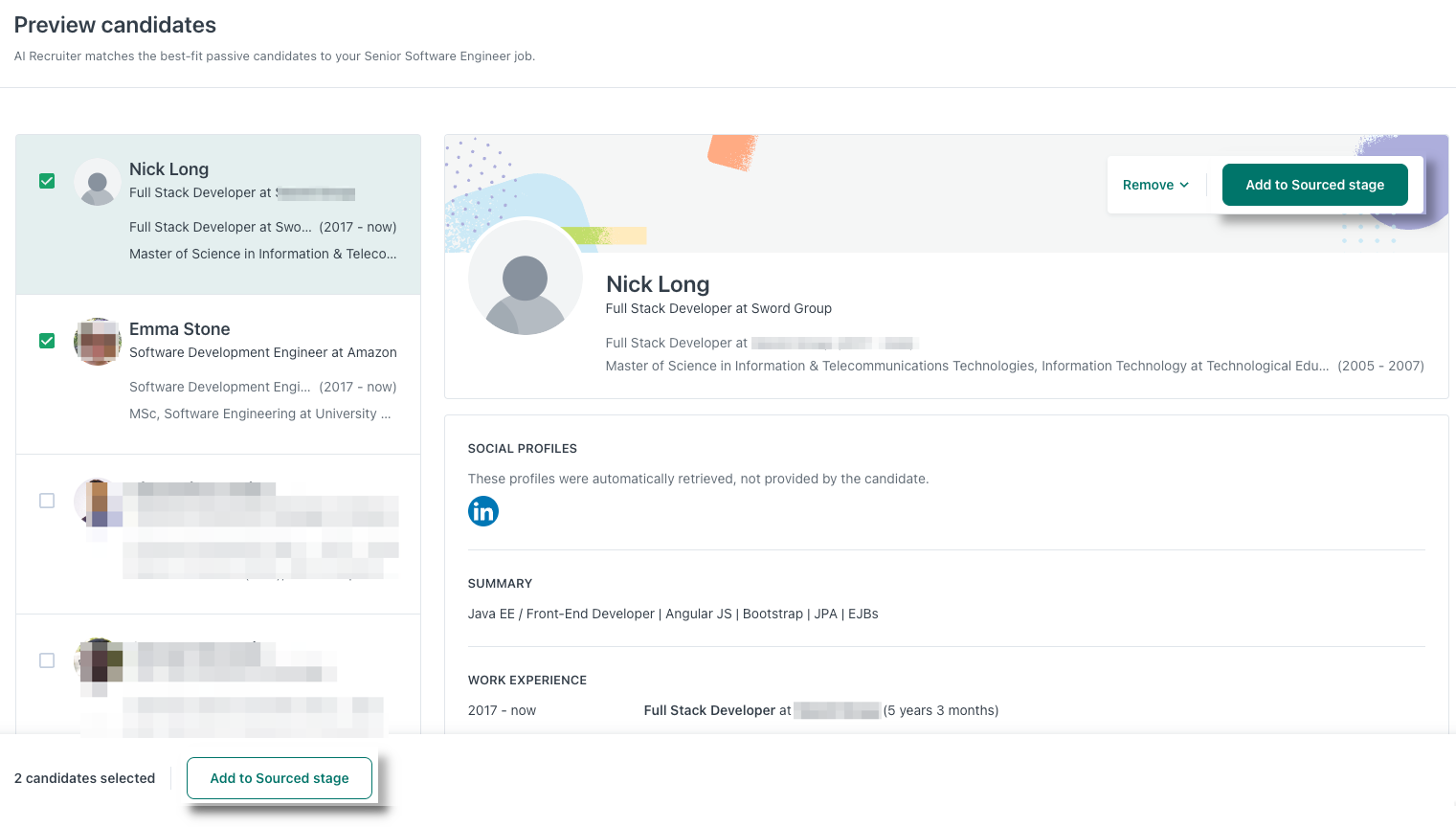 Added profiles will be removed from the list and will be sent to the Sourced stage of your job. Candidates will be automatically tagged with "#suggested_by_workable" so you can easily differentiate those you've uploaded yourself from AI Recruiter results.
People enrolled in Workable Bridge may also appear in AI Recruiter results with the "#bridge_candidate" tag.
🔎 Profile views: how are they consumed?
Each individual profile result counts as one profile toward your profile quota. You'll see just a few profiles to start. If you continue to scroll through the profile list then the profiles that appear will continue to count towards your quota.
Remove profiles and provide feedback
Declutter your profile list by removing unnecessary profiles. When viewing a profile, click Remove and provide your reason for removing it. Removed candidates won't be proposed again for this job.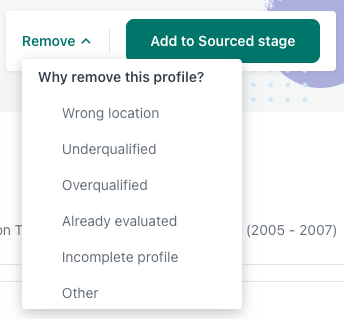 If you reconsider, there will be an Undo option available for 7" after the removal action.

Profile labels/highlights
While you preview passive candidates, you will notice an AI Recruiter section on their profiles including some highlights and descriptions as to why each candidate matched your job. You may see one or both of the following two labels:
Competency: Has the right skills and experience to match the job description. All passive candidates will have this label.
Education: A candidate's educational background matches the education requirement as described in the job description.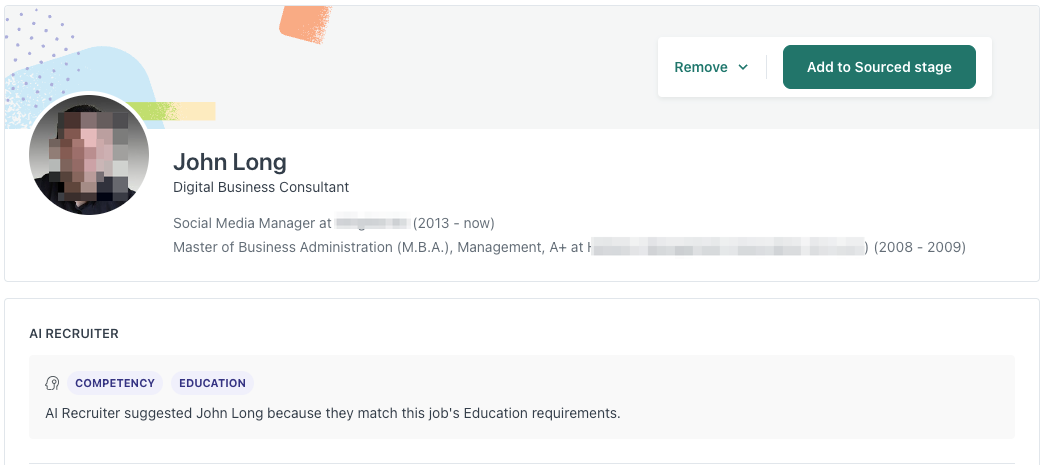 Contacting passive candidates
Once you add the passive candidates to your pipeline, reach out to them via email individually or in bulk. These candidates have not directly applied for the job, so be sure to introduce yourself, the company and convey why you're reaching out. Some templates you can use as a reference:
The communication template named 'New job opportunity' (included in the default templates)

The template under this resource page
You can also ask sourced candidates to apply on your careers page (so that they can answer your application questions). You can check more here on how this will be handled in the system (scenario 3 in the table).
Note: If you have GDPR features enabled on your account, candidates that are sourced for jobs in the EU, UK, Norway, Iceland, Switzerland & Liechtenstein will be deleted after 30 days unless you contact them via email through Workable.
FAQs
Is it possible to run auto-source via AI Recruiter multiple times on a specific job?
Yes. In every preview of passive candidates, the system will add any additional profiles that match your job details.
Can I turn off auto-source via AI recruiter?
This is not currently available. The feature is optional, and you have the option to select which candidate profiles to include in your pipeline.