The trial is a great opportunity to try out a rich feature set and get a free head start on your recruiting. During Workable's 15 day free trial there are three things you should do:
Create a job
Interact with candidates
Explore your account
If you aren't ready to post a job that's OK! You can still try Workable features without publishing a job.
Create a job
Time period: Day 1 - 3
Adding a job to your account is the best way to start seeing Workable in action.
Click the Create a New Job button
Fill out the job description and other details
Set up an application form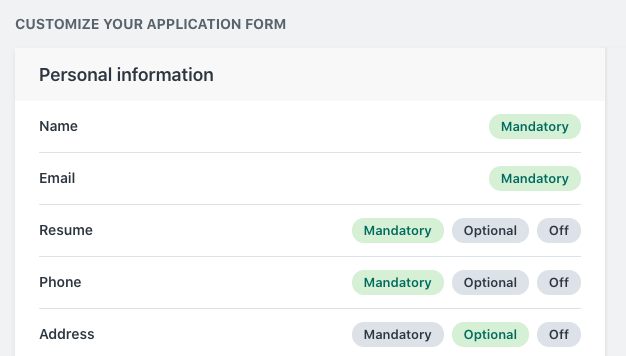 Hit publish or use the dropdown menu to set the job to "internal"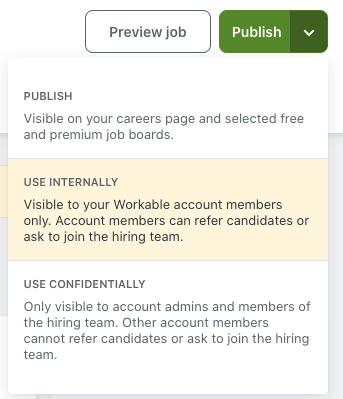 After publishing you'll see candidates start to apply within a few days. Keep an eye out for email notifications about new applicants.
If you chose to create an internal job, the job won't be visible anywhere for candidates to apply to. You should upload a candidate (real or fake) to the job.
To add your own candidates:
On the main dashboard click the Sourced stage of the job
Select Add Candidates in the upper right
Upload a resume or manually fill in the candidate details
You can add yourself as a candidate for testing by choosing the manual option. Just enter your own email address.
Extra credit
In the job editor:
Use the Team Members tab to add coworkers to a job so they can review candidates.
Use the Workflow tab to customize evaluation criteria in each hiring stage.

Interact with candidates
Time period: Day 5 - 8
As candidates arrive into your account, access their profiles by clicking on the Applied stage for the job on the dashboard.
In the Applied stage, review resumes and decide if the candidate should proceed in the process.
Use comments and evaluations to add notes or feedback
If your evaluation is a 'thumbs up' or 'star' then move the candidate to the next stage

To get the best response rate and ensure you don't miss out on the candidates you're most excited by, review and email them within two days of application.
Workable integrates with your email and calendar out of the box. Emails you send and receive through Workable sync to your inbox. Events you schedule go right to your calendar. Even if you're the only user during your trial, try out these options to see how feedback gets collected all in one spot.
Remember, to test these features you can create an internal job and upload a fake candidate if you're not ready to publish an open role.
Extra credit
Connect your Gmail or Outlook account to unlock more features. You'll find this as the very first option on your Integrations settings page.
Connect Gmail
Connect Outlook
Explore your account
Time period: Day 9 - 15
Before your trial ends take a look to see what you might have missed.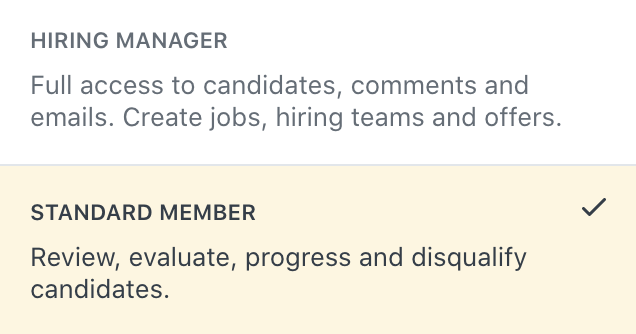 Sourcing tools: You will have

75 views to utilize in

People Search or AI Recruiter (up to 25 profiles can be added to a job during the trial). AI Recruiter automatically finds people whose experience matches your job description. You can even send a bulk email to gauge their interest in your job.


Note: To access the sourcing tools you will need to have at least one published and approved job. Check our posting guidelines.

Careers Page: Set up your own branded page. A modern design with customizable elements so it fits right on your website.
Job board integrations: Extra board integrations help boost the visibility of your jobs and deliver more applicants. Connect your company page on LinkedIn for improved branding options.
Offer Letters: While you might not be able to make that hire during your trial, when candidates get to your "offer" stage use our built in e-signature tool to help them easily accept the job. Offer letters can be totally customized with your terms and specifics. There's even a full audit trail. See video
Background Checks: Workable's background check options offer tools to review employment or criminal history, reference checks and more.
Workable App: Our iOS and Android apps enable you to recruit from anywhere. Hiring managers love the app in particular and stay more in the loop when they've got Workable on their phone.