To add assessments to specific stages in the recruiting pipeline, you'll need an account with one of Workable's partner assessment test providers. Make sure you first set up an assessment integration with Workable before proceeding.
To add an assessment test for a job:
Create or edit a job and move to the Workflow tab
Select the stage of the pipeline where you would like to add the assessment. The available stages to choose from are 'assessment' types, for example, Phone Screen, Assessment and Interview and they appear on the top of the Workflow section.
Click on Add assessment


You'll see a list of all the tests available from your chosen assessment test provider. Select the most appropriate test for this stage.
Save your changes
That's it, the assessment test has been set up for this stage! You will now be able to send the assessment to candidates in the stage or use automated actions to trigger it automatically.
💡You can also add a video interview or interview kit/scorecard to different stages.
Managing an assessment test on a stage
To edit or delete an assessment from a stage:
Click Edit assessment on the Workflow tab
Next to the assessment provider, click on the small pencil icon to edit the test used or the trash icon to delete it.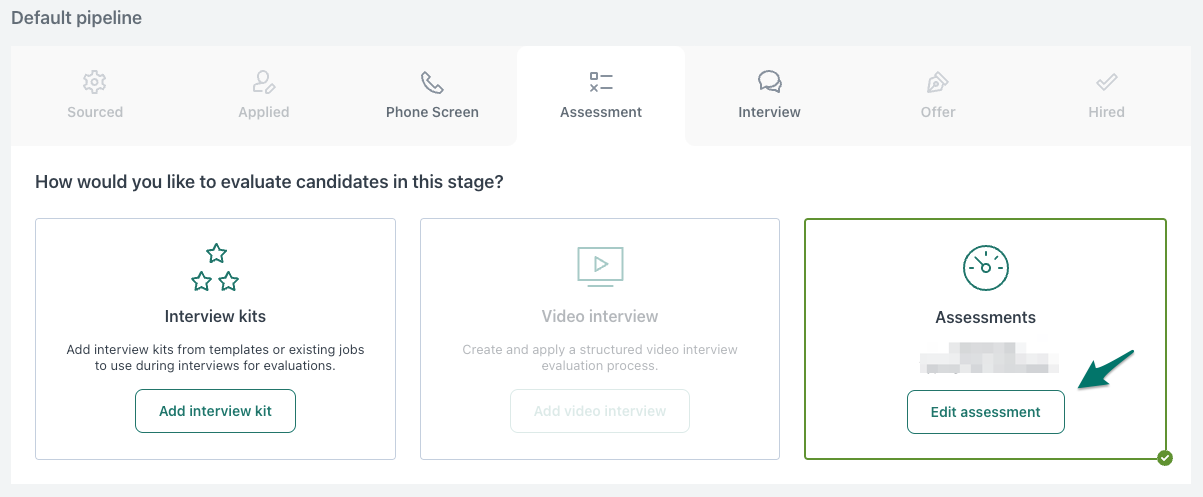 👉 Next steps: Send an assessment to a candidate