With Workable's Office 365 Outlook integration you can unlock tools to sync and customize candidate communication.
This means you'll be able to track all candidate communication on the candidate's timeline – from comments to emails – giving you a full record of events for reference.
Benefits of the Office 365 Outlook integration: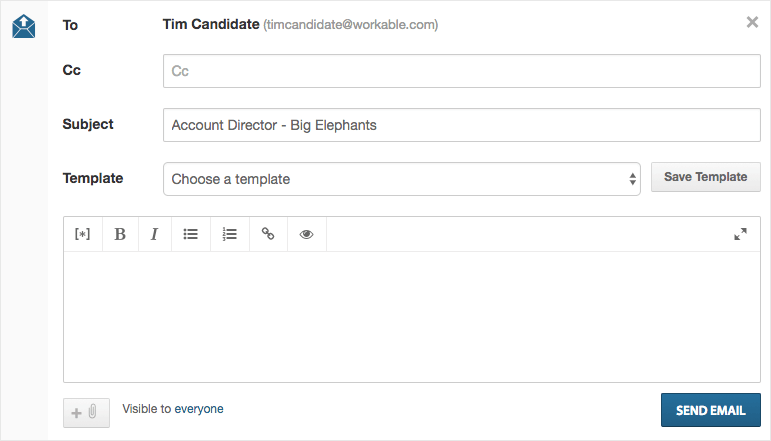 Customize the subject line for all your emails.
CC your co-workers in emails to candidates (even if your co-worker isn't signed up to Workable).
Reply to emails from candidates via your Outlook inbox. There's no need to sign-in to Workable, the conversation will still be synced into the candidate's profile.
Workable emails will be sent through your Outlook account, appearing under 'sent items' in your inbox
Import all your existing communication into Workable:

You can import conversations with candidates which started in Outlook into the candidate's profile, so that all the information you need is gathered in one place. Just "expand" your candidate's timeline in Workable and you'll find the Import button at the bottom. After importing the conversation once, any new messages that follow in the same conversation will be automatically imported.


Setting up the integration
Step 1: Enable Office 365 in Workable
Navigate to the Recruiting Preferences section of your account. Workable account administrators can access this by clicking your user icon in the upper right of Workable.
Scroll down to the 'Email and calendar integration' section. Select Office 365 and click the Outlook Mail switch to ON. This will also enable the integration with Outlook Calendar at the same time without any extra setup on your end.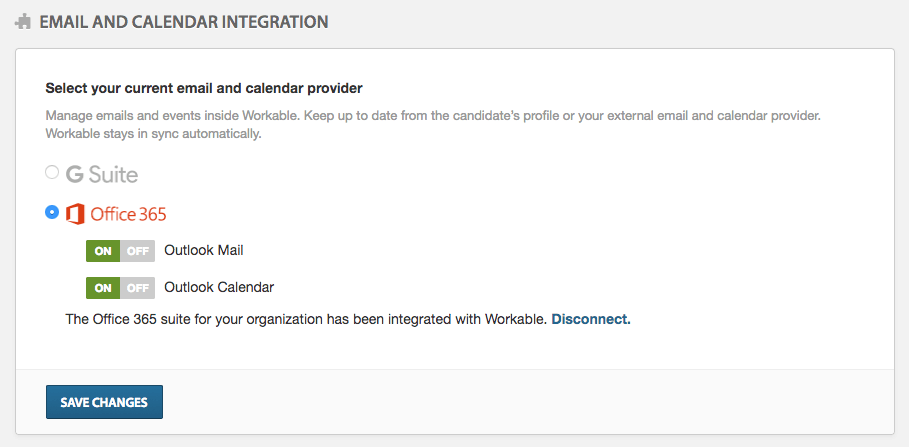 Step 2: Connect your company's Office 365 account
Important: An IT administrator for Office 365 at your company will need to complete this step.
The first time you enable the Office 365 integration, a pop-up will appear.
You'll be directed to a login page for Office 365. An Office 365 admin at your company will need to login. They will then be able to approve the connection to Workable.
After this, the integration will be complete! You and any users on your account will be able to take advantage of the syncing and customization benefits listed above, provided that they are using Office 365.
If the pop-up does not appear, then when you next go to email a candidate, a prompt will appear asking you to authenticate your Office 365 account. Click the link that appears and have your IT admin log in.

Learn more about the permissions Workable will have in Outlook.
Disabling the integration
You can disable the integration at any time by navigating to the Recruiting Preferences section and flipping the Outlook mail switch to OFF. Save the changes and Workable will revert to the basic email option.
You can reenable the switch at any time without needing an Office 365 admin to log in.