Key info: The time taken to fill a job and the time from application to hire
Data filter: Includes data based on the date the candidates were hired (excluding disqualified and snoozed candidates)
Update frequency: Every 6 hours
To access the report, click on the pie chart icon in the navigation bar to visit the Reports page.
The data is displayed in table form. This report shows details at a job and candidate level, providing more meaningful data for jobs that are open continuously.
Use the drop-down options to filter the report and specify the desired timeframe. Arrange the data in ascending or descending order by selecting the arrow at the top of each column. Figures in green show the shortest time to hire, and figures in red the longest.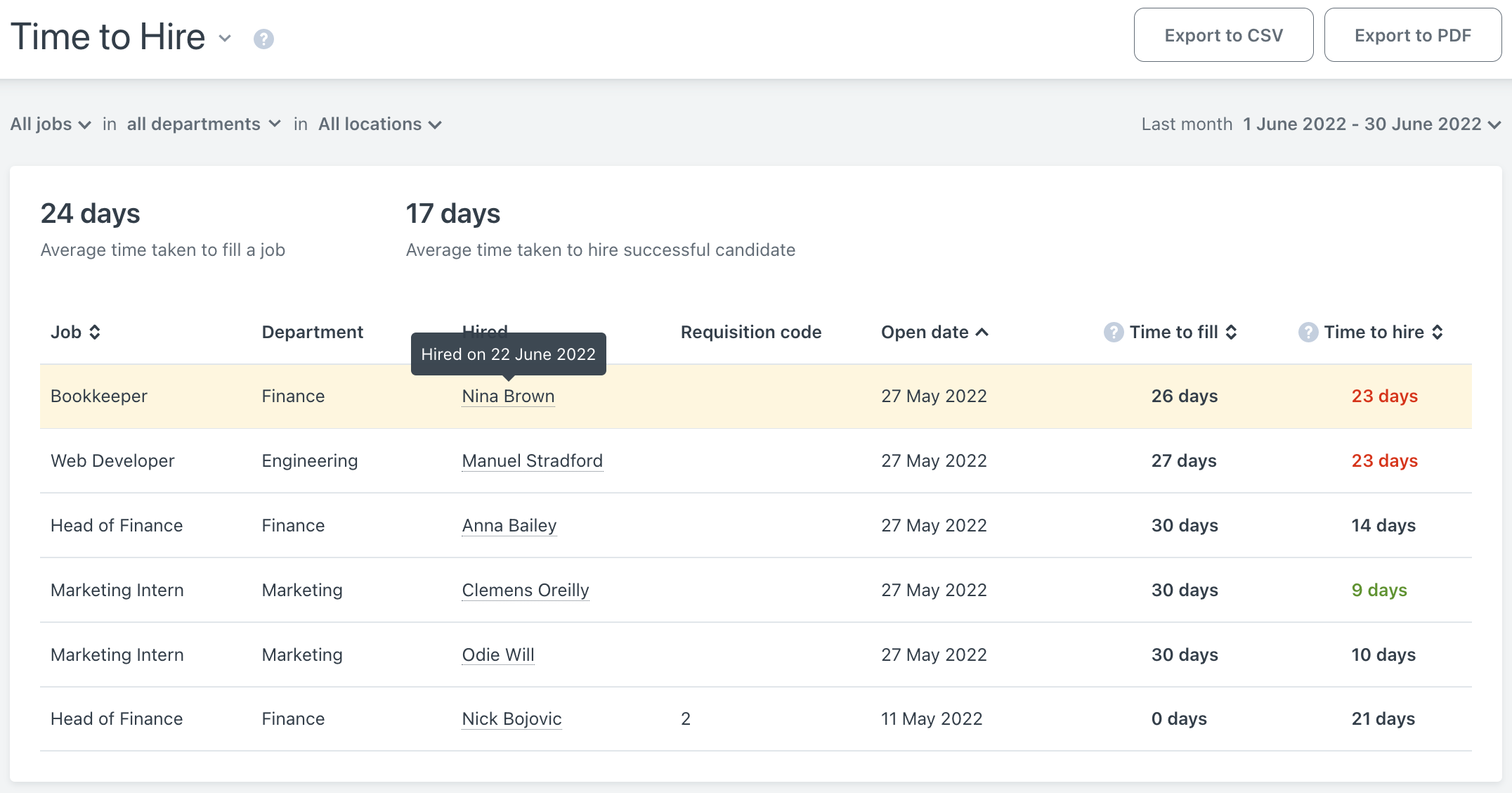 In detail, you can view details for each candidate:
Job: the job the candidate has been hired for
Department: the department in which the job is located
Open date: the date the job was activated (published or opened internally). If the job has been archived and then re-activated, we take into consideration the most recent activation date prior to hired candidate creation/engagement date
Hired: the name of the candidate hired—and on hover, the actual hire date (see screenshot)
Time to fill: the number of days from job activation to the time the candidate was hired. For accounts with Hiring plan set up, the number is calculated based on the requisition open date (❗the period that a requisition has been put on hold is not calculated).
Time to hire: number of days from the first engagement with a candidate to the day the candidate was hired. For applied candidates, initial engagement is the candidate's application date. For sourced candidates, initial engagement is the date of the first action taken with the candidate (e.g. email, comment, movement to another stage, etc.)