You can create a job that has the Used Internally status. The job can be published on your careers page and job boards at a later date or can be kept internal indefinitely.
Internal jobs:
Are not visible on job boards or careers pages
Are visible on your Referrals website for referrals and/or internal applications
Can be viewed by all members of your account
Can have a hiring team and external recruiter
Have all the applicant tracking features available (e.g. comments, emails, event schedules, moving candidates through the pipeline)
Can accept candidates via manual upload or the job mailbox
Count as one of the active job slots in your Workable subscription plan
When you create a job through Workable, you'll see the button to 'Publish' it at the top right of the page. If you're an admin you'll see that the button has an arrow; click it to reveal the options. Once you've made the choice, you can set up the hiring team or invite external recruiters.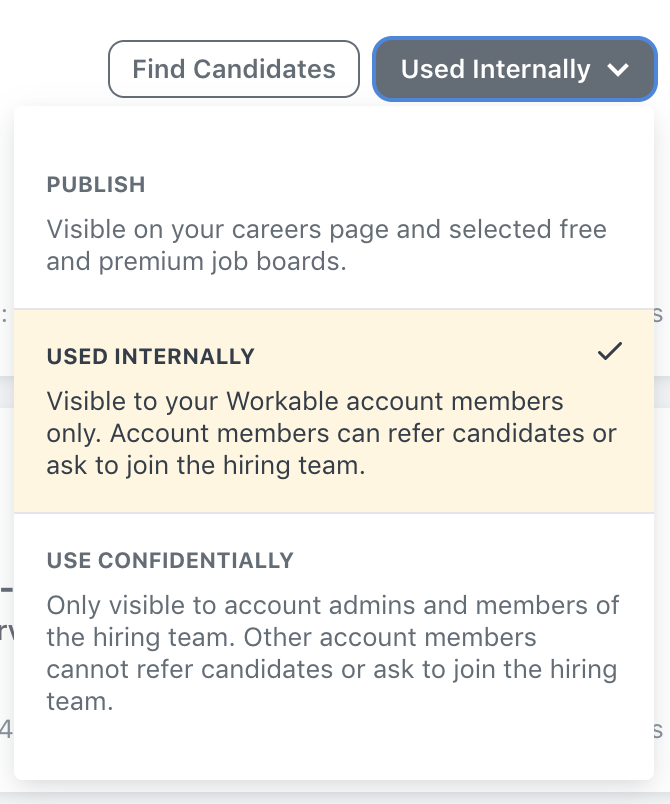 Only account admins are able to publish jobs. As a team member or manager, when your job is ready to go live, click 'Publish', and you'll see the option to request an admin to take the final step in the process.