A requisition will go through different statuses; typically starts as a draft or pending and ends as filled when a candidate is hired. Available requisition actions will vary based on the requisition status so it's essential to understand what each status signifies.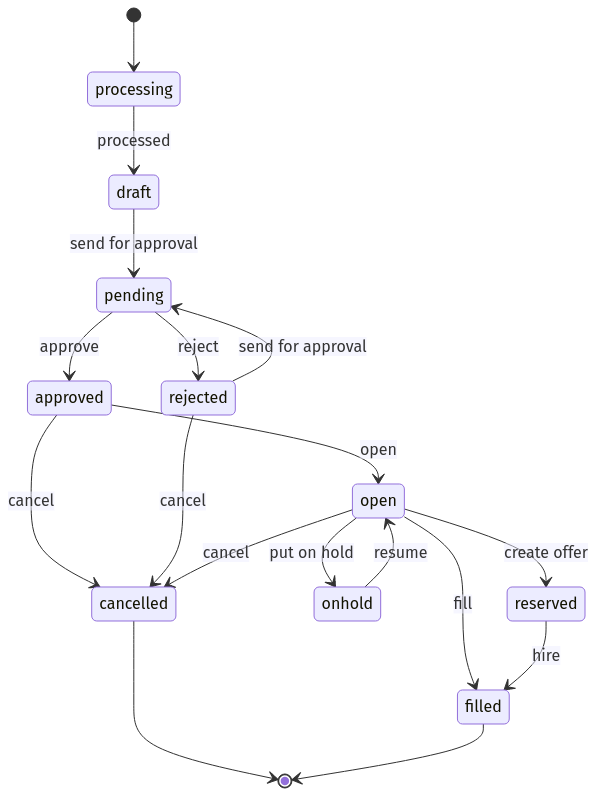 Draft 
When creating a new requisition (for a new or existing job) and after you provided value for the requisition fields you can save the requisition as a Draft. You can pick this up later, make edits and send it for approval once you have gathered all information you need. 
Pending
A requisition will enter the pending status when it is sent for internal approval via the appropriate approval workflow and the process is underway, but not complete. It will remain pending until all approval groups approve it. 
The approvers get notified by email once a requisition needs reviews and they can approve the details or reject them with a note if an update is required. To reveal the requisitions that are waiting for your approval visit the Hiring Plan dashboard and click on the Need approval button. 
Check here how to change one or more requisition approvers for a pending requisition.
Approved
A requisition will enter the approved status when the approval workflow is complete, but the requisition is not yet open (ready for use). Each requisition created with Workable's Hiring Plan must be approved before it can be opened and there is no way to bypass this process. 
When approved, all requisition stakeholders (requester, Hiring manager, Requisition owner) will be notified and the Requisition Owner or a Super Admin can officially open the requisition.
Important: An approved requisition won't be available for usage until it's officially open. 
Rejected
A requisition will enter the rejected status when its details were rejected during the approval workflow from at least one approver. The approver will be prompted to provide a rejection reason (optional) which will be shared with all requisition stakeholders so they can update and re-submit for approval.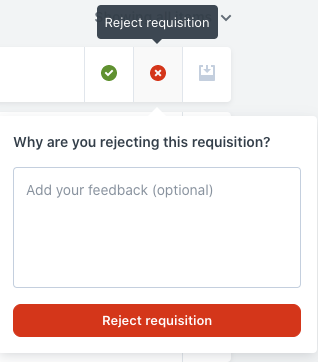 Open
This requisition status is a step further from approval and means that recruiting is actively underway. Only the Requisition Owner or a Super Admin can officially open the requisition. 
Be extra cautious when editing approved/open requisitions. If you edit a field that requires reapproval (e.g. salary budget changes might be marked to require approval), then the req's approval workflow will re-initiate and the requisition will enter the pending status again.
An open requisition can be put on hold if you wish to pause your hiring. This time won't be calculated in your reports. 
Reserved
This requisition status is a 'variation' of an open requisition and means that an offer has been made to a candidate and is pending internal approval or acceptance from the candidate. 
Reserved requisitions cannot be edited unless you move them to the open status.
Open and reserved requisitions will be shown hyperlinked next to the job in the main dashboard. Clicking the link will redirect you to all open and reserved requisitions for this specific job. 

On hold
Super Admins and Requisition Owners can temporarily put on hold open requisitions (from the three dots menu) for a period of time; for example, when a new hire freezes. The candidate's time to fill will not be affected by the time the requisition is on hold. 
To re-open the requisition later on, click 'Resume requisition' from the three dots menu.
Filled
A requisition will enter the filled status when a candidate was successfully hired and attached to the requisition. This will mean that recruiting for this position is complete. 
Check how to reopen a reserved or filled requisition. 
Canceled
A requisition will enter the canceled status when it was closed without hiring a candidate. For example, you have planned to hire three candidates for a job but decided that two are enough. You can cancel the requisition left unfilled and keep it in your dashboard for reporting purposes. 
Overdue
For overdue requisitions, while there is not a separate status, there will be a red exclamation mark next to the Plan date. You can normally use an overdue requisition or change the Plan date by editing the requisition (from the three dots menu).