Enabling and managing Hiring Plan settings
Follow
Super Admins
Advanced Annual with Hiring Plan

Super Admins can enable and manage Hiring Plan settings by clicking the user icon in the upper right of Workable and selecting Hiring Plan.
If this is the first time enabling Hiring Plan features on the account, click the switch to turn on requisitions.
Important: After activating requisitions, candidates must be attached to a requisition before they can be moved to the Hired stage.

Requisition fields
Requisition fields are the details and information that will be filled in each time a requisition is created.
Enable the switch for automatic requisition code generation if desired. Leave the switch disabled if you prefer to manually enter the code each time.
If you enable automatic codes, set the prefix for the code (for example, "REQ") and then the starting number for the code. Entering "REQ 101" will make the code for your very first requisition "REQ 101", the next requisition will have the code "REQ 102" and so on. The code will automatically increment by 1 for each new requisition created. It won't be possible to manually edit the code.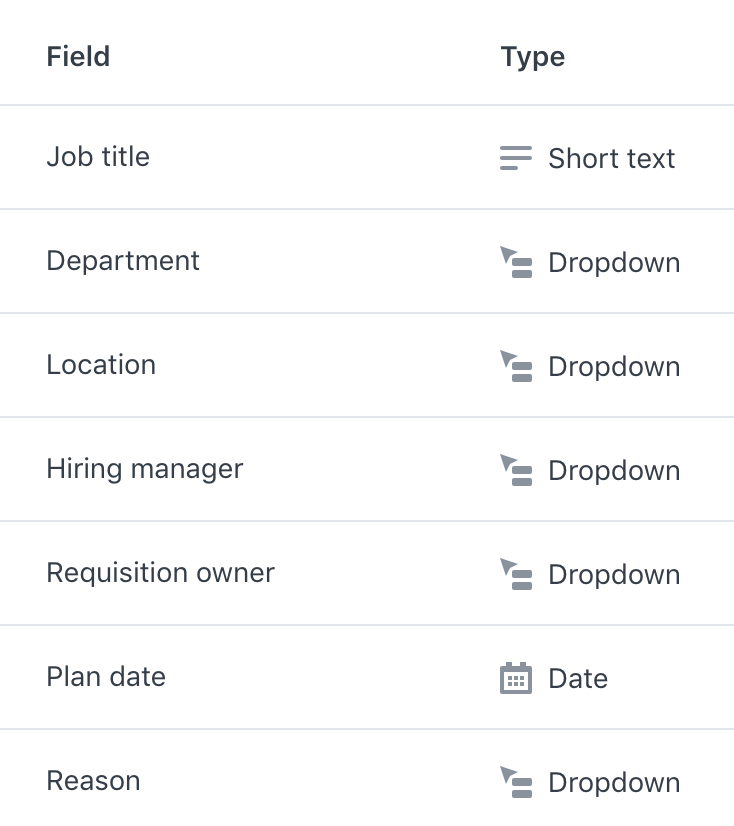 Certain default fields cannot be disabled. These are the core details required for each requisition. Other fields have an on/off switch. If you do not plan to use a field, click the switch to turn it off. The field will not be used when creating requisitions. It can be re-enabled for future requisitions at any time.
To add your own fields, click "Add another field" at the bottom of the list:
Fill out the field name and pick the field type according to the data you are looking to gather. For example. Add any other information if required, and click Save Changes at the bottom of the settings after making any updates.
When you first enable requisitions you'll need to setup a default approval workflow. You can edit or setup more custom approval workflows at any time.