The employee profile is the source of truth for an employee's information – from their personal details to their job and compensation information. To get started navigate to the Company tab of the main menu. All your employees will be visible under the People Directory list in alphabetical order based on their last names.
You can find employees by using the search bar at the top. The search bar will enable you to search by first/last name or email address. You can filter the directory further by employee status, department, or division.
Hovering over an employee's direct reports will show you a listing of employees who report to them.
To view or edit an employee profile click on their name. Before any edits or additions make sure you configured your default or custom profile templates under the Profile templates tab.
Lifecycle of an employee profile
The three default statuses of an employee profile in a company are Draft, Active, and Inactive.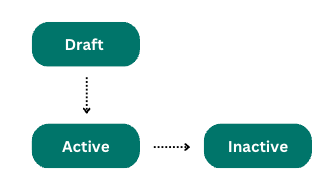 A newly created profile starts as a Draft until all mandatory fields are completed. Only draft employee profiles can be onboarded.
When all mandatory fields are completed or the onboarding is complete the profile can be published. This action will make the employee profile Active and available to all employees in the People Directory. Active employees can be offboarded.
When an active employee is offboarded the profile status will become Inactive. Inactive profiles are read-only with no ability to edit information.
🔎 Active employee profiles can be assigned with a custom status (e.g. "In sabbatical", "Furloughed") that is created by HR admins under the Profile templates tab.
Creating an employee profile
When adding a new employee, you have two options:
Add manually:
In the People Directory click Add employee > Add manually on the upper right
Fill in the record info you possess and select the profile template you wish to use. Note: The profile template cannot be changed after moving on to the next step.
Complete all mandatory fields to publish this profile. On the left, you'll see a progress bar showing what fields are still to be filled out.
Import hired candidates:
In the People Directory click Add employee > Import hired candidates on the upper right.
Select a hired candidate to import.
Select the profile template. The system will retrieve all the related information from the hired candidate and will fill them in to reduce manual data entry.
Once ready, click Save as draft and exit. After saving it as a draft, the employee profile is ready for onboarding.
Important notes:
A draft employee should be in place in order to begin the onboarding process. Once an employee profile is published, they are no longer eligible to undergo onboarding.
The start date needs to be in the future and more than one day away. Draft employees with a start date in the past cannot be onboarded.
Managing an employee profile
Depending on the employee profile status, different actions will appear under the related menu.
Edit profile
While viewing an employee profile click Edit profile under the Actions menu on the right.

Each profile section contains some predefined fields that can work as a default template for your basic needs. You can edit the default template or even create custom templates by navigating to the Profile templates section of your account. The default sections include:
Personal tab: Personal information such as the preferred name, marital status, and so on
Job tab: Employment info like job title, hire date, employment status, and other specific job details
Compensation & benefits tab: Compensation info and bank details
Legal documents tab: Passport/visa documents, citizenship info and more
Experience tab: Education, work experience, languages, resume, etc.
Emergency tab: Emergency contact details
Files tab: E-signature documents related to the specific employee
Make all changes you need in any of the sections and once ready click Save on the upper right. For active employees make sure you have filled in all mandatory fields.
Change profile template
HR admins can change the profile template that is assigned to an employee profile anytime. Just click 'Change profile template' under the Actions menu.
The template change happens immediately for every profile. During the next profile edit, if any mandatory fields are not filled in, they must be updated in order to save the changes.
Profile fields history
The employee profile may include fields that need to have a "change log" for audit reasons. These fields are configured in the default template to keep history for every change that happens.
The clock icon next to a field indicates that it has more than one history entry. Users with view rights on this field can click on it and see the past values in a modal.


HR admins can temporarily turn off field history (for minor updates) in the profile edit form, as shown below.

Profile change requests/pending updates
As an HR admin, you will be notified with an Inbox item and an email notification that there is an approval pending on an employee's profile. You can either approve/reject all pending updates or click the individual update and take action from the widget bar on the right.

You can also approve or reject updates directly in the employee profile. A list of pending updates will appear on the right side of the profile.