Best for: Candidate experience and analytics
Regions: Worldwide
Features: Synchronization of Workable jobs, candidates, event details
Support: Help Center, support@screenloop.com
Screenloop helps you source and hire with intelligence by predicting great hires with predictive analytics. With AI-powered insights and in-depth training, hiring teams can engage, interview, and onboard talent more efficiently, strategically, and fairly.
When Workable and Screenloop are integrated, users within your company will be able to automatically synchronize job positions, candidates, interview information, and more!
Setting up the integration
To integrate Workable and Screenloop, you will need to be a Super Admin in Workable and a Site Administrator in Screenloop.
In your Screenloop account:
Sign in to the Screenloop web portal
At the bottom of the navigation left panel click on Organization Settings

In the left menu click on Integrations

Click on the Workable integration and then the Connect button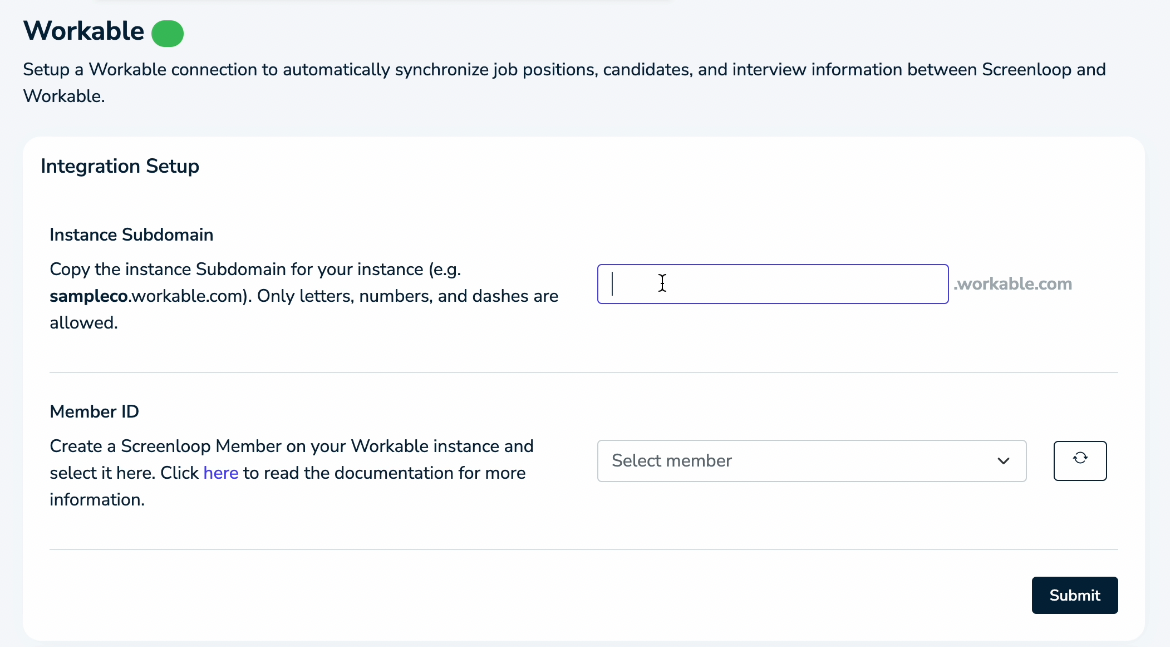 Now, log in to your Workable account to gather all the needed information.
In your Workable account:
1. Start by inviting a Screenloop user in Workable and accepting the invitation. Each user who will be working on both platforms should follow this process to tie their individual Workable and Screenloop user accounts. Important: The email address you use on both platforms should match.
Navigate to the Account Members page
Invite a new member with All access permission with the email address format:


<the-part-of-your-email-before-the-@>+workableapi@<your-company-email-domain>

For example, if the admin user has the email nat_sung@screenloop.com, then the email you should use for the invitation is: nat_sung+workableapi@screenloop.com.
Accept the email invitation you received and sign up by entering the below information:

Name: Screenloop
Last name: User
Password: set a strong password
2. Next, locate your Workable subdomain and copy it for later. The subdomain is the name of your account in the URL, ending with workable.com.
In your Screenloop account:
Input all gathered information into the Integration setup fields.
Paste your Workable subdomain into the Instance subdomain field
Click on the refresh button next to the Select member dropdown and then select the Screenloop User you created earlier in this guide
Once all fields are added click Submit

That's it! The accounts will now be connected and your Workable data will be synchronized automatically to your Screenloop account (every 15 minutes). Now you are ready to explore your analytics in Screenloop and make data-driven decisions.