Yes, after the candidate signs the document (both simple and offer type) a standalone pdf file provided by Dropbox Sign (formerly HelloSign) will appear for you to review. To access the audit trail file:
Navigate to the candidate profile
Click on the Files tab
You will see the file below the completed document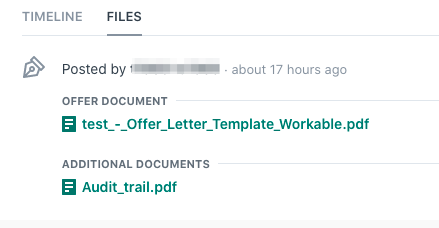 Below is an example of an audit trail. If you are using offer approval workflows and the [company_signature] variable, you will see two extra 'Viewed' and 'Signed' steps referring to the company signatory.
Note: The dates are always shown in Eastern European Standard Time (UTC +3).