To search your Candidates page, enter one or multiple terms in the search bar at the top of your Workable account or navigate to the Candidates tab. Search by name, or any term that can be matched to a candidate's profile & resume, including previous job title, workplace or education. Tags can be searched with or without the # character.
Searches will return results if the keywords used are in any section of the "Candidate Profile". For example, the resume file, work experience, skills, application form questions, keywords, and so on.
Note: The system doesn't search through comments and custom fields.
Profiles are returned if one or more of the search terms match the information in the profile. Boolean operators should be used if you'd like to search for matches of ALL the search terms. Refer to the section below.
Fuzzy matching is applied in search terms by default, so a search for "Tom" may return matches for "Tom" or "Tim," as well as prefix matches like "Tomas" or "Tommas". Fuzzy matching is not applied to tags. You can use modifiers to search only for exact matches and/or prefix matches. See the 'Additional advanced search modifiers' section for more information.
Perform boolean searches
The Candidates page supports performing boolean searches for more advanced search queries. You can use one or more of the supported operators:
AND operators:

can be used between search terms

to ensure all terms are included in the results, e.g. java AND php would ensure that all results include both terms, not just one or the other. AND is the default operator when advanced searches are performed, i.e. if you type java php AND c#, results will assume java AND php AND c#.
OR operators: the system will return results if one or both of the terms are found, e.g. java OR php would yield results if at least one of the terms is found
NOT operators: can be used as a keyword prefix to exclude a term from the search e.g. java AND NOT php will exclude the latter from the search
( and ) signifies precedence when multiple operators are used: e.g. the search (php OR java) AND NOT html will ensure that the OR operation in the parenthesis will take place first
💡 You can perform boolean operations on tags either via manual entry or via the tag filter. When boolean operators are used (in searches or tags) the advanced search modifiers used are highlighted as shown below:

Additional advanced search modifiers
"" can be used around one or more words to request for an exact match of the word or phrase: e.g. a search for software engineer will yield results for candidates with software or engineer in their profiles while "software engineer" will yield results that include that complete term.
* at the end of a term signifies a prefix query: e.g. the term Sen* will search for all words that start with Sen. The modifier can be used also when searching for tags, which otherwise are matched exactly, so for example if you have two tags #consider_after_June #consider_next_year, you can search for either by consider_*, which would return candidates with either tag.
Filter your search
Refine your search results by using one or more of the available filters:
Department: you can choose multiple departments

Job: you can choose multiple jobs or groups of jobs (e.g. all your active jobs). Note: the last active date shown under the jobs is the date a job was last activated i.e. from draft to published or used internally/confidentially, from archived to unarchived.

Stage: you can choose multiple stages. Note: if you have custom pipelines, then available for selection will be the reporting pipeline stages.

Tags: you can choose multiple tags and define how their presence in the profile is handled:

All (works as the AND operator), i.e. all tags must be present in the profile
Any (works as the OR operator), i.e. any of the tags may be present in the profile
None (works as the NOT operator), i.e. tags must not be present in the profile

Consideration: here you can choose to view only qualified or disqualified candidates

Under more filters:
Candidate location: taking into account multiple location sources (e.g. Application form, resume, People search)
Evaluation score: with the option to show only candidates with an evaluation for their current stage
Creation date


Sort your results
Candidates will be by default sorted based on creation date (most recent first) unless you run a keyword search in which case they will be sorted based on relevance. You can change the sorting at your discretion based on your needs.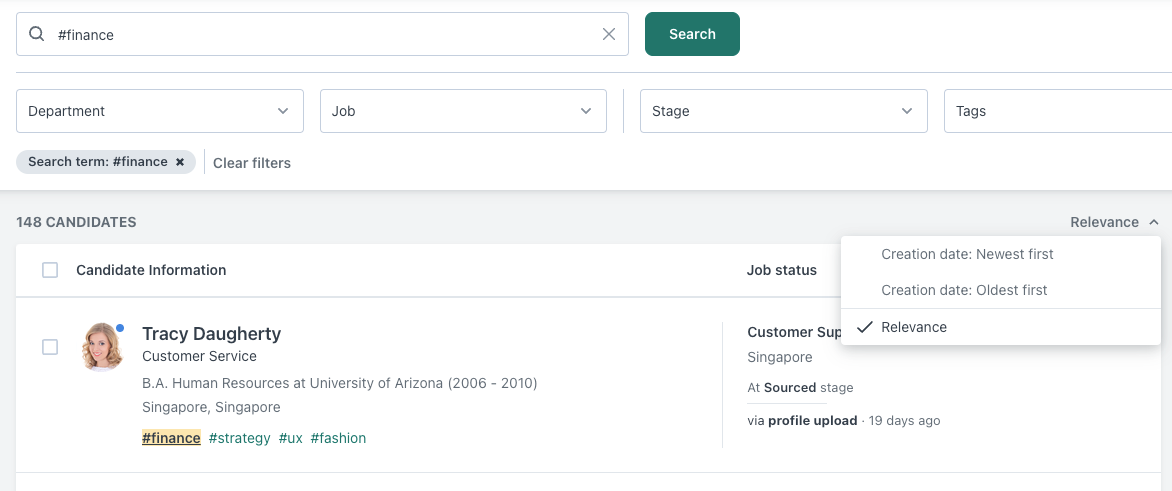 If you choose to view only disqualified candidates (under the Consideration filter) the sorting filter will be enriched with the option to sort by disqualification date (newest/oldest first).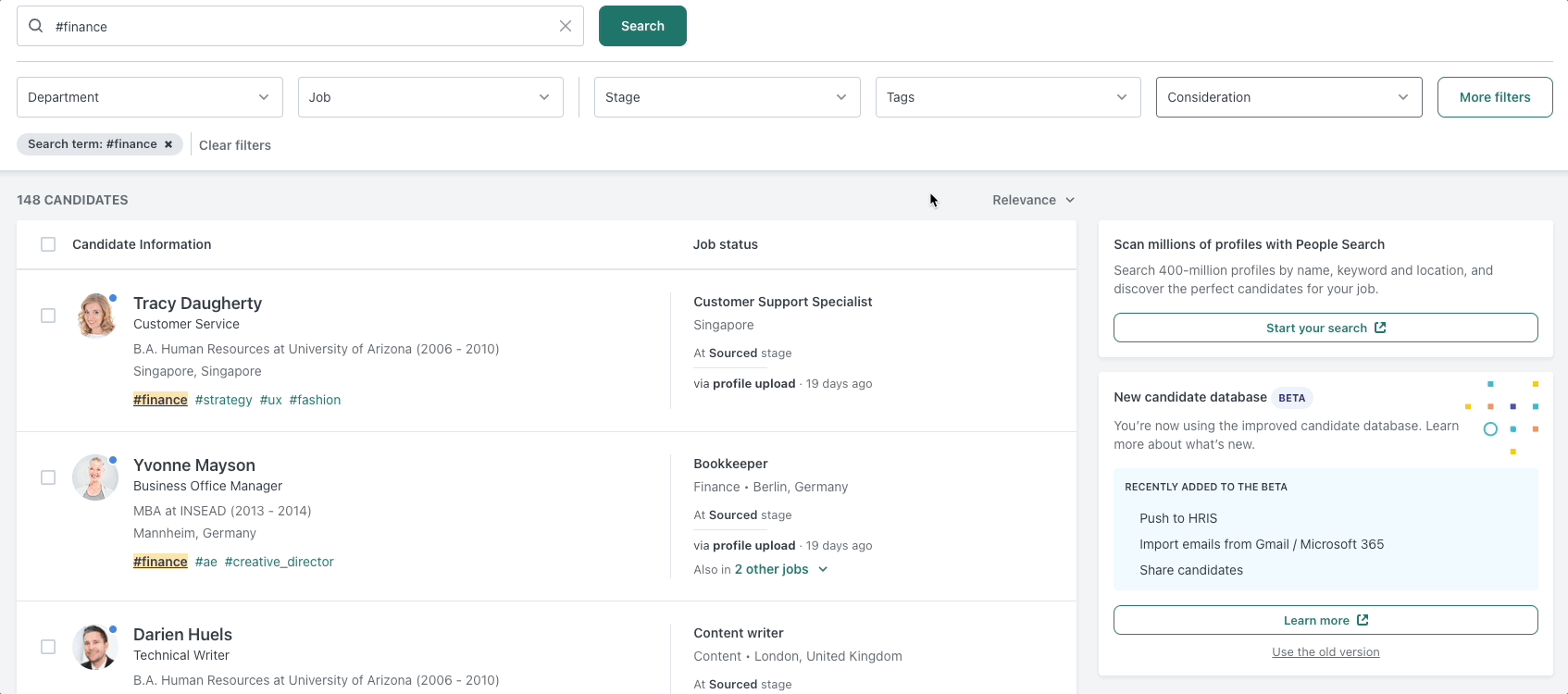 Tips
Bookmark your search: Utilize your web browser's bookmark feature to save your searches for quick access without the need to rerun the search every time.
Share your search: Share the URL of your search with other members of your hiring team, as long as they have visibility to the same candidates and jobs.