Best for: Payroll, HR & tax services, other employee administration services
Features: Export of Hired candidates' information, extra custom fields
Support: Website, 1-844-227-5237
ADP is a global provider of cloud-based human capital management (HCM) solutions that unite HR, payroll, talent, time, tax, and benefits administration.
When Workable and ADP Workforce Now are connected, candidates that are hired through Workable can have their details automatically exported to ADP as "In-progress hires". This means you won't have to manually transfer or fill out info that was already recorded during the hiring process.
The following fields are automatically sent to ADP when a hired candidate is exported:
First Name

*

Last Name

*

Email
Phone Number
Job title (❗if there is a match between the title in Workable and a title in ADP)
Start Date
Gender (with EEO enabled)
Ethnicity (with EEO enabled)
Race (with EEO enabled)
* Names must use only valid characters: letters (from all languages), numbers, full stop, space, dash and single quote. Invalid characters will be removed before passing names to ADP.
🔍 Looking to export more info?
Contact your Workable point of contact for assistance mapping other Workable data into ADP.
Setting up the integration
Important: For account security, the user who activates this integration must use the same email address to access both Workable and ADP. The user must be an Admin in Workable.
To connect Workable and ADP Workforce Now follow these steps:
Sign in to Workable and navigate to Integrations
Locate ADP in the list of integrations, click on it, then click the button to go to the ADP marketplace
You'll be directed to the page for the Workable Connector for ADP Workforce Now app
Click Buy Now
Choose an edition based on your company's size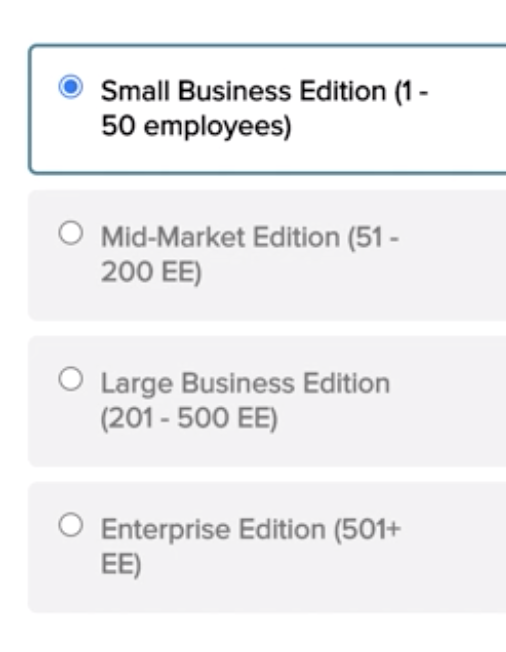 Continue through the process and enter your Workable subdomain. The subdomain will be pre-filled if you are logged in to Workable. 
Continue and fill in your billing info
Review and place the order
Workable uses ADP's "Applicant Onboard" template. Check that this template has been created in ADP Workforce Now. Explicit instructions for finding (and if needed, creating) this template can be found here
Finally, go to the Integrations section in Workable, locate ADP in the list of integrations and click Authorize Workable:

Exporting candidates to ADP
Auto-export (default); By default, candidates will automatically be exported to ADP when they are moved to the Hired stage in Workable.
Manual export; When the auto-export switch is set to OFF, you'll need to manually export candidates to ADP. A button will appear in the toolbar for candidates in the Hired stage. Click this button to send the candidate's details to ADP.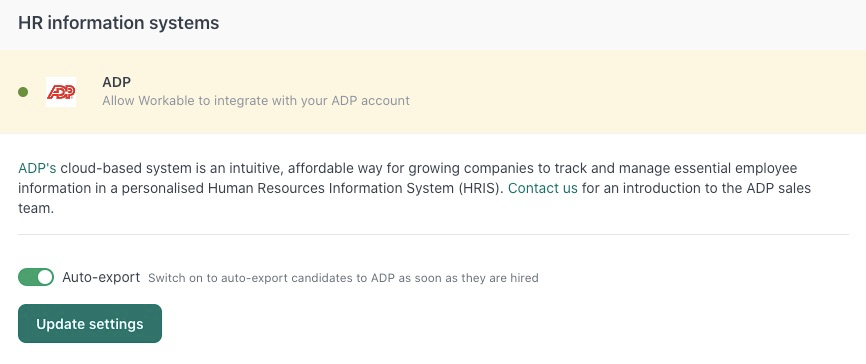 With auto-export disabled, a new button will appear on candidate profiles that are in the Hired stage. Click this button to send the candidate's details to ADP.

Finding an exported candidate in ADP
When a candidate has been exported you'll find their details in ADP under "In-progress Hires".
In ADP navigate to Process > HR > Hire/Rehire > In-progress Hires. Candidates will appear in the list there and the template for filling in their details will be "Applicant Onboard".
Click on a candidate's name to review and fill in details about their employment, pay, time and attendance, and more.