The Talent Pool is a place to upload and store candidates who do not fit in an active job, but who you'd like to consider for future roles/openings. If your account is new, the Talent Pool will be enabled by default once you publish a job or enable speculative applications. Find the Talent Pool at the bottom of the jobs dashboard and click on it to access its candidates.
There are two stages in the Talent Pool: Sourced and Applied.
Sourced candidates:

added through upload, referral, or People Search
Applied candidates: added when a candidate emailed their resume as a speculative application

Adding candidates

Upload
To upload a candidate's resume, hover over the Talent Pool on the main dashboard. Alternatively, when viewing the Talent Pool, click Add Candidates in the upper right.
If the candidate already exists in your account they will be skipped during the upload. You'll be alerted and can choose to add the candidate to the Talent Pool anyway if desired.


Refer
To refer candidates, hover over the Talent Pool on the jobs dashboard. Search for the person you want to refer by name or email to easily add them to the Talent Pool. If you can't find the person you're looking for an option to manually add them will appear.

People Search
When you source candidates with People Search you can add them directly to your Talent Pool.
Search for people by name or by skills/keywords. Select the Talent Pool (or a job on your account) and click the + button to add their profile to your account.
Learn more about using People Search.

Email from Workable user
Your Talent Pool has an email address associated with it, much like the job mailboxes that are generated when you create jobs in Workable. This email address is [subdomain]@jobs.workablemail.com.
The subdomain is part of the web address of your careers page. For example, if your company's subdomain is 'Stark Industries', your Talent Pool email address will be 'starkindustries@jobs.workablemail.com.
Account members can send an email to this address with resumes attached. Workable will parse all attached files and add each file as an individual candidate in your Talent Pool. Content in the body of the email will be added as a comment. You should only attach resumes when adding candidates via email. If a cover letter is also attached it will be parsed and added as an extra candidate.

Manual entry
To manually add a candidate, access the Talent Pool and click Add Candidates in the upper right.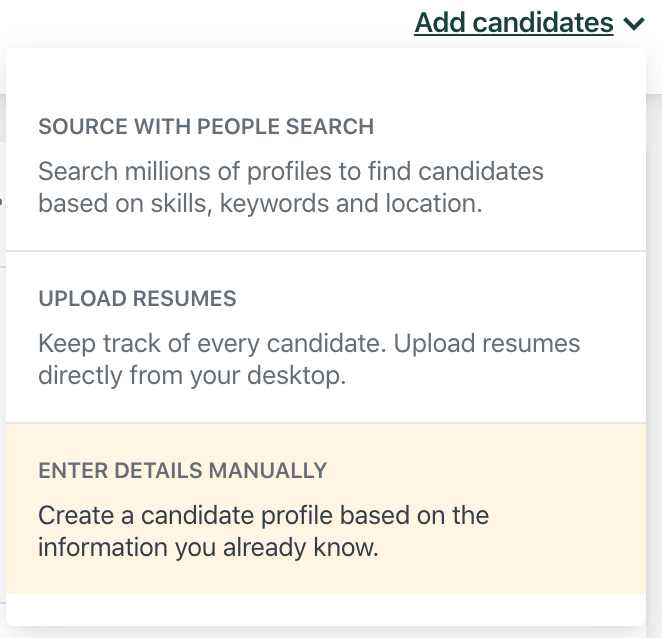 Interacting with candidates in the Talent Pool
Click on the Talent Pool at the bottom of the jobs dashboard to access its candidates. Interact with them via the toolbar at the top of their profile. All the basic candidate interactions are available, except for interview scheduling.
When you have an opening for which a candidate is a good fit, click the Move to job button. You'll be able to select or search for the appropriate job and select the right stage from the dropdown menu.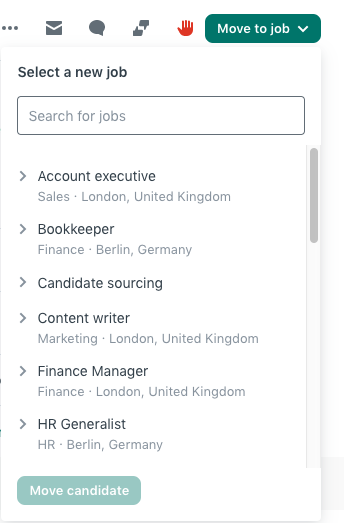 Once moved to a job, candidates cannot be moved back into the Talent Pool, but they can be moved to other active jobs at any time. When a candidate is moved from the Talent Pool to a job the content of their timeline (emails, comments, etc.) are moved along. Also, these candidates' details are searchable and accessible via your Candidates page.
Candidates submitting resumes to the Talent Pool
Candidates who would like to join your company but cannot find a suitable opening at the moment can still drop their resumes to your Talent Pool. Enable speculative applications to include a banner at the bottom of your Workable hosted careers page allowing job seekers to email you with their details.

Important:
Candidates should only attach their resume to the email
Text in the body of the email will be added to the candidate's profile in Workable as a comment from the candidate
Accepted file types: .pdf, .rtf, .odt, .html, .doc and .docx
As with every application made through Workable, candidates who send a speculative application will receive an automatic confirmation email when their application has been successfully received.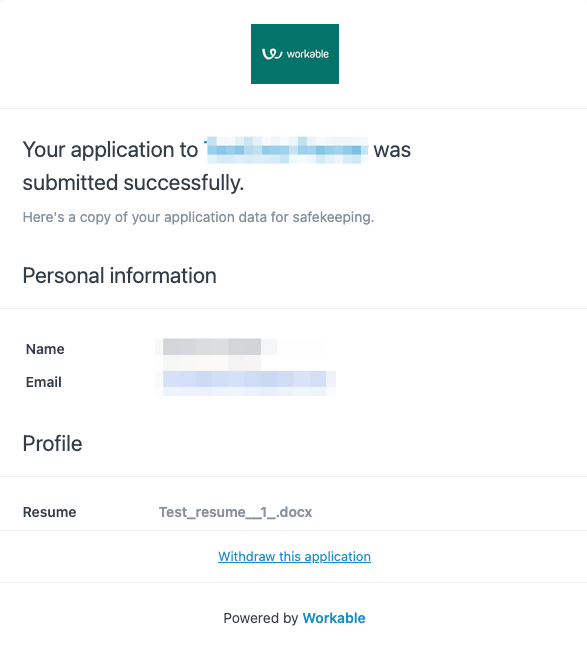 Additionally, if you've enabled EEO applicants will receive an email reply with an option to fill out the survey.
FAQs