Add the annual salary range to your job post to boost its visibility or use it for internal reference. Some (but not all) job boards rely on it to match the right candidates' profiles. This field is not required to post a job and it's not displayed on your careers page.
Some job boards choose to publicly display it while others only may use it internally. If you wish to show the salary to all job boards we would advise you to include it in the job description. Job updates can take 6-24 hours to appear on all job boards.


Locating the salary field
At the bottom of the job editor, indicate the range of compensation. Select the currency and click Update to save your choice.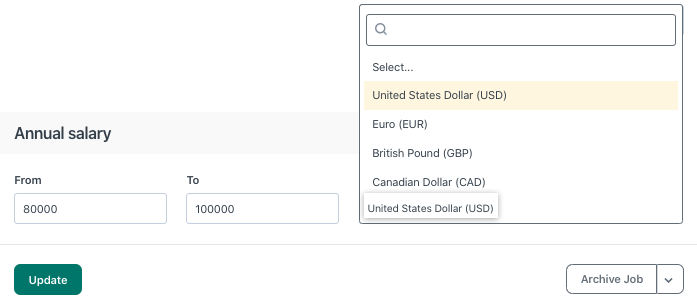 Note: The salary field only supports annual salaries. If a job is compensated with daily or hourly pay you can always add this information in the 'Benefits' section of the job editor and publicly display the offered compensation rates.

Additional salary settings
Some premium job boards also enable you to add salary information when adjusting settings specific to that particular job board. While not all job boards display this information publicly, Indeed chooses to show the salary range.
The salary range is mandatory to post on Seek but it's not displayed on the job ad by default. They use it to provide more relevant job search results to candidates.
To check if a job board offers additional salary settings:
Visit the Find Candidates section of the job
Click on Premium job boards
Access the additional settings from the cogwheel at the top right of the dedicated job board