Use the Workable mobile app to easily manage your hiring on the go. The mobile dashboard enables you to quickly see the candidates that need your attention.

Check upcoming events, evaluate candidates and check hiring progress. Access these options from the main dashboard:
Search: In the search bar, look up jobs, candidates, skills and resume details.
Next up: See upcoming interviews that you're a part of. Tap an event to see more details and access the candidate's profile.
Jobs: Tap a single job or "View all" to see all the jobs for which you are on the hiring team. You'll be able to see the stages and candidates just like on the desktop site. Currently, you are not able to create or manage jobs through the app. If you are not on the hiring team for any job you can either join an existing job or send an access link to your email to create and edit jobs on your computer. By clicking the link in your email you will be redirected to the job editor.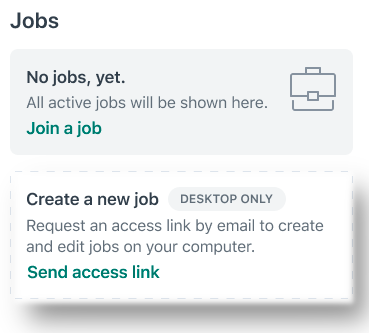 Candidates: View a list of new, unread or recently viewed candidates. New candidates have applied in the last few days, whereas unread candidates may have applied any time, but have not been viewed yet.
Navigation menu: Use the buttons at the bottom of the screen to return to the dashboard or access other tools like the Inbox, which contains action items and notifications.