Best for: Sourcing and outreaching candidates
Features: Import candidate profiles in Workable, import email communications (only with Gmail integration enabled)
Support: Help Center, hi@interseller.io, Chat available
Interseller helps recruiters source talent and hire faster. This tool can find a candidate's personal email address and help you reach them with automated and personalized email sequences, all while keeping Workable up-to-date.
After setting up the integration, any time you add a candidate into Interseller or whenever a candidate replies back, their profiles will be automatically added to Workable. There is a deduplication algorithm in place to make sure you don't accidentally reach out to a candidate you're working with already.
Data that is sent to Workable includes:
Candidate name
Email address
Phone number
Company name
Job title
Work experience
Email history (via Gmail only)

Setting up the integration
In your Interseller account:
Click your profile icon in the upper right and select Integrations
Select Workable from the list of integrations and sign in to your Workable account if prompted
Click the button to Allow Access between Workable and Interseller
Once Interseller has been authorized, the integration page will display the following options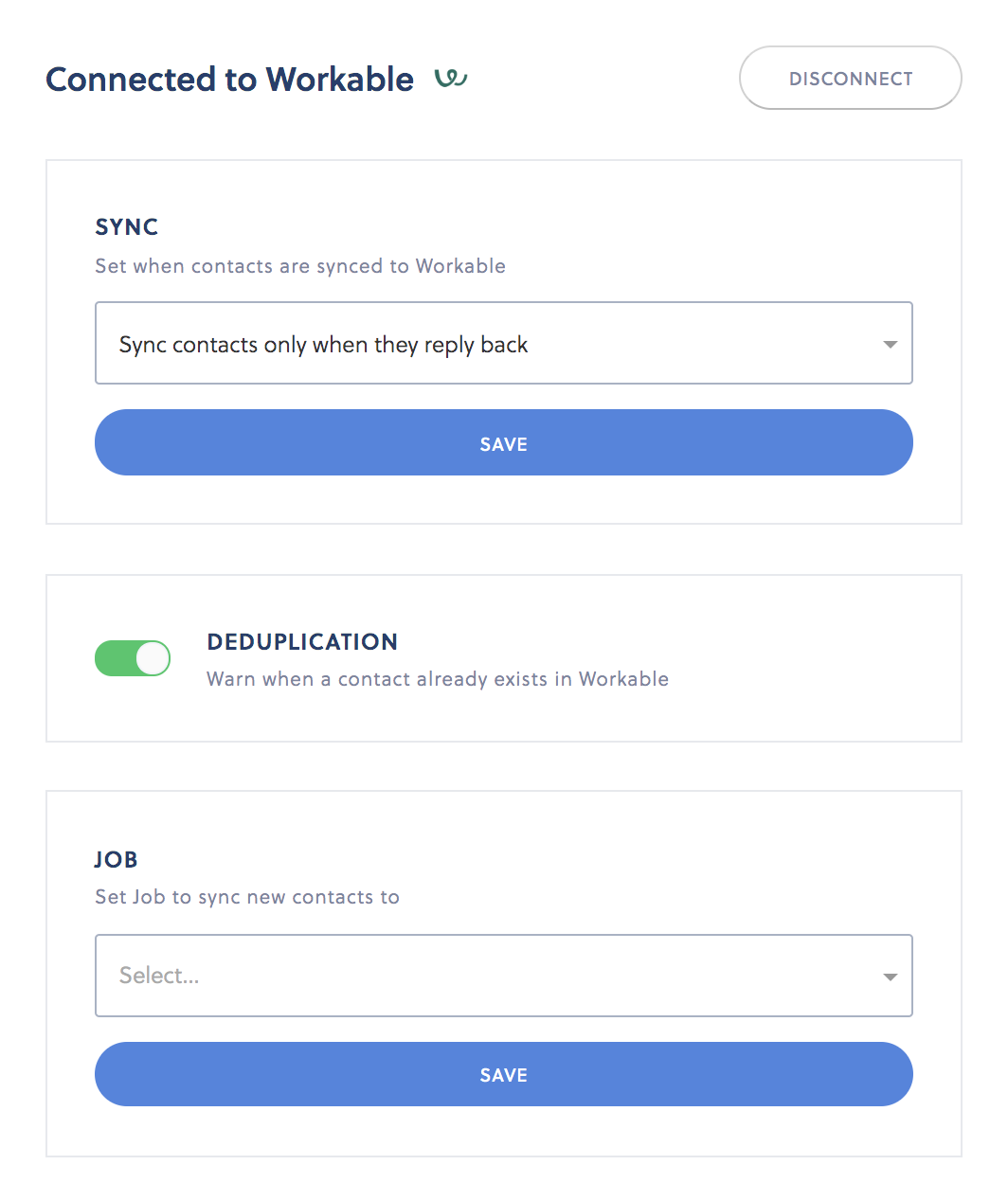 Set when contacts should be synced to Workable (either when you add a candidate to Interseller or when a candidate replies back to your Interseller email)
Enable the deduplication warning
Select the default Workable job where the candidate will be imported to since this will be the default job where your Interseller contacts are going to be synced if you do not specify another job in a sequence's settings
Click Save under each section

Setting/disabling sync for different sequences
To export Interseller candidates to Workable, each sequence must be linked to a job in Workable.
To link a sequence to a job or disable candidate syncing:
Visit your Interseller dashboard by clicking the bear icon in the upper left
Select the sequence you want to edit
Click Settings in the upper right
Choose the job from the drop-down to export your candidates to or disable the sync

Importing emails
If you've enabled Workable's Gmail integration you can sync email threads from Interseller into Workable. In Workable, navigate to the candidate's Timeline and click the "Import communication" link at the bottom. Gmail (and Interseller) messages that you exchanged with the candidate before they were imported will be added to their Workable Timeline.