Best for: Pre-recorded and live video interviewing (highly customisable)
Features: Send interviews and receive a link to the recording back in Workable
Support: Website, support@vidcruiter.com, +1-855-824-4720
VidCruiter is a highly customizable video interview platform. By connecting Workable and your VidCruiter account, you will be able to send video interviews to the candidates directly from their profile in Workable. After the candidate completes the interview, you'll receive a notification and you and your team will be able to access the video from the candidate's timeline in Workable.

Setting up the integration
Note: To use VidCruiter in the UK, contact us before performing any of the steps below. The Workable Support team will assist with activating the UK-specific VidCruiter integration on your account.
To connect your Workable account with VidCruiter, you will need your personal API key from VidCruiter.
Log into your VidCruiter account
Head to the Admin page
Navigate to the Integrations tab, select Workable and click Connect
Copy the API Key that will be generated in a field above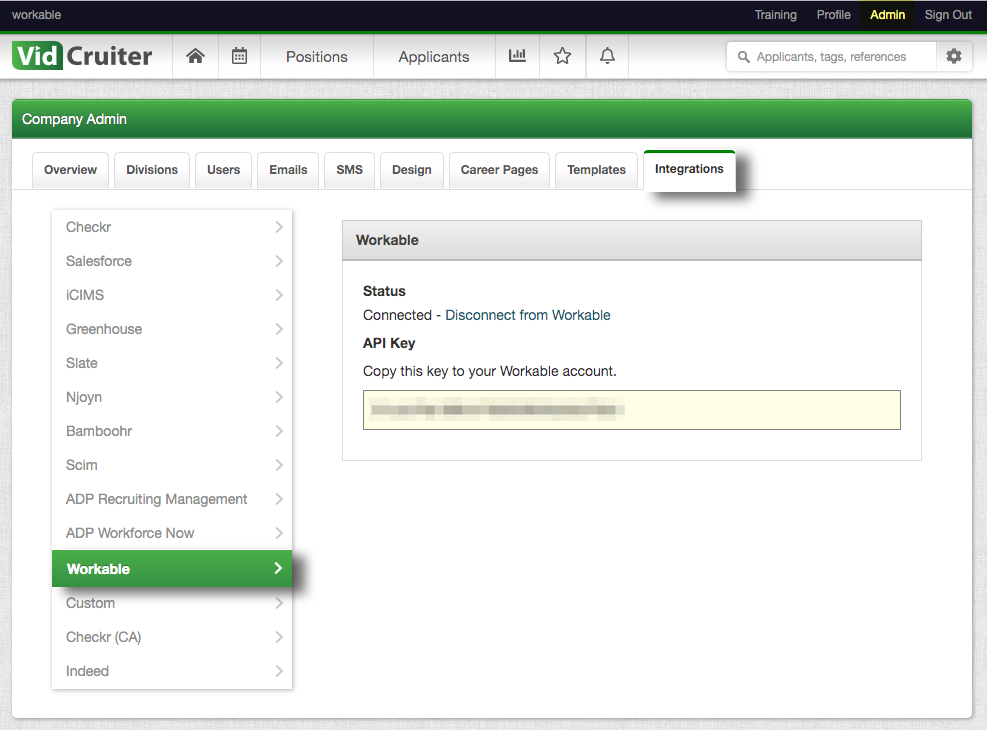 Next, sign in to your Workable account:
Click your profile icon in the upper right, click on Settings and navigate to Integrations
Locate VidCruiter in the list of Video Interview providers that appears and click on it
Paste your API key into the field that appears
Click Update Settings
As soon as you assign the VidCruiter interview to a specific stage in your recruiting pipeline via the Workflow tab of the job editor, you and your team will be able to start sending video interviews to candidates. Workable will automatically fetch the templates that you created in your VidCruiter account, notify you when the video interview has been submitted and display the link to it on the candidate's timeline.