Connect your LinkedIn Company Page to Workable for greater candidate engagement. After performing this one-time setup, published Workable jobs will be automatically added to your LinkedIn Company Page.
You'll need to collect your Company ID from URL of your company's LinkedIn "Employees" page. Then, enter the Company ID in Workable under Settings > Integrations > LinkedIn.
Locate your LinkedIn Company ID
Sign in to LinkedIn and search for your company
On your LinkedIn company page, locate the "X employees" link which shows the number of employees and click it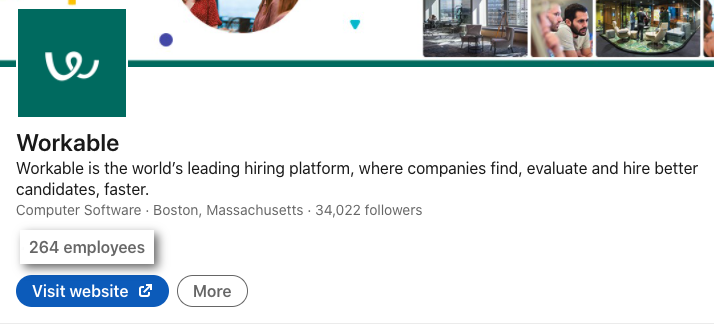 On the view of all employees, the Company ID will be included in the URL. The Company ID is the number in the URL following "c

urrentCompany=%5B

". In this example, the Company ID is 2666416: https://www.linkedin.com/search/results/people/?currentCompany=%5B"2666416"
Important: Take care to only copy the number in quotes only. You can do this by double clicking the number in the URL or manually typing the number out.
To verify that the ID is correct, open a new browser tab and navigate to https://www.linkedin.com/company/X , where X is the copied ID number. You should be directed to your LinkedIn company profile page.

Add the Company ID to Workable
Paste the Company ID into the field when prompted during job publication from the Find Candidates section

Or:
Click your user icon in the upper right and select Settings > Integrations
Locate LinkedIn in the list of Integrations and click on it
Paste the Company ID into the field and save the change
That's it! Jobs that are published through Workable will automatically be attached to your Company Page.
Note: If your LinkedIn ID is attached to another account (probably an old inactive one) the system will generate the error "This LinkedIn Company Id has already been taken". Contact us to release the ID number.