Workable includes integrations with hundreds of job boards for easy advertising. Depending on your job's location Indeed may be available as a free job board. To ensure your jobs are posted on Indeed check our job board initialization guide.
You can also purchase sponsored job posts on Indeed (and many other job boards). A sponsored post is helpful for increasing the visibility of your post and attracting more quality candidates.
Setting up the integration
If you don't have an Indeed account you can sign up from this page. Then, a Super admin will need to perform a one-time setup and connect your company's Indeed account.
Click your profile icon in the upper right, click on 'Settings' and navigate to Integrations
Locate Indeed in the list of Job board integrations and click on it
Enter your company email address for Indeed, which is the one associated with your Indeed account
Click Confirm account. You will be redirected to Indeed and prompted to log in with your credentials
Invite team members to your Indeed account allowing them to sponsor jobs
Go to your Billing page on Indeed to ensure that your billing information is added otherwise your sponsored campaign(s) will not be activated
After the setup process is complete the dot next to Indeed will turn green. Now you can purchase Indeed sponsored posts for any of your jobs; each user who tries to sponsor a job on Indeed will need to authorize their Indeed user accounts first.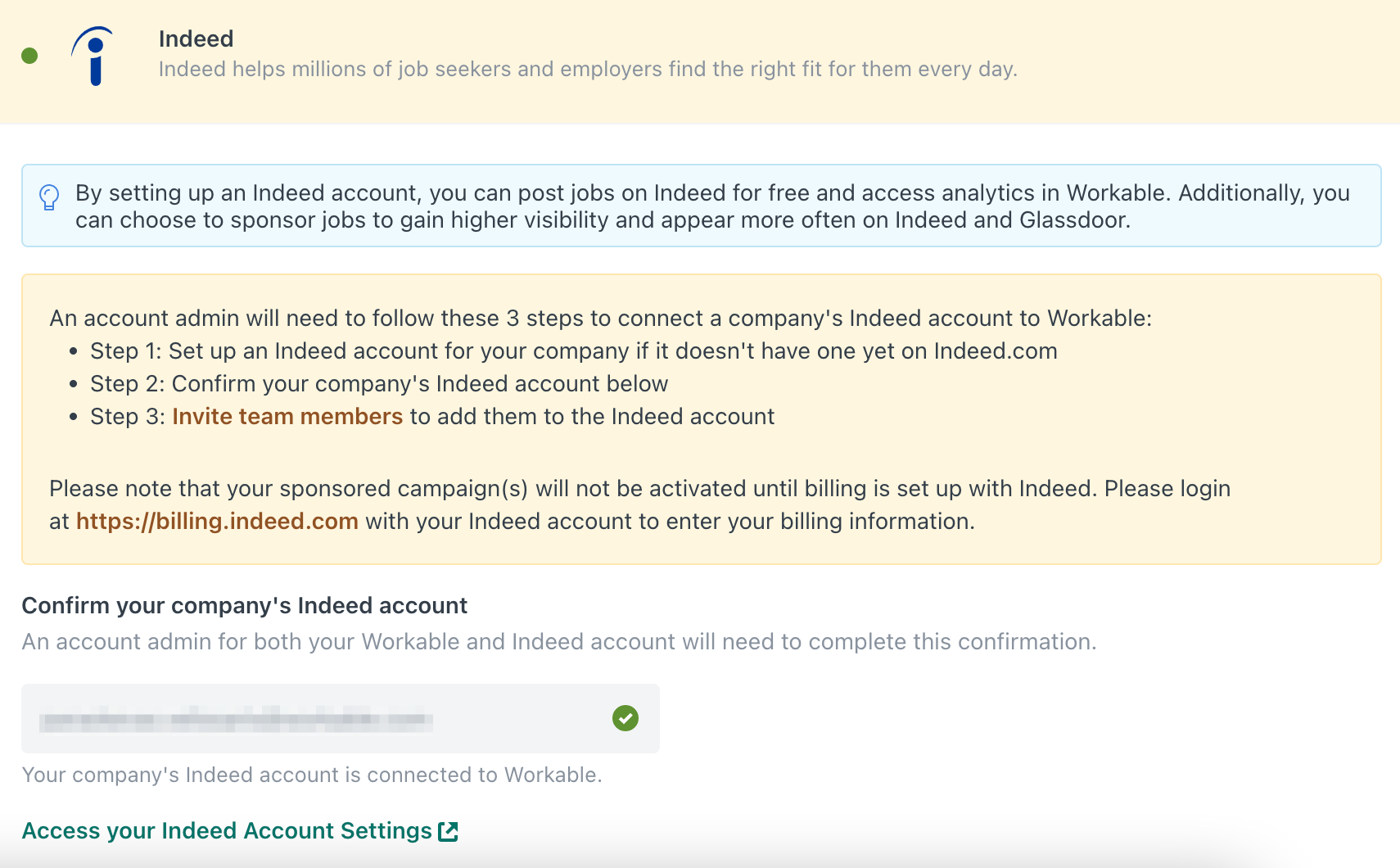 Using the integration (sponsoring a job)
1. Authorize your Indeed user account
To purchase an Indeed sponsored post you will need to authorize your Indeed user account first.
On the main dashboard in Workable, click the Find Candidates button for the job and then click on Premium Job Boards
Locate Indeed and click on Authorise your Indeed account; if you are collaborating in multiple Indeed accounts you will be requested to choose the corresponding company to post from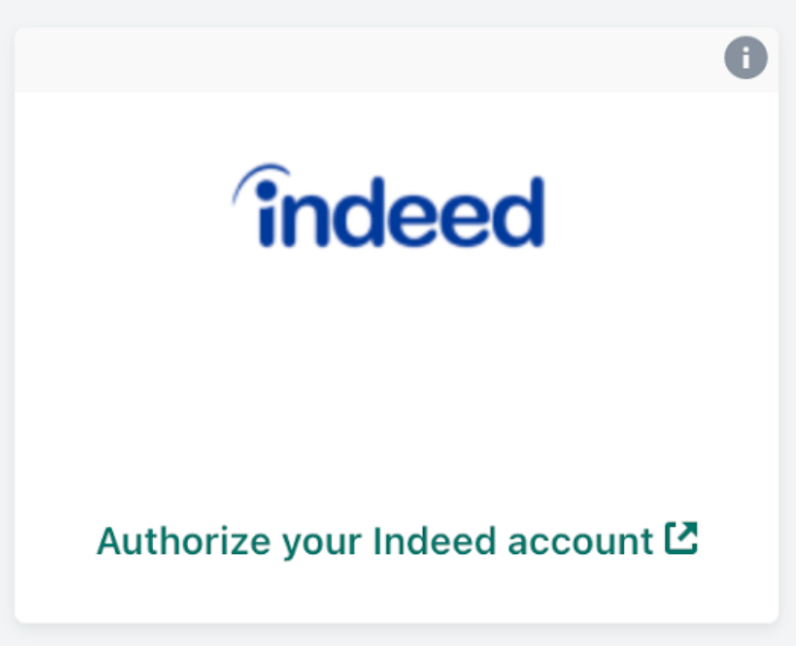 Allow all permissions. If you opt out of any permissions you won't be able to sponsor jobs.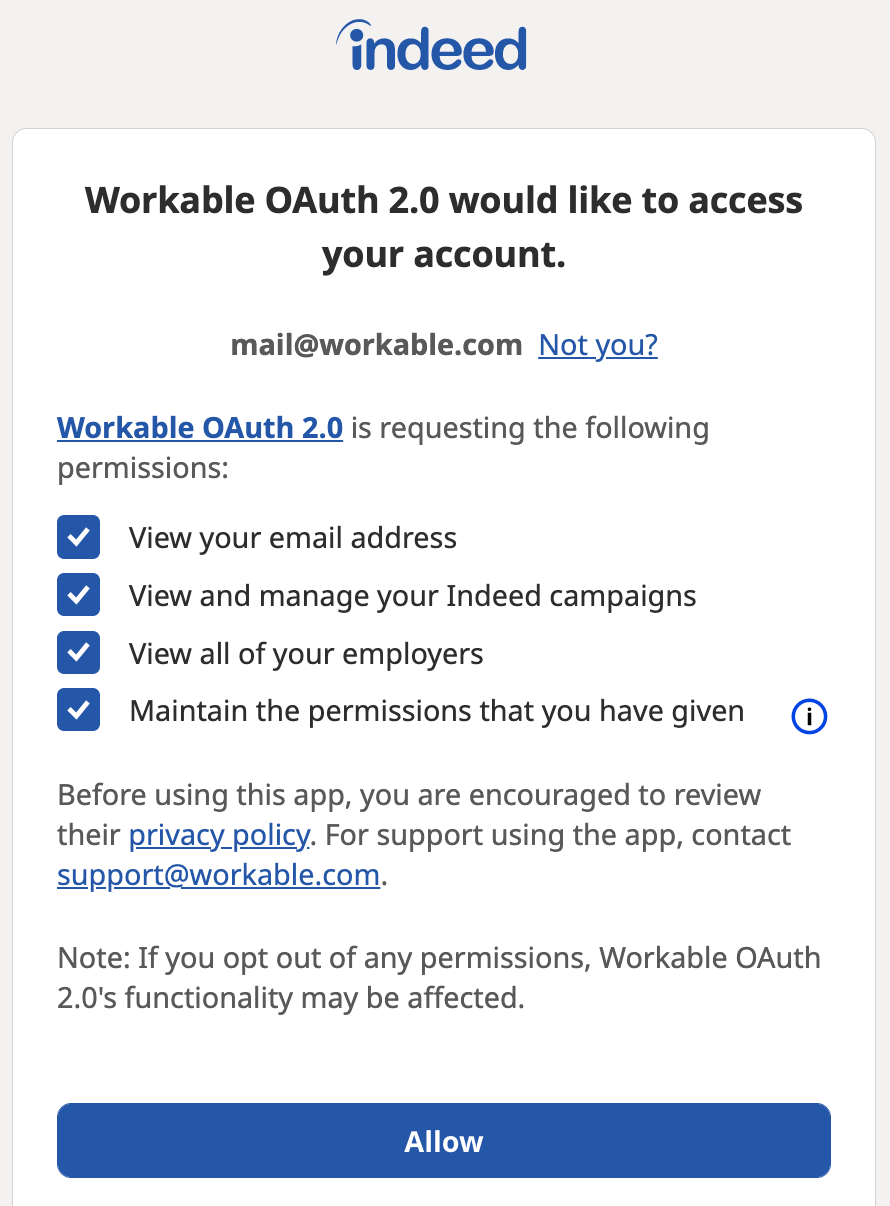 Once completed, this connection will be reflected under your Profile and connected apps. In the future, if you need to disconnect your recruiter account and re-connect with a different one just click Disconnect next to the Indeed option.

2. Choose your budget
Now you can choose a 'pay per click' budget for your campaign (the duration is 30 days). It will take a few minutes and then the Indeed tile will turn green; you might need to refresh your page to see the update.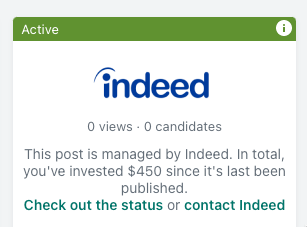 Your sponsored posting will appear higher in the search results until the pay-per-click budget is consumed. If you remove the job in Workable, the sponsored campaign will stop.
Facing issues sponsoring a job on Indeed? Check our troubleshooting guide.
Sponsoring a job within your Indeed account
If you prefer, you also have the option to sponsor posts from within your Indeed account. With this option, you'll have the ability to sponsor multiple jobs at once and have more options for budgeting and scheduling. Follow these steps:
Verify that your Indeed account is integrated with Workable based on the instructions of the previous section

Publish your job through Workable
Sign into Indeed and navigate to Campaigns > Create a campaign. Select Workable as the job source for the campaign and filter for the job you want to promote.
Finish the campaign setup process, setting the budget and schedule.