Workable includes integrations with hundreds of job boards for easy advertising. Depending on your job's location Indeed may be available as a free job board. To ensure your jobs are posted on Indeed check our Indeed job posting guide.
You can also purchase sponsored job posts on Indeed (and many other job boards). A sponsored post is helpful for increasing the visibility of your post and attracting more quality candidates.
Setting up the integration
If you don't have an Indeed account you can sign up from this page. Then, an Admin will need to perform a one-time setup and connect your company's Indeed account.
Click your profile icon in the upper right, click on 'Settings', and navigate to Integrations
Locate Indeed in the list of Job board integrations and click on it
Enter your company email address for Indeed, which is the one associated with your Indeed account
Click Confirm account. You will be redirected to Indeed and prompted to log in with your credentials.
Invite team members to your Indeed account allowing them to sponsor jobs
Go to your Billing page on Indeed to ensure that your billing information is added otherwise your sponsored campaign(s) will not be activated
After the setup process is complete the dot next to Indeed will turn green. Now you can purchase Indeed sponsored posts for any of your jobs; each user who tries to sponsor a job on Indeed will need to authorize their Indeed user accounts first.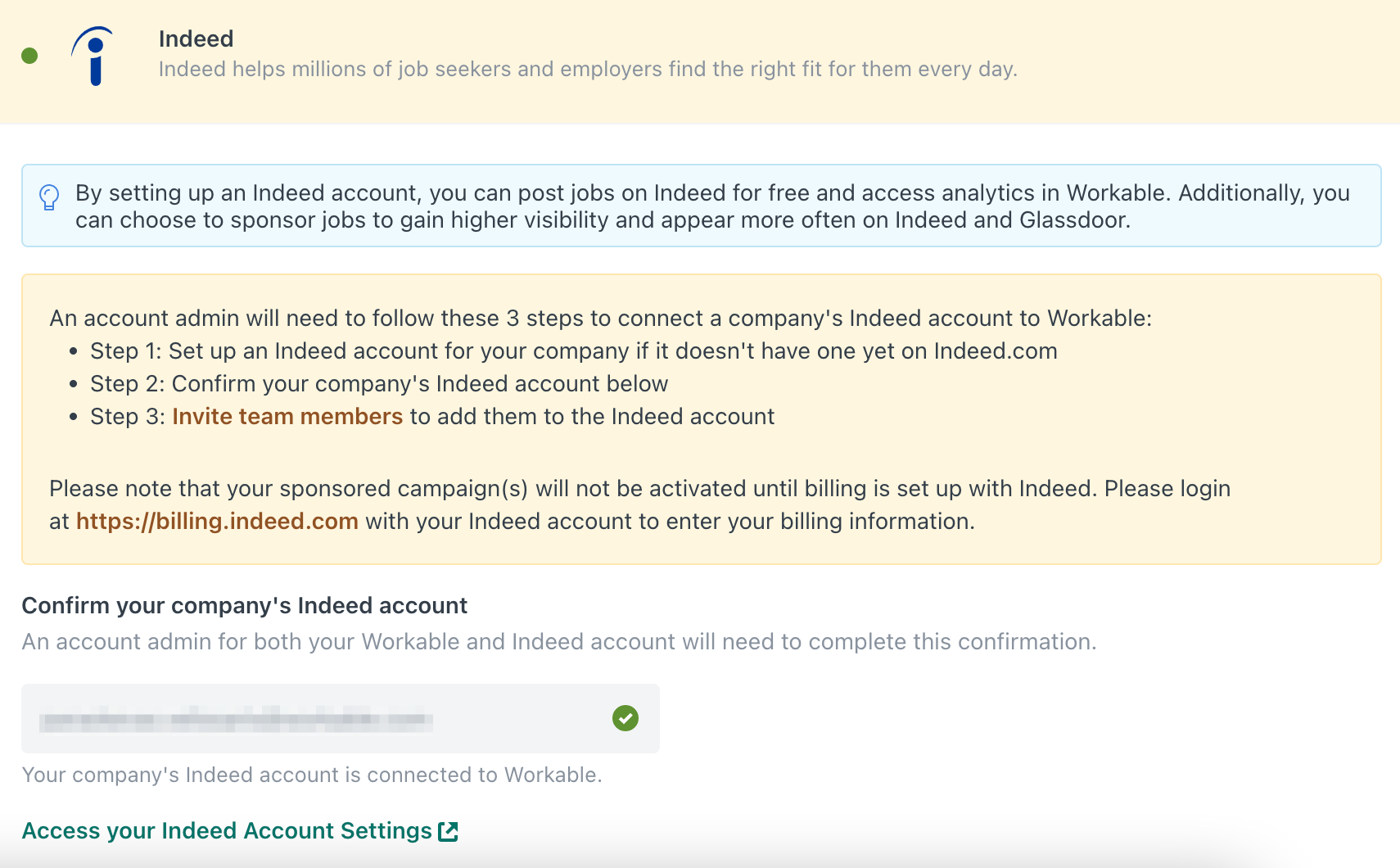 Using the integration (sponsoring a job)
1. Authorize your Indeed user account
To purchase an Indeed sponsored post you will need to authorize your Indeed user account first.
On the main dashboard in Workable, click the Find Candidates button for the job and then click on Premium Job Boards
Locate Indeed and click on Authorise your Indeed account; if you are collaborating in multiple Indeed accounts you will be requested to choose the corresponding company to post from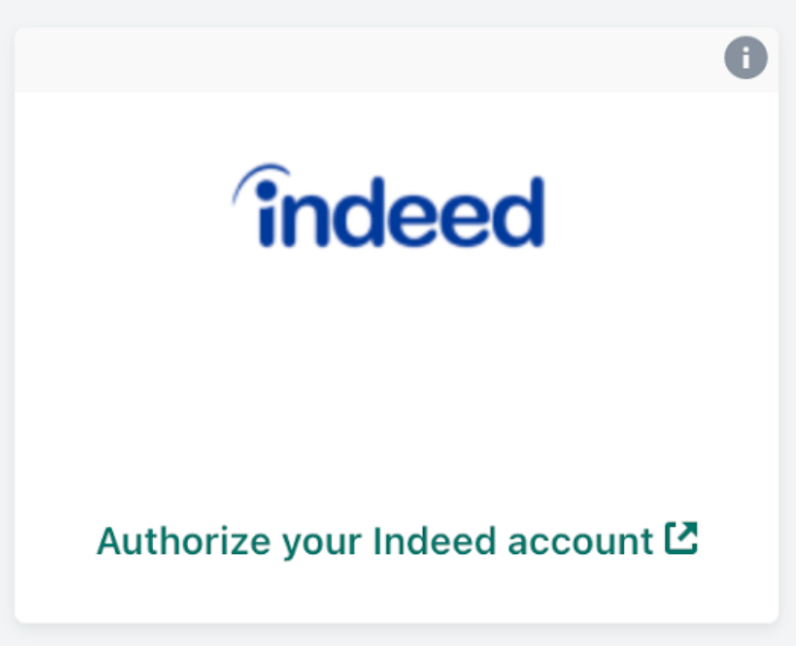 Allow all permissions.❗If you opt out of any permissions you won't be able to sponsor jobs.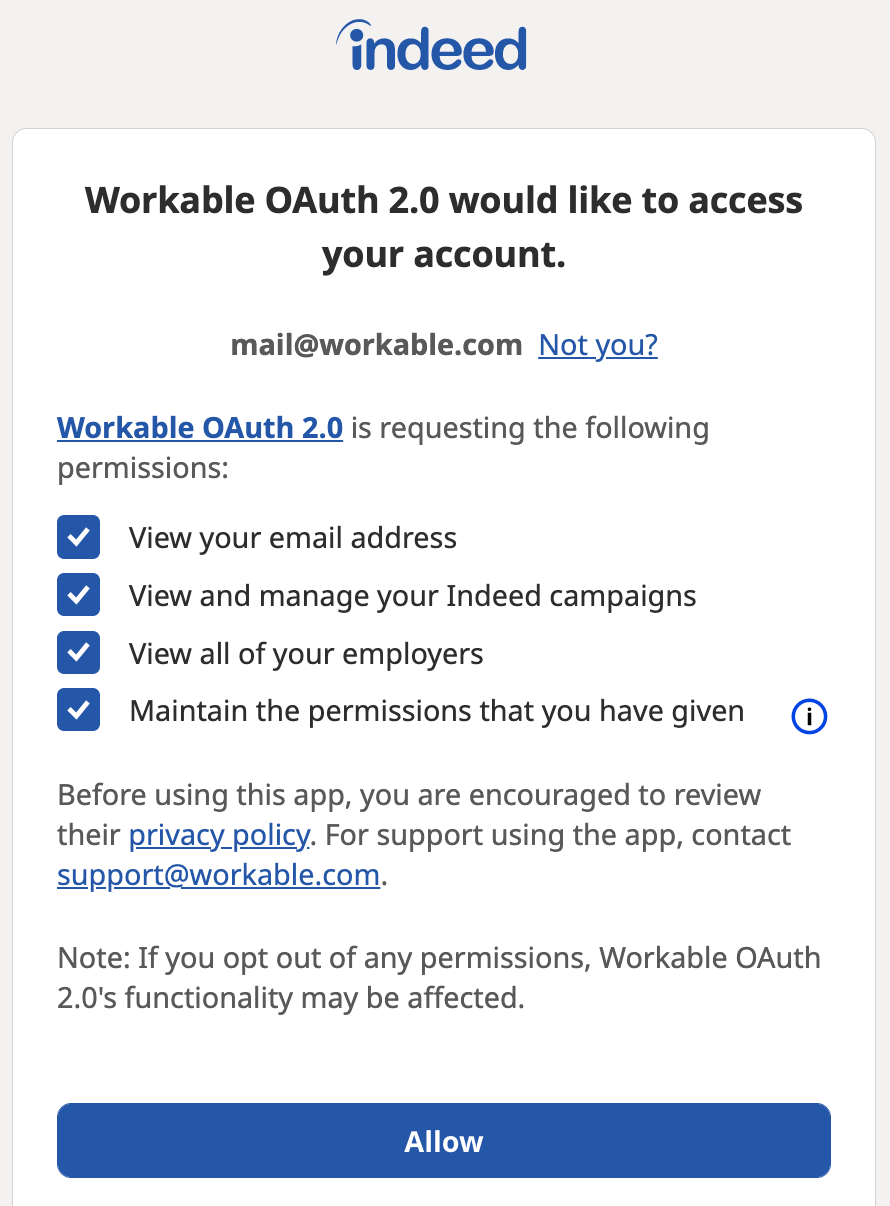 Once completed, this connection will be reflected under your Profile and connected apps.
Disconnecting your Indeed account
In the future, if you need to disconnect your recruiter account and re-connect with a different one:
Click Disconnect next to the Indeed option
Now, authorize again your Indeed user account by navigating to 'Premium job boards' as described at the beginning of this step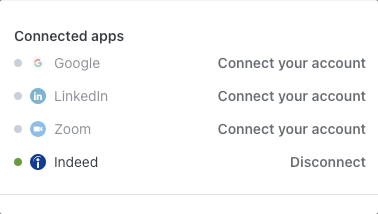 2. Review Indeed predictions (if presented)
Where available, you may see Indeed providing predictions of the campaign's estimated performance in terms of the number of candidate applications for a suggested duration and budget. Note that campaign predictions may not be presented if Indeed doesn't have enough data for estimation.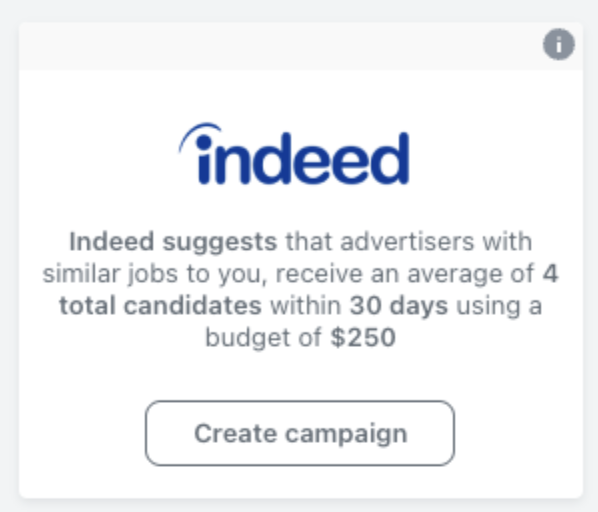 Note: This prediction is reported by Indeed and Workable should not be held accountable for the campaign's actual performance.
3. Configure your budget & duration
It's now time to create your Indeed campaign and configure the budget and duration. Click the 'Create campaign' button and fill out the following three fields:
Campaign end date: The end date will be prefilled and will be 30 days from today. You can adjust it based on your needs but it has to be longer than 7 days from today.
End type: There are two options to choose from:

Target: Indeed aims to use the total budget by the end date, but if any remains, the campaign will continue until the budget is exhausted.
Fixed (default value): Indeed will optimize to spend the budget efficiently by the end date and also ensure that the campaign doesn't spend beyond the specified date.

Budget: Fill the field with the total budget of the campaign in USD (the only supported currency). Note: The budget has to be at least $50 for the whole campaign's duration.
If campaign predictions are available, your input fields will be pre-filled. You can edit the input fields and the performance indicator will be updated based on the new duration/budget you enter. Campaign estimators are only available for budgets less than $100 per day.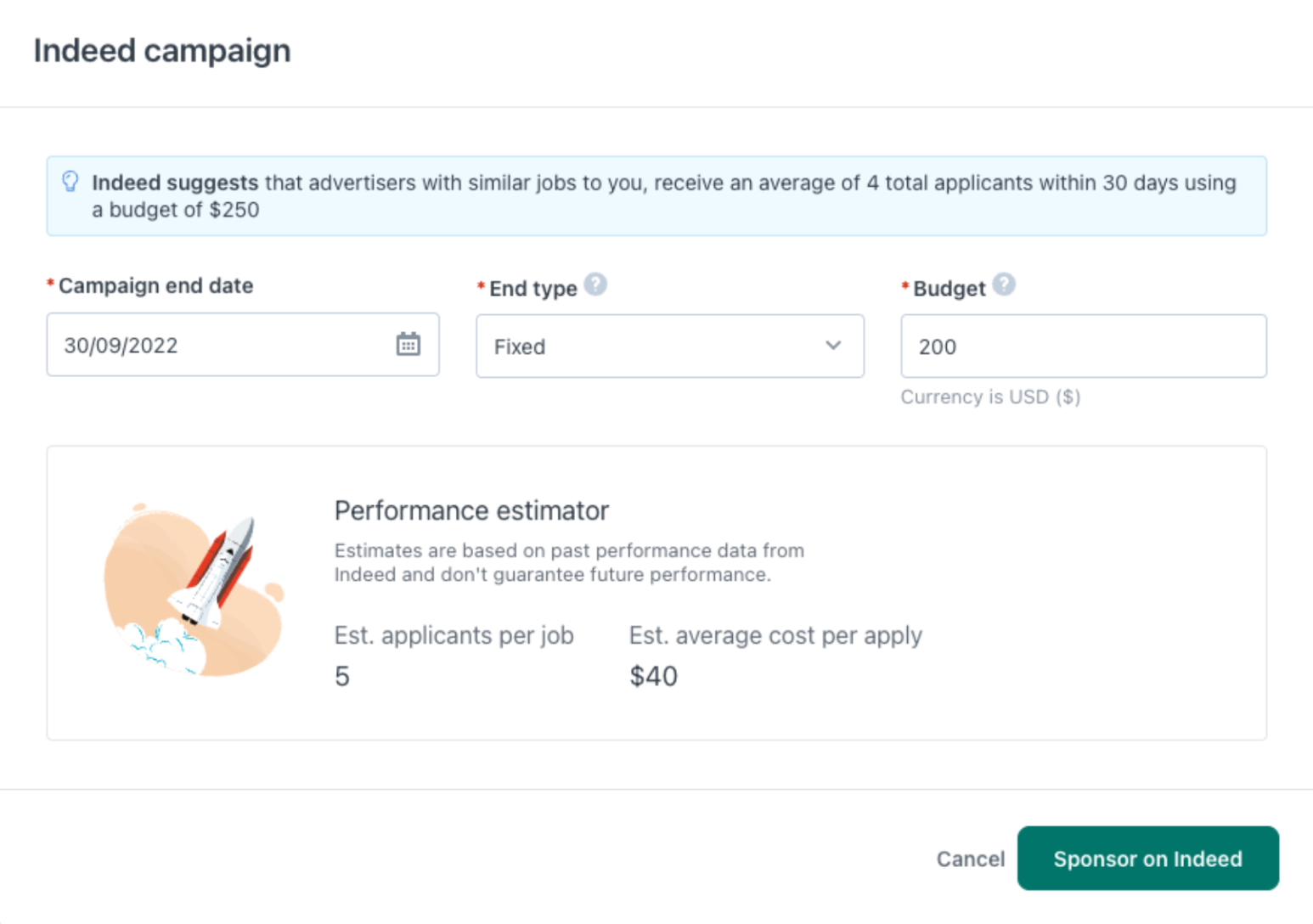 Once the campaign is ready it will take a few minutes and the Indeed tile will turn green displaying the campaign information (you might need to refresh your page to see the update).
Editing or ending a campaign
You can edit (from the cog button) or end the campaign at any time. If you remove the job from Workable, the sponsored campaign will stop. If the campaign expires (reaches end date, budget hit) or is closed on Indeed, we will display the updated status in Workable (syncing every 30 minutes).
Clicking on 'Check status' will redirect you to the Indeed Analytics dashboard where you can review detailed information about your campaign related to spending, impressions, applications, etc.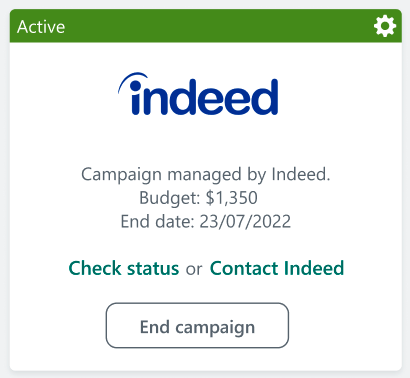 Sponsoring a job within your Indeed account
If you prefer, you also have the option to sponsor posts from within your Indeed account. With this option, you'll have the ability to sponsor multiple jobs at once and have more options for budgeting and scheduling. Follow these steps:
Verify that your Indeed account is integrated with Workable based on the instructions in the previous section

Publish your job through Workable
Sign in to Indeed and navigate to Campaigns > Create a campaign. Select Workable as the job source for the campaign and filter for the job you want to promote.

Finish the campaign setup process, setting the budget and schedule.
FAQs
What pricing model does Indeed utilize for sponsored job postings?

Sponsored posts on Indeed operate based on a Pay Per Started Application (PPSA) budget. Learn more here.