Enable Apply Connect to allow candidates to quickly apply with their LinkedIn profile when on LinkedIn. With this 'easy apply' option, candidates can simply submit their contact details and resume without leaving LinkedIn. The candidate's application will appear in Workable for review and follow up.
Additionally, you will be able to see the candidate's enriched LinkedIn profile appear in Workable. You can choose to have automatic notifications sent to the candidates via LinkedIn. LinkedIn will email candidates when their Workable profile is viewed, disqualified or downloaded.
These features make the application process easy for candidates and keep candidates updated on the status of their application.
Setting up Apply Connect
In Workable, navigate to Settings > Integrations
Locate LinkedIn in the Job Boards section and click on it
Select the link to Setup or view existing LinkedIn integrations
Click the button to enable Apply Connect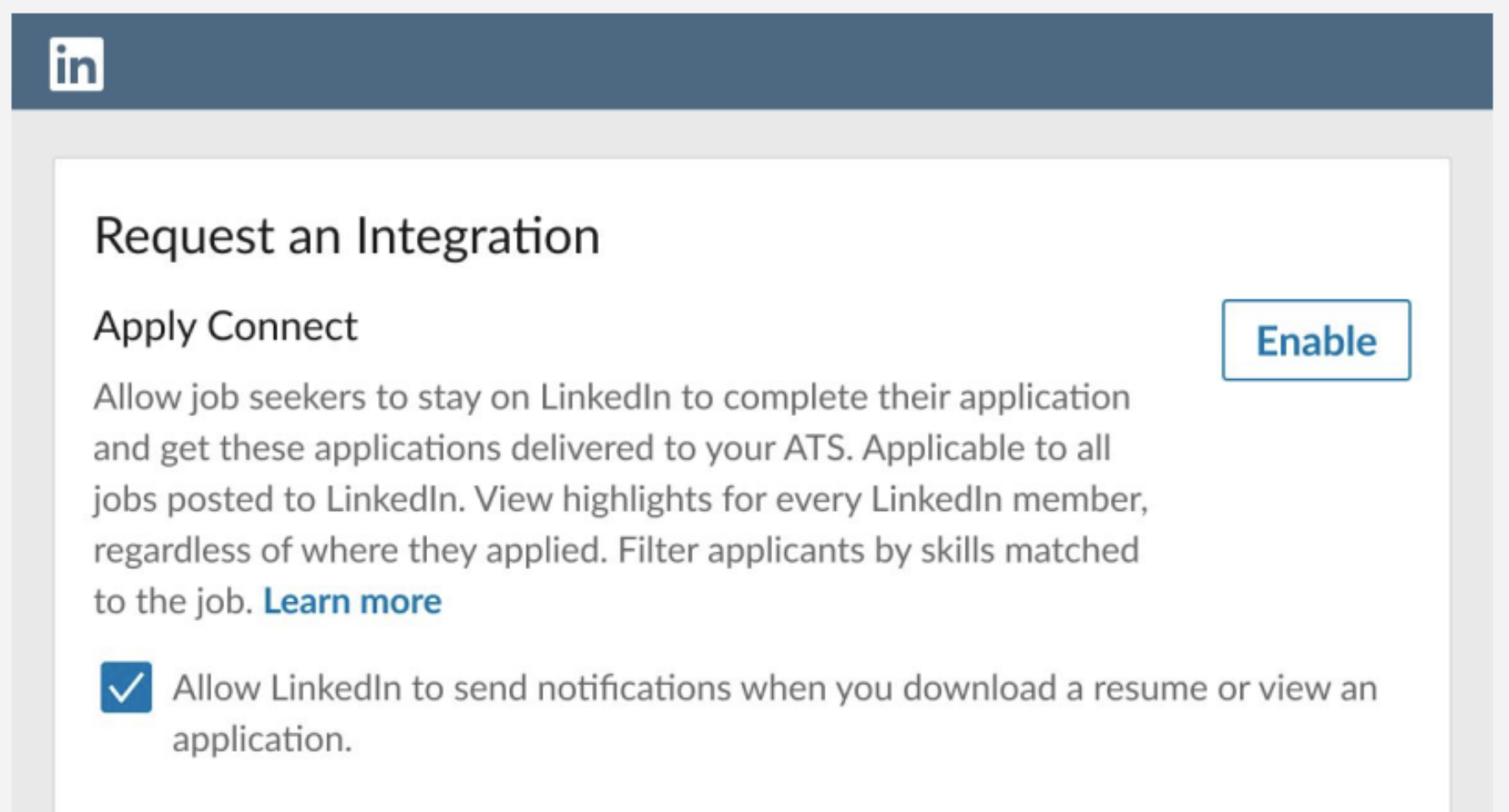 The option to allow LinkedIn to send notifications is disabled by default. It can be enabled via the checkbox within the setup link. This component of Apply Connect is only available for customers with a full LinkedIn Recruiter account.
Important
Keep in mind that automated actions you've set up in Workable may also be triggered upon application and disqualification. LinkedIn will send separate emails when candidates apply or get disqualified. If a 'disqualified' automation is set up, the email from LinkedIn will be sent at the same time the automation's email is sent.
The emails sent from LinkedIn Apply Connect cannot be customized. They can only be disabled or enabled entirely.
When Apply Connect is enabled, it will be on for all jobs by default. Turn off Apply Connect for individual jobs under the Find Candidates section for that job. Select the free job boards panel and click the cog icon on LinkedIn. This is most useful if you have individual jobs with robust application forms.
If Apply Connect is disabled via the Workable account settings, it will remain active for any existing jobs. You must manually disable it for individual jobs via the Find Candidates section. Future jobs will not have Apply Connect enabled.
Candidate experience
When viewing jobs on LinkedIn candidates will see a button to apply with their profile. They're asked to submit basic contact details and to upload a resume file.
Candidates who apply through this method can be notified by LinkedIn about updates that happen in Workable. It is not possible to update or customize these emails.
If you've enabled LinkedIn notifications, LinkedIn will send emails when following actions occur:
The first time an action occurs on the candidate's profile in Workable, e.g. moving the candidate, commenting internally, etc.
The candidate has been disqualified for 3 days
The candidate's resume file has been downloaded from the resume viewer
Example emails: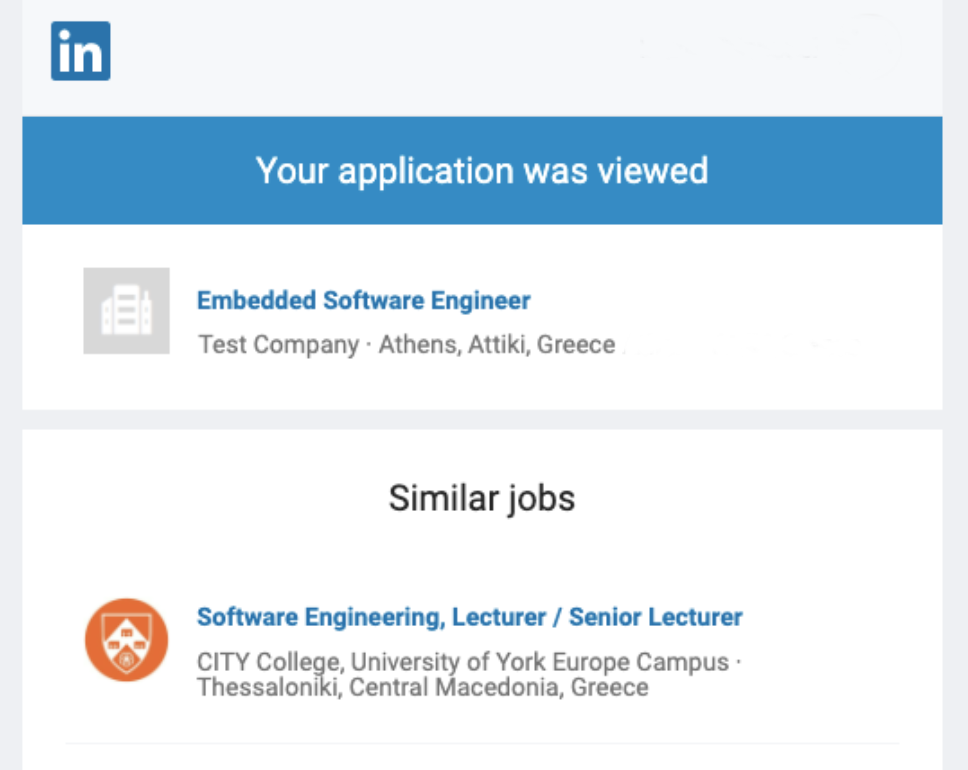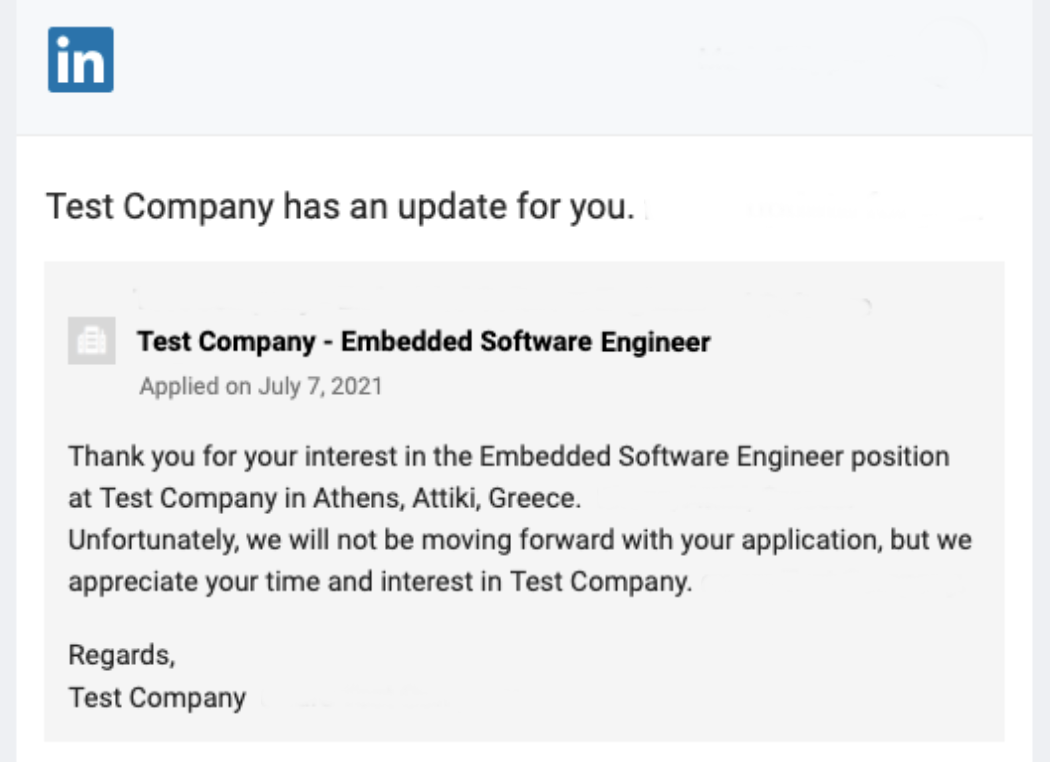 Viewing applicants
If a candidate has come in through Apply Connect, their Workable profile will be populated with any contact details and resume file submitted.
A special "LinkedIn Profile" section will also appear. Click the LinkedIn icon to open a widget that contains the candidate's LinkedIn profile details. You must have your LinkedIn Recruiter account connected to Workable to see this information.