Anyone who is a member of the hiring team can follow candidates in that job. The user icons of all current followers appear at the top of a candidate's Timeline.
You will be added as a follower for a candidate automatically when you interact with their profile. For example, if you send the candidate an email or leave a comment about them. Manually add followers by clicking the + at the top of the Timeline.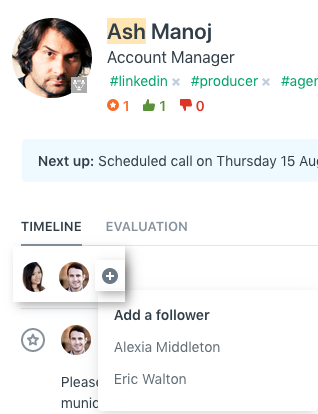 Followers will get special notifications about the candidates they follow. You can manage notifications in the Your Preferences section of your account.
If another hiring team member leaves a comment or evaluation for the candidate you'll get a notification in Workable with the details.
To remove yourself (or a team member) as a follower, access the candidate's profile. Hover over the user icon and click the X that appears.