Workable's award-winning support is available to all accounts from our teams in the US, Europe, and Australia.
How to Contact Support
1. In Workable, click your user icon in the upper right of your account and select Help > Ask a Question to access articles or contact support via live chat or email.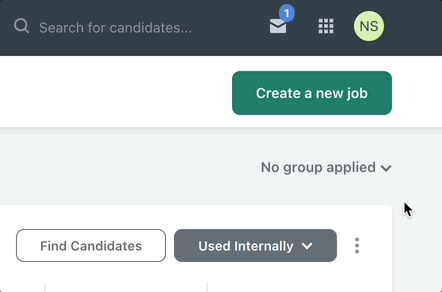 2. Alternatively, use the Contact Support form.
⏰ Support Hours
Regular hours are 3:00 am - 5:00 pm ET (7:00 am - 9:00 pm GMT), Monday to Friday, excluding holidays or special events. Chat and phone may periodically be unavailable during this time based on current demand.
Inquiries are handled in order of receipt, normally within 3 hours during regular hours. For more time-sensitive issues, we suggest contacting us via chat or phone when available.
Widespread or high-impact issues affecting Workable users are monitored 24/7 with updates posted on the Workable status page. We recommend subscribing to be notified in the case of any new incidents.
How to view my support requests
To check your past or pending support tickets or chats:
Visit our Help Center and log in (if you're not already) by clicking Log in in the upper right corner.
You can now access all your conversations with our Support team here at any time.

Holidays & Special Events
Please anticipate reduced coverage during the times listed below. Announcements will be published on the Help Center in advance.
2023
| Date | Holiday/Event | EU hours | US hours |
| --- | --- | --- | --- |
| 2 January | New Year's Day | | Closed |
| 6 January | Orthodox Epiphany Day | No Chat/Phone | |
| 16 January | Martin Luther King Jr. Day | | No Chat/Phone |
| 20 February | President's Day | | No Chat/Phone |
| 27 February | Orthodox Clean Monday | No Chat/Phone | |
| 14 April | Orthodox Good Friday | No Chat/Phone | |
| 17 April | Orthodox Easter Monday | No Chat/Phone | |
| 1 May | Labor Day | No Chat/Phone | |
| 29 May | Memorial Day | | No Chat/Phone |
| 5 June | Holy Spirit Day | No Chat/Phone | |
| 19 June | Juneteenth | | No Chat/Phone |
| 4 July | Independence Day (observed) | | No Chat/Phone |
| 15 August | | No Chat/Phone | |
| 4 September | Labor Day | | No Chat/Phone |
| 9 October | Columbus Day | | No Chat/Phone |
| 10 November | Veterans Day | | No Chat/Phone |
| 23 November | Thanksgiving | | Closed |
| 24 November | Black Friday | | No Chat/Phone |
| 25 December | Christmas | Closed | Closed |
| 26 December | Day after Christmas | Closed | |